By Jay Leon Guerrero
Local swimmers joined athletes from Saipan and Palau for the Guam Championships hosted by the Guam Swimming Federation held from May 29th-30th at the Hagatna Pool. Several records were broken as the best swimmers from around the island gathered for one of Guam's major meets.
A total of 70 athletes took the pool over the weekend which also included swimmers attending college off-island. Pilar Shimizu, Benjamin Schulte, Ken Barcinas, and Shane Aricayos all gathered to compete against each other.
Olympian and National Team member Chris Duenas also took the water joining Tasi Limtiaco, Tetsuya Iijima, Rosalyn Mikel, Amanda Poppe, Tommy Imazu and Tanner Poppe.
Jagger breaks four records
With so much talent in one place, it was Jagger Stephens prevailing with the best performance on Saturday, breaking four records including a 20-year old record held by former Olympian Darrick Bollinger.
Stephens broke the 50m backstroke, the 100m backstroke, the 200m freestyle relay event and the 50m freestyle.
The 50m freestyle event for Stephens was the highlight of the day after he clocked in at 23.90 seconds, beating Bollinger's record of 23.96 set in August of 1995.
"I wasn't thinking about breaking the record at all, I was thinking about was winning the race," said Stephens. "I was actually racing against my teammates (from Tsunami Swim Club) and we are always competitive so I wanted to do really well."
Stephens' other record times were 1:02.79 in the 100m backstroke breaking Souju Usui's one-year old record of 1:04.81 in the 17-18 age division. He also broke Shultes' 50m backstroke record in 17-18 age division with a time of 28.50 seconds.
His fourth record was set in 200m relay with teammates Barcinas, Limtiaco and Iijima. The relay team, representing Tsunami Swim Club, clocked in at 1:40.10, beating the previous record (coincidentally set by the Tsunami Swim Club as well) by two seconds.
Hon breaks her own record
Samantha Hon from the Tsunami Swim Club broke her own record for 13-14 year old females in the 50m Butterfly with a time of 31.36 seconds. Han said that she wants to take her experience to the next level. "I want to swim in the Olympics one day," said the Harvest Christian Academy student. Hon said that swim meets like the Guam Championships help her to achieve her long term goals.
Palau's Berneace Balayo said that she was glad to make the competition and gained a lot of experience. Balayo, 15, swam eight events over the weekend and won the 50m breaststroke with a time of 42.10.
"I swam eight events and improved my times in some of the events," said a satisfied Balayo. "It was a good experience for me, I learn a lot about myself and I made new friends. I like Guam because it's more advanced here, I like the mall and the shopping."
Other records broken were by Limtiaco (200 IM) in the 19-and-over division. 8-year-old Israel 'Izzy' Poppe was the youngest swimmer to break a record yesterday. Poppe swam the 50m freestyle with a time of 34.88 seconds, breaking Schulte's record of 35.06 seconds set in 2004.
"It feels good to break Benji's record, he is my teammate (Manhoben) and he wanted me to break it," said Poppe. Poppe, who said his whole family is swims, hopes to follow the footsteps of his teammate Benji and represent Guam in swimming. "Olympics! I want to go to the Olympics one day."
Check out the complete results here:
PHOTO GALLERY:

QUICK HITS
Guam MTB National Championship: Edward Oingerang and Jennifer Camacho are your 2023 MTB national champions. Oingerang finished the course in 1:13:24 while Camacho won her second straight title in 54:08.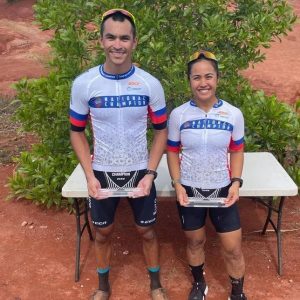 ——————————————
Kobe Miyashita, with St. John's coach Arvin Flores, was named the 2023 IIAAG Middle School Boys Volleyball MVP!