PRESS RELEASE – The three-time defending champions Doosan Lady Crushers began its 2015 campaign with a 4-1 victory over league newcomer Southern Heat in the opening weekend of the Bud Light Women's Soccer League Spring season at the Guam Football Association National Training Center.
Caylani Estoy, Skyylerblu Johnson, Colleen Naden, and Maria Abbey Iriarte scored for the Lady Crushers. Carmela Tyquiengco scored the Heat's lone goal.
In another opening week match, the Lady Rovers, last season's runner-up, also began the New Year with a win, defeating Quality Distributors in a 3-1 contest.
Quality's April Talledo opened scoring for both teams in the 31st minute on a free kick from the left side that escaped the reach of Lady Rovers' goalkeeper Leodith Abinales, but four minutes later, the Lady Rovers' Melissa Elwell leveled the match with a shot off a pass from Catherine Kendall for the eventual 1-1 halftime score.
Defender Theresa Graham's long-distance strike in the 66th minute from a Quality ball clearance put the Lady Rovers up by one and four minutes later, Lady Rovers' newcomer Kayla Bero added another goal to cap her team's victory. Bero moved up to the women's top division after playing for the Lady Bombers in the GFA Women's Intermediate 7-A-Side Recreational League last year.
In the early match, Hyundai defeated a shorthanded Guam Shipyard team 8-2 with four goals from Shana Spindel, three from Olivia Flores, and one from Levana Terlaje. Fourteen-year-old Hannah Cruz scored for Guam Shipyard in her women's league debut, and teammate Rhiannon Pangindian also scored.
Based on goal differential, Hyundai is on top of Bud Light Women's Soccer League Week 1 standings, with the Lady Crushers and Lady Rovers rounding out the top three.
Spindel's four goals put her on top of the Golden Boot race after one match, followed by teammate Flores with three.
League play continues Sunday with the Lady Strykers taking on Quality at 5:30 p.m. on United Airlines Field 1 at GFA and the Lady Rovers playing against Shipyard on United Airlines Field 2, also at 5:30 p.m. Hyundai plays the Heat at 7:30 p.m. in the evening's late match.
A full Round 1 schedule is available online at  http://www.guamfa.com/all-leagues-womens-regular-results
PHOTO GALLERY:

QUICK HITS
The Guam Smokin' Hot women's softball team captured first place in the Asia Cup Softball Championships 2023 in Bangkok, Thailand.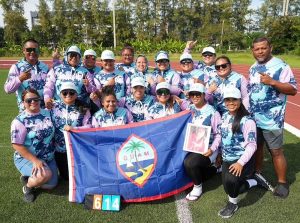 ——————————————————-
Roque Martinez gets the unanimous decision win Saturday night in his debut fight in South Korea's Black Combat promotions.
The 37-year-old controlled the tempo all three rounds and bloodied his opponent with some 3rd round ground and pound.