[useful_banner_manager_banner_rotation banners=74,72,77 interval=10 width=120- height=600 orderby=rand]
The Lady Raiders remain undefeated at 8-0 racing to a 55-27 run away victory over the Mount Carmel Phoenix Tuesday night in IIAAG Middle School Girls Basketball action at the St. Anthony Gym in Tamuning.
In eight games this season, the Raiders have jumped all over their competition with a clamp-down defense that opens the door to big offensive runs.
Every member of the starting five earned Game Balls in their last home game celebration.
The Lady Raiders scored in the first seconds of the competition as center Monica Giger won the tip and delivered it perfectly to point guard Kirsten Silva who whip-passed the ball to a streaking guard Ivory Howat for a layup setting up the first two points of the game.
St. Anthony jumped out to a 10-0 lead early in the first quarter with Kirsten Silva driving her team up court and creating baskets for Howat, Natasha Gandaoli & Monica Giger.
Giger and Gandaoli finished with double-doubles.
In control with a 30-5 halftime lead and 38-9 after three, Coach Rudy Gaza started to exit out his starting five players one-by-one to big cheers from the home crowd.
The second string got some pivotal playing time finishing up the game 55-27.
Highlights
Center Giger finished 18 points, 17 rebounds, five blocked shots and three steals.
Gandaoli played strong minutes with 13 points, 10 rebounds, three steals and a blocked shot.
Howat delivered a well-balanced effort with 13 points, six rebounds, four steals and four assists.
The Lady Raiders have scored 336 -Points in their first 8 games of the season.
2015 Season Highlights:
1. Raiders vs St Johns 27-8
2. Raiders vs St Francis 43-21
3. Raiders vs Santa Barbara 43-6
4. Raiders vs Bishop 35-21
5  Raiders vs St Paul 41-16
6. Raiders vs Harvest 47-9
7. Raiders vs McCool 45-8
8. Raiders vs Mt Carmel 55-27
Contributing Lady Raider Players: Haley Salas, Mia Taitano, Oriana Sevilla, Ritisha Raj Kumar, Jeome Bandoc, Kailey McDonald, Anaika Almario
The Lady Raiders next game is against San Vicente Thursday night at 5:30 pm at the Dededo Sports Complex.

Foody's Fun Facts
Favorites From Year 2
COMING SOON …
FRIDAY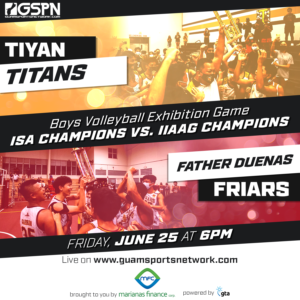 UFC Fight
July 25: Trevin Jones vs. Tony Kelley
QUICK HITS
The Guam Legislature recently paid homage to Michael Reidy, who passed away stateside in March. Reidy was instrumental in getting Guam into the Olympics in 1988 as well as a founding father of the island's paddling community.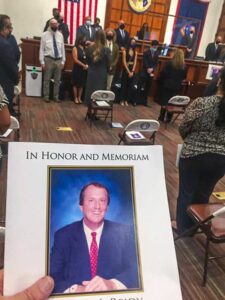 ——————————————————–
Nadine Del Carmen graduated from Santa Clara University on June 11. She was named captain of the Santa Clara women's tennis team in her senior year and she will be attending Georgetown University in the fall to pursue her masters and will be playing for the Hoyas women's tennis team.