PRESS RELEASE – On Sunday October 11th the Guam International Raceway in Yigo hosted the 12th and final round of the Monster Motocross series and Round 4 of the 2015 Proline Drifting Championships! The Proline Drifting Championships is presented by Monster Energy Drink and Napa Auto Parts / Valvoline with special thanks to Hafa Adai Signs, Outback Steakhouse, IP&E and AclaroFX for the live streaming with the help of IT&E.
The competitions qualifying runs started at 3:30pm. Don Cabuhat ran into mechanical issues with his clutch going out during qualifying and was not able to make it into the tandem eliminations. Right after the qualifying, the big raffle drawing of a Honda motorcycle was held in the pit area. The winner of the bike was Owen Rios.
The highlight of the evening was the run between Arvin Aviles and Shane Bruce. Bruce was in lead with Aviles in chase. Into the first turn, Bruce went too wide. Aviles took advantage of the opening and passed him from the inside on the preferred line the judges were looking for giving him the the win to proceed to the finals.
Qualifying results (best solo run out of 3)
1. Dan Aclaro 245pts
2. Arvin Aviles 235pts
3. Shane Bruce 225pts
4. Rex Deseo 220pts
5. Don Cabuhat 205pts
6. Matt Palarca 185pts
7. Olive Epitacio 180pts
8. Jaimee Mendiola 179pts
9. Curtis Gogue 175pts
10. Von Burrell 173pts
*With Don Cabuhat's clutch going out he did not make it into the tandem eliminations.
Ten Driver Single Elimination Bracket
First round of eliminations:
8. Curtis Gogue 5/4 vs. 9. Von Burrell 5/6 = Burrell
7. Jaimee Mendiola vs. 10. N/A = Mendiola
Great Eight:
4. Rex Deseo 10/4 vs. 5. Matt Palarca 0/6 = Deseo
1. Dan Aclaro 6/5 vs. Von Burrell 4/5 = Aclaro
3. Shane Bruce 8/6 vs. 6. Olive Epitacio 2/4 = Bruce
2. Arvin Aviles 7/5 vs. Jaimee Mendiola 3/5 = Aviles
Final Four:
Dan Aclaro 7/0 vs. Rex Deseo 3/10 = Deseo
Arvin Aviles 5.5/9 vs. Shane Bruce 4.5/1 = Aviles
Fight for 3rd:
Shane Bruce 10/ vs. Dan Aclaro 0/DNF = Bruce
Finals:
Arvin Aviles 7/6 vs. Rex Deseo 3/4 = Aviles
Results:
1.) Arvin Aviles
2.) Rex Deseo
3.) Shane Bruce
Winners received Trophies, Cash from prize pot, Gas from IP&E, and certificate from Outback Steakhouse
Judges:
Tom Akigami
Jim Cruz
Lee Webber
PHOTO GALLERY BROUGHT TO YOU BY:

QUICK HITS
3rd place: Big ups to the Para Todu Rugby Club for finishing 3rd out of 16 teams in the Manila 10's Rugby Tournament today. Biba Guam Rugby!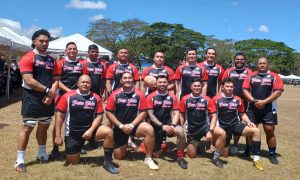 ——————————————
Guam MTB National Championship: Edward Oingerang and Jennifer Camacho are your 2023 MTB national champions. Oingerang finished the course in 1:13:24 while Camacho won her second straight title in 54:08.