[useful_banner_manager_banner_rotation banners=72,74,77 interval=10 width=120- height=600 orderby=rand]
By Robert Balajadia
The GW Geckos are headed back to the IIAAG Girls Volleyball Championship after defeating the Academy Cougars in straight sets 25-20, 25-18, 25-12 at the GW gym Tuesday night.
(Catch GSPN's Audio Broadcast of the game – On the call: Patrick Lujan/Robert Balajadia)
GW dominated in the serve game with 21 aces through three sets, sucking the momentum away from the Cougars midway through each of the sets.
The two Quinata's dominated in the kills department with Samantha earning eight while Colleen finished with seven.
Errors buried the Cougars in each of the sets averaging 10 errors a set, most of which in the backline due to defensive lapses.
The Cougars appeared to check back into the game in the 2nd set while jumping out to an early 5-1 lead, but three straight aces by Colleen aided in a 6-0 run to quickly give GW back control. GW later went on another three-ace rally behind middle blocker Jasmine Almoguera to go up 12-7.
Almoguera is an All-Island 2nd Team selectee and she admitted to feeling slighted on her 1st Team absence.
"I was bummed, but I just turned that into motivation and used it as fuel for the playoffs," said Almoguera.
The Geckos will now aim to settle the score with the Royals come Saturday's championship after ND defeated the visiting Okkodo Bulldogs also on Tuesday night. GW defeated the Royals in the annual Shieh Tournament prior to the season and the Royals took down the Geckos in three sets during their regular season meeting.
Saturday will be the teams third meeting this year and it's only fitting it'd be the last.
"We don't want to change anything just for the championship game because it might affect the line," said Almoguera on facing the Royals.
"We played smarter ball today, smarter than when we lost to the Royals," commented Bobbi Quinata on the nights success.
When asked what is in store for preparation, Quinata added, "We have to remember the 'F-word', which is 'focus'. Teenagers, It doesn't matter what if it's my players or the other players. We just need to bring the kid into focus and sport discipline, which is volleyball right now."
1st Set
After battling to a close 7-6 game early on the Geckos started to pull away behind kills from Sam Quinata and Sia Duenas. Quinata and Duneas also had two aces in the set, even with both sides committing eight unforced errors.
The Geckos shaved off five quick points during three of the Cougar errors to jump out to a 19-11 advantage. Almoguera went two hands on a block against Cougar Joie Blas to further the lead as Quinata finished off the Cougars with the final kill 25-20.
First Set Geckos 25, Cougars 20
GW: service errors 3; unforced errors 8; kills 9 (S. Quinata 5, Sia Duenas 3, C. Quinata); aces 6 (Sa. Duenas 2, S. Quinata 2, Concepcion, S. Quinata; blocks 1 (Almoguera)
AOLG: service errors 0; unforced errors 8; kills 6 (Tobiason 2, Finona 2, Borja, Sanchez); aces 1 (Nelson) blocks 0
2nd Set
Academy took advantage of the Geckos early errors to jump out to the 6-1 advantage, but the aces from Quinata and Almoguera allowed the Geckos to pull away. Almoguera also added three kills and a block to go along with her aces.
"We beat them in the regular season so we knew that they would come back much stronger than before. We had to be ready for everything that they were going to throw at us," said Almoguera.
A rally by the Cougars behind All-Island 1st Team setter Maya Sanchez staved the Cougars from a quick set loss by scoring six straight points from 24-14 to battle back 25-18. The momentum was a good sign for the Cougars, who were in much need of a lift, heading into the final set.
GW: service errors 2, unforced errors 9; kills 7 (C. Quinata 3, Almoguera 2, S. Quinata, Sia Duenas); aces 8 (S. Quinata 3, Almoguera 3, Sia Duenas, C. Quinata); blocks 1 (Almoguera)
3rd Set
The Cougars could not pull it together on the defensive end giving up seven aces to the Geckos in the final set. 10 unforced errors ultimately did Academy in, but consistency from the Geckos from digs to dishes allowed GW to quickly end the final set 25-12.
The Geckos displayed poise in what is often expressed as the hardest set, the close-out set, working their hitters in good rotation. Setter Samyra Duenas assisted on six of the Geckos eight kills in the set to propel them into the Championship game against the ND Royals.
GW: service errors 3; unforced errors 4; kills 8 (Sia Duenas 3, C. Quinata 2, S. Quinata, Siguenza); aces 7 (C. Quinata 4, S. Quinata 2, Sia Duenas); blocks 0
AOLG: service errors 1; unforced errors 10; kills 3 (Smith, Munoz, Tobiason); aces 1 (Munoz); blocks 0
PHOTO GALLERY BROUGHT TO YOU BY:

Foody's 5 Fun Facts
Harvest Eagle Trinity Terlaje
DID U KNOW?
FD senior Matt Fegurgur first dunked a basketball in his freshman year when he was 6'4″. The now 6'9″ center looks to dominate high school hoops.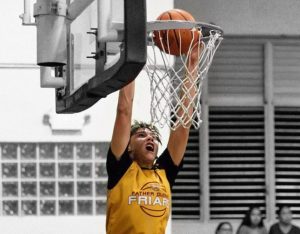 COMING SOON …
– Rizin 21: Aguon and Martinez
– FIBA Asia Cup: Guam vs. New Zealand, Feb 23
– Zach and Larry Return to Guam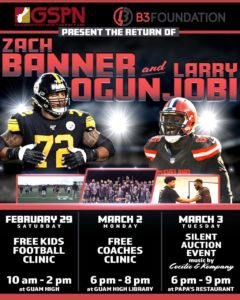 Brawl MMA March 13
QUICK HITS
190 runners took part in the 48th Hafa Marathon (half marathon).
Here are the top 5 finishers:
Ryan Matienzzo 1:13:17
Kris Lawrence 1:24:12
Taiga Sato 1:25:05
Chris Rasmussen 1:26:48
Carlos Leon Guerrero 1:28:46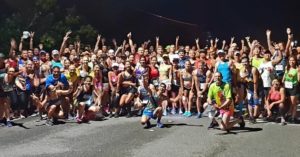 —————————————————-
Guam flags were waving in Clearwater, Florida in support of Bubba Nickles and Team USA in their Pre Olympics Softball Tour.