By Michael J.A. Nauta Jr.
Nine girls between the ages of 12-15 left Guam and travelled to Manila, Philippines last Friday to partake in the 2015 Far East Asian Tournament.  The team made up of players from different parts of the island went through two days of non-stop and intense action at the De LaSalle Zobel Sports Complex.  Despite a rough start on opening day, Manhoben settled as tournament play continued throughout the weekend and while not being able to win any sets, the group of girls will head back with tons of experience.
"It's my first time travelling for a volleyball competition and being able to play against strong teams has taught me a lot," said Manhoben captain Caitlynn Taitano.  "We didn't win any games, but we sure learned so much."
After arriving and settling into their hotel at about 2AM,  Manhoben would be tested early as they started play in the second match of the tournament.  Going up against the host team De LaSalle, the Guam girls got things going with the hitting and serving of Brianne Leon Guerrero and Kiyoko Afaisen respectively.   Things looked great at the start with Guam taking an early lead.  However, the rally would be cut short as LaSalle put on a display of strong serving and precision hitting that eventually resulted in a 25-10 first set loss.  Second set action was much like the first and Manhoben surrendered the game with the scoreboard reflecting a 25-9 score.
Later in the day, Guam would play two more games.  Good showing by our island girls eventually kept the team fighting.  However, it was only a matter of time before Guam would fall to 0-3 after losing back-to-back games.
Needing to win their only game in the second day to make the playoffs, Guam game everyone a whole different look as they took on DLSZ-A.  With the help of Taitano, Leon Guerrero, and Afaisen, Manhoben opened the match with an 8-1 lead.  Not willing to look back, the team kept their motivation going as Haley Banez, Ariana Orallo, and Ricki Mya Balajadia contributed their fair share of offensive points as Guam closed the set with a 25-15 win.
"Winning that set just proved to ourselves that we can play," said Taitano.  "If we played the same on day one things would've looked better for the team."
Giving everyone a chance to get their feet wet in international competition,  Guam decided to empty the bench and play everyone else on the team.  The decision making by coaches seemed to hurt the team as Guam lost the final two sets to get eliminated.
"We travelled nearly two thousand miles to get into this tournament, so winning would've been nice but making sure everyone gained experience is better," said Manhoben Assistant Coach John Afaisen. "In the end our girls represented the island well and they didn't need a trophy to prove that."
Team Guam sends a special thanks to their family and friends who have helped make their trip possible.  Members of the team also acknowledges Kaizen Events, Mr. Ron Ravela, Mr. Ace Gactuan, and Mr. Vince Acol for all their assistance.
PHOTO GALLERY BROUGHT TO YOU BY:

2022 GSPN I MÅS METGOT COMPETITION
I Mås Metgot Athlete Spotlight: April Flores
2022 GSPN I MÅS METGOT COMPETITION
I Mås Metgot Athlete Spotlight: April Flores
2022 GSPN I MÅS METGOT COMPETITION
I Mås Metgot Athlete Spotlight: April Flores
QUICK HITS
Guam boys Kekoa Toves and Matias Calvo went head-to-head on the rugby pitch as American International College took on Dartmouth College, both top-ranked men's rugby programs in the country.
Calvo (FD) is the captain of Dartmouth and scored, but Toves (Sanchez) and his AIC squad came away with the win in Springfield, Mass.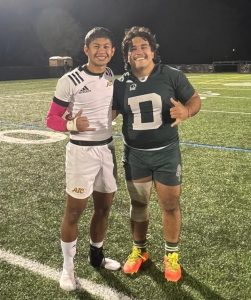 ———————————————–
1LT Belizabeth Nicole V. Rengiil is known to be the first female from Guam and Palau to make the All-Army Women's Rugby Team. She is an active duty Signal Officer with the US Army and is stationed at Joint Base Lewis-McChord in Washington.
Her team won the Armed Forces Women's Rugby Championship with a 4-0 record.
Belizabeth is the daughter of Edwin and Juliana Rengiil with siblings Johanna and Edwin-Isaiah Rengiil from Mangilao.