PRESS RELEASE – Guam International Raceway Motorcycle and Atv Corporation (GIRMAC)
Monster Energy 2015 Guam Motocross Championships
Round 4
The Guam International Raceway was the place to be this past Sunday for those who enjoy the thrills and spills of high flying racing. Round 4 of the scheduled twelve round Monster Energy 2015 Guam Motocross Championships kicked off at just before noon this past Sunday once again to a large contingent of racers and fans. Track conditions were ideal but the ourse itself was rough with a lot of bumps jumps and ruts. The weather conditions however were perfect. The many classes saw riders of all ages and machines sizes both on two and four wheels.
Race Highlights
Reigning Guam champion #1 JR Cepeda aboard the Cycles Plus Kawasaki was once again the man to beat as he took the lead on the first lap and went on to the checkers unchallenged. After four rounds Cepeda has taken a 35 point lead with a 190 points over his next closest competition #277 Honda mounted Michael Shaffer who has 155 points and had also finished second in round 4.
The rest of the field finished round 4 as follows
3rd #75 Jeff Rios aboard a Yamaha
4th #18 John Agoun aboard a Yamaha
5th 57 Kim Aiken aboard a Honda
6th #89 Bobby Benson aboard a Honda
7th #43 Jacob Einloth aboard a Kawasaki
8th #100 Steve Turo aboard a Kawasaki
9th #29 Brady Kruize aboard a Suzuki
10th #12 Ethan Manibusan aboard a Kawasaki
11th #19 Zachary Chang aboard a Honda
12th #47 Franklin Perez aboard a Kawasaki
13th #318 Rudy King aboard a Yamaha
14th #332 Zadrian Tallada aboard a Yamaha
15th #83 Ceasar Whitt aboard a Kawasaki
16th #25 Dave Kautz aboard a Honda
17th #28 Brad Gomez aboard a Kawasaki.
In the Open Atv class reigning champion #1 Robert Bucek aboard the Cycles Plus Suzuki got off to a horrible last place start but rode meticulously towards the front of the field. While Bucek was working his way towards the front #45 Anthony Dillard riding a Yamaha was trying to keep the lead from the hard charging #83 Suzuki of Daniel Champion. Champion managed to slip by Dillard to take the lead but then his Suzuki suffered a mechanical which allowed the #45 Yamaha of Dillard to retake the lead.
With Dillard back out in front and the Champion sidelined Bucek had moved into the second place position behind the leader Dillard. After a side by side battle between Bucek and Dillard Bucek took the lead and went on to take the win with Dillard taking second. After four rounds Bucek currently has retaken the lead in the championship with 144points over the #7 Yamaha of Mathew Taimanglo who has 138points. The rest of the ound 4 Open atv results are as follows
3rd #15 Albert Garlit aboard a Kawasaki
4th #5 Jason Faculo aboard a Honda
5th #7 Mathew Taimanglo aboard a Yamaha
6th #83 Daniel Champion aboard a Suzuki
In the Kids Open Minibike class #75 Owen Rios aboard the Autoworks supported Kawasaki grabbed a perfect start to take the lead in the highly competitive kids class. Rios looked to be on his way to the win when he made a mistake and went down in a switch back section of the course.
The Rios mistake allowed the #12 of Yuna Song on her Honda to take the lead with the #25 of Ethan Turo right on her rear wheel. The two raced hard against each other for several exciting laps with Song eventually succumbing to the persistence of Turo aboard his Kawasaki. Once in the lead Turo was fast and smooth all the way o the win. #11 Sasha Song aboard a Honda was eventually able to also get by the #12 of Yuna Song to place second with Yuna finishing 3rd. The rest of the field finished as follows.
4th #94 Jessthan Pano aboard a Kawasaki
5th #111 Blaze Aiken aboard a Honda
6th #75 Owen Rios aboard a Kawasaki
7th #5 Jordan Leon Guerrero aboard a Kawasaki
8th #4 Tobin Perez aboard a Kawasaki
9th #7 Darien Chang aboard a Kawasaki
#76 Deven Encina on the Phillips and Sons supported Kawasaki took the win with the #50 of Owen Turo also on a Kawasaki taking second. Third went to the hard charging #74 of Damien Manibusan aboard a Suzuki. The rest of the 65cc kids placed as follows.
4th #25 Laurence Limtiaco Kawasaki
5th #906 Tommy King Kawasaki
6th #20 Gavin Whitt Kawasaki
In other results
50cc Minibike
1st #31 Richard Wenden KTM
2nd #12 Jessani Leon Guerrero Honda
3rd #609 Trent King Yamaha
4th Marianna Wenden Yamaha
5th #11 Ellie Maume Kawasaki
6th #671 J Agoun Yamaha
Kids Mini Atv
1st #6 Zion Manibusan Drx
2nd #2 Wyatt Santos Drx
150cc Minibike
1st #25 Ethan Turo Kawasaki
2nd #12 Yuna Song Honda
3rd #1 Sasha Song Honda
4th #111 Blaze Aiken Honda
85cc Minibike
1st #94 Jessthan Pano Kawasaki
2nd #75 Owen Rios Kawasaki
3rd #5 Jordan Leon Guerrero Kawasaki
4th #4 Tobin Perez Kawasaki
5th  #7 Darien Chang Kawasaki
450cc Motorcycle
1st #75 Jeff Rios Yamaha
2nd #76 John Aguon Yamaha
3rd #89 Bobby Benson Honda
4th #19 Zachary Chang Honda
5th #332 Zadrian Tallada Yamaha
6th #25y Dave Kautz Honda
250cc Motorcycle
1st #1 JR Cepeda Kawasaki
2nd #277 Mike Shaffer Honda
3rd #57 Kim Aiken Honda
4th #43 Jacob Einloth Kawasaki
5th #100 Steve Turo Kawasaki
6th #11 Brady Kruize Suzuki
7th #30 Ethan Manibusan Kawasaki
8th #47 Franklin Perez Kawasaki
9th #318 Rudy King Yamaha
10th #83 Ceasar Whitt Kawasak
11th  #28 Brad Gomez Kawasaki
Vet Over 40 Motorcycle
1st #75 Jeff Rios Yamaha
2nd  #57 Kim Aiken Honda
3rd #100 Steve Turo Kawasaki
4th #83 Ceasar Whitt Kawasaki
5th #25y Dave Kautz Honda
Round 4 of the Monster Energy 2015 Guam Motocross Championships will be held on Sunday June 7th at the Guam International Raceway. Gates open at 9am with racing set to begin at 11 30am. For more information visit www.GuamRaceway.com or contact by e-mail at [email protected]

QUICK HITS
3rd place: Big ups to the Para Todu Rugby Club for finishing 3rd out of 16 teams in the Manila 10's Rugby Tournament today. Biba Guam Rugby!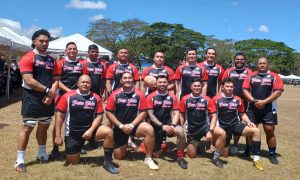 ——————————————
Guam MTB National Championship: Edward Oingerang and Jennifer Camacho are your 2023 MTB national champions. Oingerang finished the course in 1:13:24 while Camacho won her second straight title in 54:08.