By Robert Balajadia
The visiting ladies from the Philippines made a big debut in the Asia Pacific Little League Girls Fastpitch Softball Regional Tournament with a win over the Guam Big League team 10-2 at the Guerrero field Wednesday morning.
The all-star group of some of Guam's best 16-18 year old female players were up against stiff competition, facing one of the Philippines' young stars in Mary Ann Antolihao. The 18-year-old pitching ace Antolihao said she can hit speeds as high as 97 mph and Guam got a good taste of that speed through five straight innings.
While giving up two hits, not much passed the Antolihao and the Philippines defense grabbing a 9-0 lead over Guam before she made her exit in the 5th. Though she was a little nervous, the pitches never slowed down.
"I started pitching since I was five and I discovered my speed during my first year of college. This is a great opportunity and learning experience for us so we get to expose ourselves to other teams rather than just playing teams in the Philippines," said Antolihao.
The offense also played out big for the Philippines squad getting their first points on the board thanks to a three-run homer from Kristie Marie Acuna to break a scoreless game in the 3rd.
Guam starter Meagan Maratita pitched two scoreless innings before Acuna's 3rd inning slam which opened up the flood gates for the Philippines offense.
Ref Lyca Basa was the next to get in on the offense with a standup double and was eventually brought home by Delly Rose Coyarrubias on the following play. The Philippines tacked on two more runs to get a 6-0 lead in the 3rd.
Errors in communication played a big factor for Guam with four in-field flies hitting the ground with at least three different teammates in the area. Acne's hit in the 4th inning dropped in-field which allowed another run to score to go up 7-0.
Antolihao then made her exit making her way for teammate Princess Jurado. Guam then took advantage with Tamisha Fejeran getting a 2RBI single after teammate Coleen Quinata got on base. Basa then came in to relieve Jurado as the Philippines were able to tack on their last run for the win.
Antolihao got the win for the Philippines as Maratita took the loss for Guam.
Remaining Games
Thursday, June 11, 2015
10:00 a.m. Majors Division – Australia vs. *Philippines
1:00 p.m.Big League Division – Guam  vs.  *Philippines
Friday, June 12, 2015
10:00 a.m. Big League Division – *Guam vs.  Philippines
1:00 p.m.  Majors Division – *Australia  vs.  Philippines
Saturday, June 13, 2015
10:00 a.m.Majors Division – Australia   vs.   *Philippines
1:00 p.m.Big League Division – Guam  vs.  *Philippines
Sunday, June 14, 2015
9:00 a.m.Championship Game
12:00 p.m.Championship Game
PHOTO GALLERY:

QUICK HITS
Guam MTB National Championship: Edward Oingerang and Jennifer Camacho are your 2023 MTB national champions. Oingerang finished the course in 1:13:24 while Camacho won her second straight title in 54:08.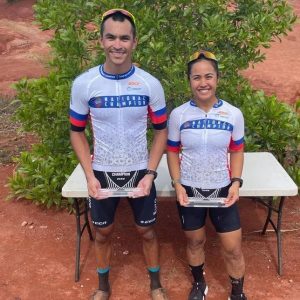 ——————————————
Kobe Miyashita, with St. John's coach Arvin Flores, was named the 2023 IIAAG Middle School Boys Volleyball MVP!