[useful_banner_manager_banner_rotation banners=72,74,79 interval=10 width=120- height=600 orderby=rand]
By Robert Balajadia
The Southern Dolphins traveled across the island to tipoff the girls basketball quarterfinals against the Okkodo Bulldogs Friday night. With both teams missing their top talents late in the 4th quarter, the Dolphins corralled behind guard Kim Malalis to a thrilling 61-57 win.
After Okkodo had missed two chances under the basket for a game tying score in the final 24 seconds, Southern got the ball in the hands of Malalis who calmly sank a pair of free-throws for the game's final points.
"We're all capable of making those kinds of plays," said Malalis on the late game free throws. "We didn't want to end our season up here. We felt like we shouldn't have lost to them in the regular season and the win tonight proves to us that we shouldn't have loss."
The 1st seeded Taga Division Bulldogs defeated the 4th seeded Gadao Division in the regular season 56-51.
Malalis led Southern with 17 points while teammate Nadine Calceta added 15. Southern overcame a 21 point outing from Shania Bulala and 12 points from forward Nica Mojas.
Southern came out firing in the 4th quarter to command a 51-40 lead, part of an 11-0 run in the first two minutes. Okkodo then rallied behind guard and 2nd Team All-Island selectee Shania Bulala, who scored seven points as the Bulldogs went on a run of their own, 10-0, to pull within 51-50.
Then, Dolphins' All-Island 1st team center Marlisa Tenorio picked up her fifth and final foul with half the quarter to go with her team holding on to the slim lead. Less than a minute later, Bulala picked up her final foul forcing her out of action with Malalis stretching the game to a 55-51 lead from the foul line.
Bulldog Jestyne Sablan then started to get it going with a pair of free throws, plus an and-one that brought Okkodo within two. Sablan then pick pocketed Southern's Monica Iriarte that led to a fast break bucket from 2nd Team All-Island forward Nica Mojas to tie the game at 57, but Sablan appeared to roll her ankle on a Dolphin while the pass was made forcing her out of the game as well.
Okkodo was without their two best ball handlers in the final two minutes while Malalis converted on free throws to give Southern a 59-57 lead. Okkodo's last chance came inside 24 seconds with Mojas getting two contested looks under the basket. Both shots were just off allowing the Dolphins to get the ball in the hands of Malalis for the icing free throws.
Southern quickly doubled up on the Bulldogs in the first quarter after taking an 18-9 advantage thanks to Nadine Calceta's three deep balls.
"I just wanted to win the game. We are playing a lot better in the playoffs than we have been during the season," said Calceta on the difference between facing Okkodo in the playoffs. "We are starting to come together as a team and we're beginning to trust each other more."
The Dolphins continued to control the pace after leading 27-23 in the second quarter.
Okkodo stormed back in the 3rd with Alannah Crame converting on an and-one and three pointer to get within 31-30. Crame then fired up a pass to teammate Caren Mesias on the break to give Okkodo their first lead 32-31. Isla Quinata and Bulala added to the scoring run as Okkodo went up 36-31, a lead they would hold into the 4th quarter 40-39.
The Dolphins will next face the ND Royals, who mightily handled the JFK Islanders 74-32. Destiny Castro outscored JFK herself with 33 points to go along with 17 rebounds and 8 assists.
PHOTO GALLERY BROUGHT TO YOU BY:

QUICK HITS
Guam MTB National Championship: Edward Oingerang and Jennifer Camacho are your 2023 MTB national champions. Oingerang finished the course in 1:13:24 while Camacho won her second straight title in 54:08.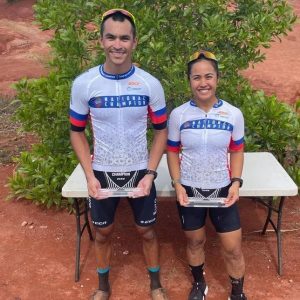 ——————————————
Kobe Miyashita, with St. John's coach Arvin Flores, was named the 2023 IIAAG Middle School Boys Volleyball MVP!