[useful_banner_manager_banner_rotation banners=72,74,77 interval=10 width=120- height=600 orderby=rand]
PRESS RELEASE – After playing a tough match under the hot sun in Week 5 of the Triple J Auto Group Robbie Webber Youth Soccer League, players from the Community First/Days Inn Dededo Soccer Club Gold U10B team looked forward to post-match refreshments at the Guam Football Association National Training Center.
"We all try to play our best during the games, so after we play, I like it when we get snacks," said 9-year-old Ian Aguon, a student at Finegayan Elementary School. "My favorite part about playing soccer is the feeling when the ball gets close to the other team's goal and you know you have to kick it in to score for your team."
Aguon began playing soccer last year after his mother, Irene Tedtaotao, encouraged him to join. This season, Aguon's younger brother, Izick, 5, also started playing. "Luckily for me, their games were one after the other and not scheduled at the same time, as I had volunteered to bring snacks for Ian's team today," Tedtaotao, 29, said. "In our club, parents choose a Saturday to bring snacks for the team and it's well-organized so the kids always have something to eat and drink after they play."
In the U12A division, the Orange Crushers defeated Tsunami Flood 5-3 with two goals from Bobby Haddock and one each from Elijah Calvo, Nate Morgan, and Caeden Wood. Jayden Savinon scored three for Tsunami Flood. The ASC Trust Islanders Betde defeated the Tigers 10-2 with three goals each from EJ Sablan and Jadyn Palomares, two from Mason Sanchez and one each from Jason Palomares and Daniel Glasscock. Harry Kim and Hyun Kang Lee scored for the Tigers.
Wings Black defeated Tumon 6-0 with two goals from Daisei Watabe and one each from Kyle Takano, Caden Chadwick, Ernest Cho, and Martin Iseke. Sidekick SC defeated Quality Distributors 8-1 with three goals each from Savannah Grant and Tyler Concepcion and two from Avri Lallatin. Isaiah Masga scored for Quality.
Wings Red defeated the Strykers with goals from Taiyo Kanekatsu, Derrick Yen, Andrew Choi, Andrew Kilgore, Justin Joseph, and Nainoa Norton. Zion Quitugua and Bryan Nakamine scored for the Strykers. The Guam Shipyard Wolverines defeated Dededo White 5-0 with three goals from Lauren Phillips and one each from Isaiah Topasna and Nathan Toves.
In the U14 division, Wings Red defeated Dededo 5-2 with two goals from Anthony Moon and one each from Kaito Atsuta, Leon Morimoto, and Eddie Cho. Janeson Quitano and Christian Kido scored for Dededo. The Strykers defeated the Sidekick SC with three goals each from Joshua Calvo and Alan Thomas and one each from Andrew Stenson, Lily Franklin, and Micah Hennegan. Islanders Betde defeated their Isa counterparts with two goals each from Jonathan Sevilla and Shawn Sablan and one each from Mia San Nicolas, Brennan Finona, and John Kai Colisao.
In the U17A division, the Southern Cobras defeated Sidekick SC led by Phil Jardaleza's five goals and Seth Surber's hat trick. Vance Camacho scored twice and Kevin Cruz and Jesse Cruz each scored once. Giancarlo Abril scored twice for Sidekick SC and Dante Asprec also scored. Wings Red defeated Quality 3-0 with two goals from Jordan Jasmin and one from Inochi Recella.
Islanders Betde defeated Wings Black 2-0 with goals from Leon Bamba and Aubrienne Pangindian. The Strykers defeated the Wolverines 6-3 with two goals from Michael "Jake" Benito and one each from Xavier Naputi, Kazu Yoshida, Joshua Lujan, and Vince Cruz. Jestin Escobar, Noah Camacho, and Preston Boynton scored for the Wolverines.
Youth league play continues Saturday. Schedules for each age division are online at http://www.guamfa.com/all-leagues-youth-fall-results
PHOTO GALLERY BROUGHT TO YOU BY:

QUICK HITS
Guam MTB National Championship: Edward Oingerang and Jennifer Camacho are your 2023 MTB national champions. Oingerang finished the course in 1:13:24 while Camacho won her second straight title in 54:08.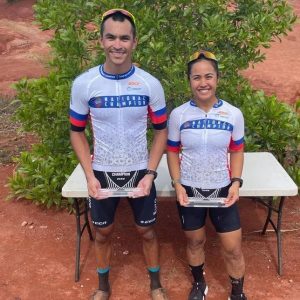 ——————————————
Kobe Miyashita, with St. John's coach Arvin Flores, was named the 2023 IIAAG Middle School Boys Volleyball MVP!