PRESS RELEASE – For many top soccer players, having a role model at an early age – whether it is an international star featured daily in media or someone closer to home – assists immensely in developing a pure love for the sport.
"I started playing soccer because my older brother, Patson, started playing soccer and I look up to him," said Patrick Haimin, one of Community First Dededo Soccer Club's top U12A players. "I was six years old when I started and I really love playing. My favorite part of the sport is playing fair with my teammates in league matches. In practice, I always look forward to scrimmages because that's the most fun.
"This season, our club put in a team in the U12A division and we are doing well. I hope we can finish in the top three," added Haimin, an 11-year-old student at Vicente S.A. Benavente Middle School.
Dededo has two more regular season matches in the Triple J Auto Group Robbie Webber Youth Soccer League and is currently in fifth place. In the team's Week 7 match against the Tigers, Haimin scored four goals in his team's 7-4 win. Yuuki Kubo scored twice and Kaden Rivera once in the win. Seung Chan Lee scored four for the Tigers.
In other U12A matches, the Wings Red defeated the Strykers with goals from Nainoa Norton, Taiyo Kanekatsu, Justin Joseph, Andrew Choi and Gabriel Simard.
Guam Shipyard Wolverines defeated Wings Black 2-0 with goals from Lauren Phillips and Ian Paulino.
The Orange Crushers edged the ASC Trust Islanders Asut 4-3 with two goals from Robert Haddock and one each from Nathaniel Mortera and Nate Morgan. Jadyn Palomares, Jason Palomares, and Mia Taitano each scored once for the Islanders.
The Islanders Betde defeated Tsunami with goals from Benjamin Borja, E.J. Sablan, Daniel Glasscock, and Cristian Cruz.
In the U14 division, the Islanders Betde defeated Wings Black 7-2 with a hat trick from Blayde Blas, two goals from Shawn Sablan and one each from Tiffani Lopez and Javian Cruz. Eddie Cho scored twice for the Wings Black.
The Strykers and Wings Red battled to a 2-2 draw. Joshua Calvo and Ethan Elwell scored for the Strykers and Anthony Moon scored for the Wings. The Wings' other goal came on a Strykers own goal.
The Islanders Apaka edged their Asut counterparts 3-2 with two goals from Aaron Gogo and one from Jaryn Borja. Mackey Rasmussen and Isaiah Macalma scored for Asut.
The Tigers defeated the Sidekick SC 4-1 with a pair of goals from Seung Min Kim and one each from Kris Fernandez and Yu Chan Lee. Noah Borja scored for the Sidekick SC.
A late goal from Joseph Green lifted Dededo over the Southern Cobras 3-2. John Halili and Isabella Rodriguez also scored for Dededo. Dean Diras scored twice for the Cobras.
The Wolverines defeated Tsunami with goals from Chloe Salas, Luke Reyes, Manny Paulino, Ben Sweeney, John Topasna, Ryan Lee, Hannah Cruz and Brianne Leon Guerrero.
In the U17A division, the Strykers defeated Wings Black 5-1 with goals from Clayton Mitchell, Vince Cruz, Aidan Dickson, Errett Bainum, and Joseph Quan. Sena Morimoto scored for the Wings.
Quality Distributors defeated the Islanders Asut 6-0 with three goals from Sam Larkin and one each from Joshua Cepeda, Ryan Ledger, and Andrew Baldwin.
The Wings Red won via forfeit over the Southern Cobras.
Youth league action continues Saturday.
PHOTO GALLERY:

QUICK HITS
The Guam Smokin' Hot women's softball team captured first place in the Asia Cup Softball Championships 2023 in Bangkok, Thailand.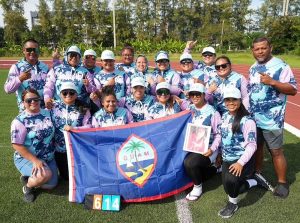 ——————————————————-
Roque Martinez gets the unanimous decision win Saturday night in his debut fight in South Korea's Black Combat promotions.
The 37-year-old controlled the tempo all three rounds and bloodied his opponent with some 3rd round ground and pound.