By Robert Balajadia
The GW Geckos girls softball team could've easily handed the game over to the top seeded JFK Islanders, especially down 5-1 in the bottom of the 7th inning, at the Geckos home-field Wednesday evening. Instead, the Geckos rose to the occasion, scoring the final five runs to stun the Islanders 6-5, giving JFK just their second loss all season.
Geckos Sia Duenas was at bat with the bases loaded with the winning run on second.
"On a scale from 1-to-10, that was definitely a 10, but in being a team captain I knew that I had to have faith so I just believed in everything I could do," said Duenas on the final play of the game.
Duenas, with her dad cheering her on to swing, let loose an infield grounder that rolled all the way to third base. The throw to first was well off which allowed the tying run in Marika Miyasaki and the winning run in Samantha Quinata to safely make it home for the win.
Check out the final play on the official GSPN Instagram account, and you can follow @guamsportsnetwork for a different kind of sports coverage!
The game was won with Duenas' at bat, but the run started after Islanders starting pitcher Pillar George had walked Geckos Jackie Toves in the beginning of the 7th. Teammate Amanda Castro got a clean shot deep left field when Geckos coach Alex Gumataotao was signalling Toves to go home and Castro to hold up at 2nd base.
Toves intercepted the call for Castro and stopped at 3rd, missing her opportunity to score. The mishap didn't hurt their chances as Colleen Quinata smashed a ball through center field for an RBI single to get within 5-2. Quinata advanced to 2nd base after the outfield tried to catch Toves at home.
Then came Miyasaki's big at-bat which completely shifted the games momentum. Miyasaki got a big hit deep to right field which was close to a foul ball, but the ball dropped inside the line and rolled which allowed Toves and Co Quinata to get the score within one run, 5-4.
"Coach had been telling us to finish strong, but what really helped us push was having confidence in ourselves and we just kept making a lot of noise and that's what helped us finish this," said Miyasaki on finding the drive to finish the game.
Sam Quinata was next at bat and she got a base hit, setting up teammate Thea Sablan's at bat. Sablan hit a grounder to 3rd where the Islanders could have ended the game as Miyasaki barely beat the throw, but Islanders 3rd baseman never touched the bag which allowed Miyasaki to remain safe on the play.
With the bases loaded, Duenas came and delivered despite struggling at-bat for the majority of the game.
The Islanders took a 4-0 lead in the 3rd inning and tacked on another run in the 6th which appeared to give them enough of a gap to win the game.
The girls softball season is nearing its end and the GW Geckos have notched a couple of impressive wins towards the end of the season, most recently beating the Academy Cougars and nearly coming away with a win against the five-time defending champion Southern Dolphins.
Beating the Islanders has given the Geckos a lot more confidence as the season winds down. The Geckos improve to 4-5 and the Islanders fall to 7-2.
"We work well as a team and we really support each other and we have a lot of energy running through us that helps us finish games. Before the game [against JFK], we didn't have too much confidence, but we proved that if we worked together we could do a good job," said Miyasaki.
PHOTO GALLERY BROUGHT TO YOU BY:

Athletes Birthdays by W5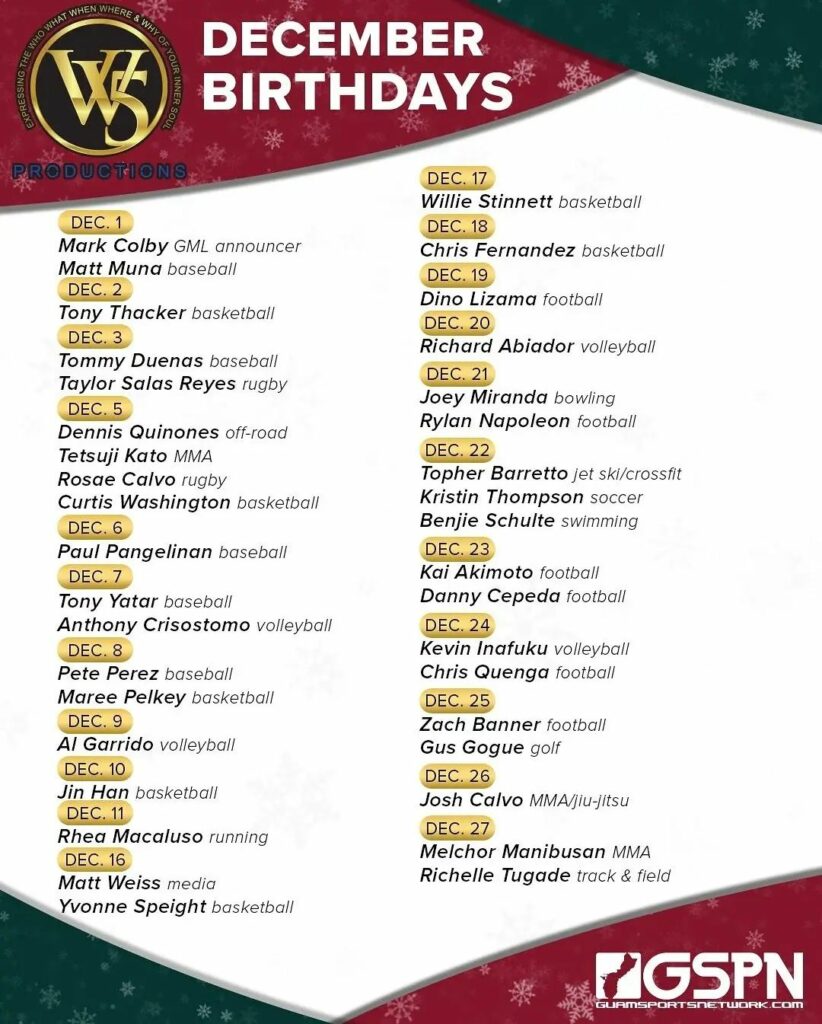 GPS Sports Calendar
SU

MO

TU

WE

TH

FR

SA
Events for December
5th
No Events
Events for December
6th
Events for December
7th
Events for December
8th
No Events
Events for December
9th
Events for December
10th
Events for December
11th
06:00 AM - 08:00 AM
Umatac
Events for December
12th
No Events
Events for December
13th
No Events
Events for December
14th
No Events
Events for December
15th
No Events
Events for December
16th
Events for December
17th
Events for December
18th
19

20

21

22

23

24

25
Events for December
19th
No Events
Events for December
20th
No Events
Events for December
21st
No Events
Events for December
22nd
No Events
Events for December
23rd
No Events
Events for December
24th
No Events
Events for December
25th
No Events
26

27

28

29

30

31

1
Events for December
26th
No Events
Events for December
27th
No Events
Events for December
28th
No Events
Events for December
29th
No Events
Events for December
30th
No Events
Events for December
31st
No Events
National Guard Athletes
Scott Eclavea
Scott Eclavea is a jiu-jitsu black belt and an accomplished MMA fighter. The Guard has given him an outlet in combatives to display his martial art skills, where he's become a head instructor for that program. Eclavea has served since coming out of high school and the Guard has only changed his life for the better.
COMING SOON …
LIVE FOOTBALL ON GSPN
Championship Game – FD vs Guam High @ 7 pm
GSPN Preseason Basketball Tournament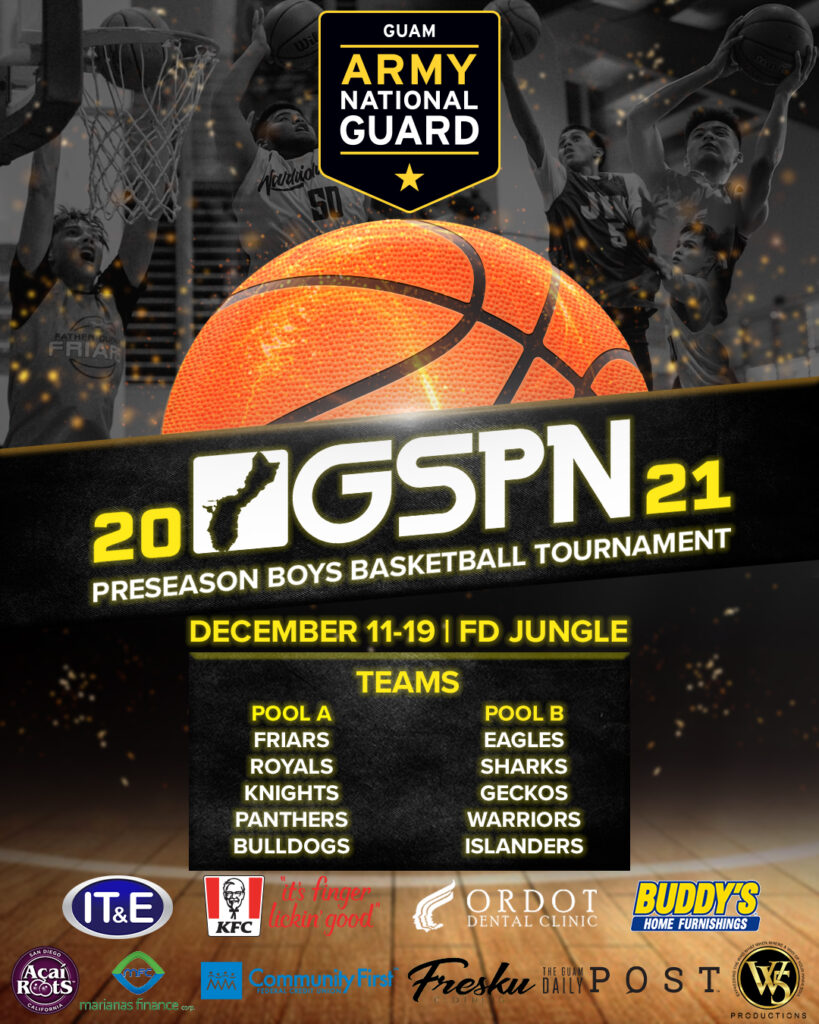 QUICK HITS
Robert Artero Maley recently captured the 182-lb. division of the Costa Mesa Classic, winning via pin in 4 out of 5 matches. Robert is a 4-year varsity wrestler at San Clemente HS (Tritons) and is currently ranked 15th in California's high school scene. He is the son of Jacque Artero Maley (AOLG 1991).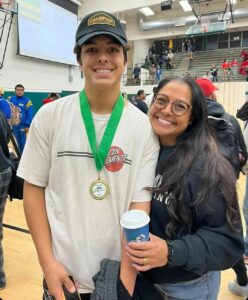 ——————————————–
Pat Taitano and Rich Abiador, teammates on the 1995 SPG volleyball team, have led their high school girls volleyball teams to the Washington State Championships in Yakima, Wa.
Taitano coaches Mt. Rainier High while Abiador leads North Creek High.
There for support is Dr. Mark Perez, a health professor at Central Washington University and a former UOG volleyball player.