By Patrick Lujan
Guam athletes are one step closer to receiving government support through the Guam Visitors Bureau's Sports and Cultural Ambassador Program.
The new program, which was put into law (P.L. 33-10) this past April 1st,  held a public hearing earlier this week at GVB to review its rules and regulations.
"We've been supporting sports and cultural groups for many years through our current grant program. The new ambassadorship program will allow us to increase GVB's support while providing additional exposure of our island and the talents of our people," said GVB General Manager Nathan Denight. "While we are continuing to draw visitors to the island to grow the economy and benefit our local community, being able to assist island residents through this program is also something we are proud to do."
A hand-full of stakeholders from the sports and cultural community were present to participate in the hearing Wednesday night.
"The recommendations offered by those in attendance during the public hearing will definitely strengthen the set of rules that were initially developed by GVB," Sen. Tommy Morrison said. " Nate Denight, GVB's General Manager, and his team did an awesome job in putting together a comprehensive proposal which helped to ensure that the hearing was a success."
According to the program, it allows GVB to leverage the Tourism Attraction Fund to maximize the funding.
Objectives
Provide funding for sports and cultural ambassadors traveling abroad to participate in sporting and cultural events/activities overseas
Strengthen relationships and develop opportunities for hosting international events on Guam through the participation of overseas events
Raise awareness of Guam's unique culture, sporting activities and events overseas
Aid in the diversification of Guam to attract new markets
Definition
Sports Ambassador: Any individual actively engaged in and capable of participating in a sporting contest or feat requiring physical strength, speed and or endurance. Sports Ambassador may be professional or amateur.
Travel expenses can be covered up to 50% of the cost.
"Following receipt of the rules from GVB, the legislature will have 90 days to approve, disapprove, or amend the proposed regulations," Sen. Morrison added.
According to GVB, the public will have until Wednesday, July 29, 2015 to submit written comments regarding the proposed set of rules.  For additional information, please contact Mr. Kraig Camacho or Mr. Antonio Muna at GVB at 646-5278.
VIEW DRAFT PROGRAM HERE: sports-and-cultural-ambassador-program (1)

QUICK HITS
3rd place: Big ups to the Para Todu Rugby Club for finishing 3rd out of 16 teams in the Manila 10's Rugby Tournament today. Biba Guam Rugby!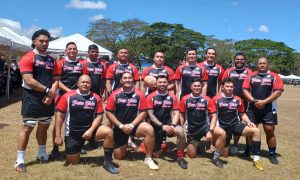 ——————————————
Guam MTB National Championship: Edward Oingerang and Jennifer Camacho are your 2023 MTB national champions. Oingerang finished the course in 1:13:24 while Camacho won her second straight title in 54:08.