By Robert Balajadia
It has been a busy couple of months for Guam rugby having competed in two major competitions while moving up into the Division 2 field with a huge win over China in the Asia Rugby Championship in July.
Guam then had the tough task of transitioning into a 7's format from 15's with only two weeks of preparation for the 2015 Pacific Games where they would eventually run into the worlds #1 ranked team Fiji, and it didn't end all too well.
Guam finished 9th place in the power house division of rugby 7's in a case where exposure and experience were the most important things gained.
"All these South Pacific teams are top ranked Rugby 7's clubs and we need more games likes this against higher ranked teams since tt helps our guys see where they need to improve. Hats off to them though for preparing for the tournament in just two weeks," said Guam's professional rugby player Zach Pangelinan, who has spent years on the USA Rugby Team.
The Difference
Guam's rise to Division 2 is no small feat and the rough outing in the Pacific Games in no way diminishes the rise of rugby on Guam. But as far as competition goes, the difference between Guam's Asia opponents and South Pacific opponents are vast.
"It's a cheap sport to pick up and most of those players were born and raised in the sport so they developed to be really talented players. Even so that coaches from the UK and New Zealand would make trips to places like Fiji just to train and evaluate the talent," said Pangelinan.
Pangelinan also touched up on the rugby in Asia and commended them on their year-round league stability and would like to see Guam transition into a more consistent rugby schedule for 15's and 7's.
"Guam's rugby union would need to step up and put a little more than what's currently on the table. I've seen other rugby organizations and they take good care of their athletes. It's the fastest growing sport on Guam and we should have more consistent leagues instead of casual weekend rugby tournaments and especially more opportunities for the youth," he added.
Family First
Pangelinan is back on island for a brief period to commemorate the one-year passing of his mother Tina Pangelinan. Dealing with the loss has been hard for him, but family and friends have been quick to keep the Guam star up on his feet.
"The warmth and love of all the people here is overwhelming and awesome. My family and friends have been making it all a lot easier for me," said Pangelinan.
He also jumps at every chance to play rugby, even during his down time. Evidently enough, Pangelinan was part of the DTMH squad that won the Beach Rugby tournament last weekend.
"I'm always willing to jump at the chance to play or to teach whoever wants to learn. I'm always eager to share with the guys back here what I've learned while away and I really enjoy doing it."
The 2013 GSPN Athlete of the Year always plays for Guam and hasn't stopped trying to provide more opportunities for the younger generation.
"I'm trying to open doors for the kids to dream big. You have to set little goals and accomplish those first before you can tackle the ultimate goal. Most scouts won't be willing to come to Guam so they have to have the mind set that they are willing to do whatever it takes to get noticed, like make the trip to go see the scouts since they won't come to see them."

QUICK HITS
Guam MTB National Championship: Edward Oingerang and Jennifer Camacho are your 2023 MTB national champions. Oingerang finished the course in 1:13:24 while Camacho won her second straight title in 54:08.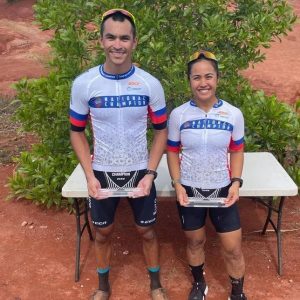 ——————————————
Kobe Miyashita, with St. John's coach Arvin Flores, was named the 2023 IIAAG Middle School Boys Volleyball MVP!