After a festive Opening Ceremony Saturday night, action for all other sports other than men's basketball got underway Sunday morning.
The combined triathlon team of Peter Lombard, Patrick Camacho and Cameron O'Neal for the men and Karly O'Neal, Mylene Garcia and Ayshalynn Perez took the team bronze medal, making it the first medal for Guam in the Games! (see team preview here)
Individual Men
Patrick Camacho 1:09:56 (8th)
Peter Lombard 1:10:20 (9th)
Cam O'Neal 1:11:23(11th)
Individual Women
Ayshalynn Perez 1:17:17 (8th)
Mylene Garcia 1:26:16 (11th)
Karly O'Neal 1:33:26(14th)
New Caledonia and Tahiti took the top two slots.
TAGUACTA TAKES BRONZE IN SNATCH
For the first time in almost two decades, Guam weightlifters were represented in the Games and 21-year-old Kimberly Taguacta wasted no time in jumping on to the podium with a bronze medal in the women's snatch competition.
"The competition was crazy! Being in the training hall for practice and the warm up area for my weight class felt so intense. Everyone was pretty experienced and this was my first international competition. But I focused on myself and the tasks I had to do."
For the new weightlifter who's more familiar on the rugby field, winning the bronze was quite a surprise.
"The moment I realized I won bronze was shocking. I came into the Pacific Games just wanting to get experience and to perform on the international level, and to win bronze I couldn't be happier. I looked at my coaches and smiled so big," Taguacta said. "Waiting on stage, hearing my name being called and standing on the podium. I immediately started tearing. I realized what a huge accomplishment it was to win a medal and to represent my island in a big way."
– Women's Basketball crushed Nauru 116-25. Five players scored in double figures led by Kathy Castro 21 pts, Joylyn Pangilinan 20 pts and Destiny Castro 19 pts.

2022 GSPN I MÅS METGOT COMPETITION
2022 GSPN I Mås Metgot Competition Recap
2022 GSPN I MÅS METGOT COMPETITION
2022 GSPN I Mås Metgot Competition Recap
2022 GSPN I MÅS METGOT COMPETITION
2022 GSPN I Mås Metgot Competition Recap
COMING SOON …
Sat: Origin Power Lifting Meet 
ISA Girls Volleyball/Boys Soccer Finals
QUICK HITS
Guam runners complete London Marathon. Former Guam top runners Charlie Epperson and Aysha Perez Epperson along with Cameron ONeal completed the 42nd London Marathon.
Charlie 2:47:56
Cameron 2:59:49
Aysha 3:51:04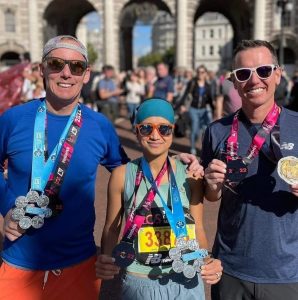 ———————————————–
Trevin Jones drops a unanimous decision 30-25, 30-27, 30-27 to Raoni Barcelos in UFC Fight Night 211 in Las Vegas.