By Derek Mandell
There are some stories so amazing and unexpected that they evolve into legends. While some legends grow, other incredible stories are not shared and fade away to become lost memories. There's one story in particular that I've witnessed grow into a legend that deserves to finally be told. The most absurd thing about sharing this story, is that it would likely be the first time the island will have heard it. 
Read Part I and Part II
Here is the final segment, Part III.
The Record Night
By 2008, Johnson had continued to make great improvements in his running. His 10k time dipped below 32 minutes and his 5k time was under 15 minutes and 30 seconds. Johnson had already begun to beat me in these distance runs, while I continued my improvement in the middle distance events under two miles.
"Throughout most of my collegiate running career, I was solely focused on improving my times and mileage. I was kind of happy with every (personal record) I attained before the 10K record but it was all short-lived because I continuously wanted to get faster," said Johnson. "I never felt like my PRs were achievements, probably because I had nothing tangible to attach it to. Most of our teammates were school record holders, district champions, meet champions, all-island champions, etc. In my eyes, each person had tangible achievements and I had nothing."
However, Johnson was closing in on history. At the time, the Guam national record for the 10k was held by Brent Butler in 31:46.67, which stood for 10 years. Coach Conner knew this was achievable for Johnson and so he set up several races for him to reach this goal.
The record-breaking race occurred on a perfect night at Western Oregon University. Two weeks earlier, Johnson had run 31:51 and Conner knew that something special was going to happen soon. On the way to the track, the team stopped by a local hardware store and Conner tasked us with making a Guam flag. So we used our meal money and bought a blue fleece blanket, red duct tape, white poster board, and marker pens. After gathering materials, we stopped by the WOU student center and we made a flag.
When the race started, several of our teammates helped set the record-breaking pace, however by the halfway mark, Johnson was slightly behind pace and would need to finish faster in the second part of the race. As our teammates dropped out it narrowed down to just Johnson and Justin Houck, one of our top runners at the time. Johnson continued to push the pace and fought all the way to the end with grit and determination. When he crossed the line he had shattered the Guam national record by seven seconds. The team waived the makeshift Guam flag with pride as the announcers lauded the record breaking performance. Unfortunately, few people on Guam knew about these accomplishments or gave him proper credit in the media.
"It was only when I broke Guam's 10K national record that I finally recognized myself as a true collegiate runner. The feeling I had was euphoric; it was a culmination of all the happiness and satisfaction that should have been felt for every PR and feeling it all at once. At that time, it was THE happiest moment of my life," he added. "Receiving recognition from anyone at that time was more than enough for me; I didn't even notice I had more recognition in Portland than in Guam"
The Legend Grows
Although his college career ended, Johnson has continued to maintain a strong relationship with coach Conner.
"Conner is more than just a coach; he is like a father figure to me. I am beyond grateful that he gave me the opportunity to join the team and train with them," said Johnson. "He always gave reasonable expectations and I would always want to surpass his expectations because I wanted to make him proud.  He has been a pivotal factor in influencing my lifestyle, from eating organic and healthy foods to maintaining a positive outlook in life no matter what."
Johnson's running has also continued to improve as evident in his most recent race at Vancouver Lake. Two years ago he ran 1:14:20 and last year, he ran 1:12:48 in the same course.
"I do this race every year since I moved here because of how flat, fast and scenic it is. I lost a few days of training from a sprained ankle 2 weeks before the race and only got in one speed workout after recovering. Due to the interruption in my training, I went into the race with the mindset of at least running under 73 minutes. I was not expecting to run anywhere near breaking 72. After realizing around mile four that my pace was surprisingly easy and consistent, I decided to chase down the lead runner. I was second place and about a minute behind him. I decided to not look at my watch anymore and just focus on chasing, which led me to run faster and faster. By the time I crossed the finish line I was only 20 seconds behind him and set a new PR by about 90 seconds (71:17). The feeling is close to how I felt when I set the 10K Guam national record."
"I firmly believe happiness comes from continuously pursuing your passion or passions in life. Whether it be running, singing, traveling, or whatever, as long as you keep chasing your passions, it will lead to happiness," Johnson added.
The island of Guam may not be familiar with Johnson Lee yet, but expect to keep hearing big things from him.
Author's note: Johnson will next be lining up at the 2015 Boston Marathon in April where he looks to set a personal record. He will join Guam's marathon national record holder Wayne Blas, recently named professional Cameron O'Neal, Kristina Ingvarsson, and Patrick Silverio as runners from Guam participating in the race.
Johnson was recently married this past January in Vancouver, Washington and coach Rob Conner officiated the wedding.

QUICK HITS
Guam MTB National Championship: Edward Oingerang and Jennifer Camacho are your 2023 MTB national champions. Oingerang finished the course in 1:13:24 while Camacho won her second straight title in 54:08.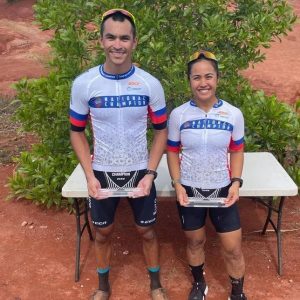 ——————————————
Kobe Miyashita, with St. John's coach Arvin Flores, was named the 2023 IIAAG Middle School Boys Volleyball MVP!