[useful_banner_manager_banner_rotation banners=72,74,77 interval=10 width=120- height=600 orderby=rand]
By Robert Balajadia
Some athletes take losses well by studying their mistakes to avoid the stress of defeat come next go-around. Some athletes aren't accustomed to losing and point the finger elsewhere when things go astray. Then, there are some athletes who don't lose at all.
FD Friars senior wrestler Cyril Maravilla is entering his final year of the sport and he's more than ready to continue his mat dominance. Maravilla has not lost a wrestling match since his freshman year, and has won the IIAAG gold medal in his division for the past two years.
To make his 2014 junior year even more memorable, Maravilla was awarded the IIAAG Lightweight MVP for his accomplishments.
A product of the FD Friars wrestling team under head coach Terry Debold, Maravilla wasn't planning on wrestling in high school having attended sports academies for football. Debold was the young Maravilla's weight lifting coach and insisted Cyril give wrestling a roll.
Maravilla bit on the opportunity, but Debold had no idea he'd be getting one of the IIAAG's future wrestling stars.
Maravilla's freshman season was his first ever involvement in wrestling and after losing his bronze medal match in the All-Island Meet, he went to face his dad Cedrick and simply said, "I want to get better."
Cyril's wrestling takeover was then just beginning.
No 'L' In Unbeaten
During the off-season of his freshman year, Maravilla attended a wrestling training camp in Minnesota where he learned new techniques, but more importantly he gained a mental toughness that would carry him throughout his sophomore season.
Coupled with heavy conditioning under coach Dedbold, Maravilla was ready to turn his wrestling record around for the better. He went unbeaten in his sophomore campaign and finished with a gold medal.
"It was just putting two-and-two together," said Maravilla on how his freshman season differed from his sophomore. "I got smarter and just used everything I learned from coach Terry, camps in Minnesota, and training at Spike 22."
The wrestling lifestyle has been a repeat cycle for Maravilla, who is a full-time wrestling athlete. That dedication requires wrestling to be the only sport he willingly participates in all school year while spending all of the off-season preparing for the next.
"Wrestling is a constant grind. Me and a few of my teammates spend our offseason working out with Spike 22, doing a lot of conditioning, and coach Terry also plays a part by helping us with our technique while also waking us up at 4:30 in the morning to make sure we get a jog in," said Maravilla.
Training repetition only meant a repetition of success as Maravilla also went unbeaten as a junior.
Maravilla sees Debold as his second dad, but his family's support has been second to none.
"My parents would ground me if I were even two pounds under weight," laughed Maravilla. "They have done everything for me and they stop at nothing to make sure I have all the things necessary to succeed. My support system is amazing."
2015 Season The Toughest Yet
As Maravilla's wrestling success continues to grow, so does his teenage body.
Cyril started wrestling at 113 lbs. and gradually moved up in weight class after each year. After balancing between 113-120 in his sophomore year, Maravilla only competed at 120 in his junior year. Entering his senior year, Maravilla will be wrestling at 126 lbs., the highest weight class he's ever competed in.
"What really worries me is the strength difference with some of the guys dropping from 140 lbs. To get ready for that, I'm wrestling 160 lbs. guys in practice," added Maravilla.
College is just around the corner for Cyril and his dreams of wrestling in Division 1 are highly dependant on his 2015 success. He's got a few letters back on some Division 2 schools, but he wants to floor all possible destinations before he makes a decision.
Though, Maravilla isn't just trying to remain unbeaten in 2015.
"I want to go unbeaten without anyone scoring any points on me," said Cyril on his goal. "My captain as a freshman, Micah Lopez, had a goal his final year which was to not get taken down. He almost achieved it and I wanted to set a similar goal."
Maravilla will officially kick off the wrestling season Saturday morning against the Southern Dolphins @ Guam High.
PHOTO GALLERY BROUGHT TO YOU BY:

QUICK HITS
Guam MTB National Championship: Edward Oingerang and Jennifer Camacho are your 2023 MTB national champions. Oingerang finished the course in 1:13:24 while Camacho won her second straight title in 54:08.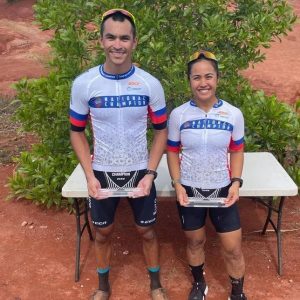 ——————————————
Kobe Miyashita, with St. John's coach Arvin Flores, was named the 2023 IIAAG Middle School Boys Volleyball MVP!