By Jay Leon Guerrero
"Man, that girl is fast!" were some of the comments made at the JFK track as spectators watched the JFK track team practice.
The on-lookers were making their comments as high school sprinter Regine Tugade turned the corner and made her move at the straight away during 200 meter sprint practices with the JFK track team. Another spectator was in so much awe saying she is so fast that she is "smoking all the guys".
All eyes will be on Tugade when the 2015 track season starts as she flirts with breaking a couple of Guam National records. Tugade prepares to best her national record time in the 200 meter sprint and also a shot at breaking the 100 meter dash and the triple jump records.
The Islanders are the defending IIAAG boys and girls track and field champions. JFK looks to continue their dynasty with 71 total athletes (28 girls, 43 boys) signed up for the upcoming season set to start in the 4th quarter. With the Islanders leading in points for the GSPN High School Cup, track coach Jay Antonio will need to lead his team to double victory to better thier chances at winning the best athletic school/program award for the 2014-2015 school season.
With long distance super star runner John Aquino gone via graduation, Antonio still has a strong unit led by sprinter Tugade. Tugade, who is only a junior, won three golds and a silver medal at last season's All-Island Meet as a super sophomore against some heavy competition. Tugade has since broken the record for the 200 meter sprint with a time of 25.52 seconds and she is only getting stronger and faster.
The Islander girls team will look to go for the "3-peat," and with teammates like long distance runner Genina Criss and middle distance standout Alison Bowman, the Islanders are heavily favored to win it all again.
"We lost some key players from last season, but we still have some good returnees for this season," said Antonio. "The team has been working really hard, they started working out on their own after cross country season," said Tugade. Tugade said that her workouts for the season started after she finished basketball and volleyball seasons.
She also just returned from the 2015 Philippine National Track and Field Invitational Championships in Manila, Philippines, where she managed to win a bronze medal against top Asian athletes.
"I actually did my PR (personal record) in the Philippines with a time of 12.64 seconds," said Tugade. The 100m record, currently held by Pollara Cobb currently stands at 12.55 seconds.
"It was a good trip for her; it always helps to see tough competition before the season. Sprinting against fast competition early will help push her to run faster as the season starts," said Antonio. "Ultimately, the goal is for her to do well and represent Guam for the future," he continued. According to Tugade, the next competition for her is an Oceania meet scheduled in the summer in Australia.
Tugade and other members used the meet held in the Philippines as a pre-season warm up for the IIAAG season. Bowman wasn't able to join Tugade in the Philippines, but said that they did really well and the Islanders will be ready as a unit when the opening meet starts in April.
"Regine is an awesome teammate, she pushes us every day to do our best in practice," said Bowman. "Heck, she even pushes the guys,'" joked Bowman.
Bowman, who is a senior, said that the team is like a "family" and everyone is focused and excited for the upcoming season.
Johnny Quitugua, who is also a junior, looks to have a break out season in the hurdles and the triple jump for the boys team.
Quitugua said Tugade is an outstanding athlete and her contributions will be huge during the all-island meet as the Islanders look to win the overall points champion.
"Regine definitely puts points up in the board for us. She's very valuable to our team," said Quitugua.
"Coach (Antonio) is one of the main reason for our success. We may have good individual athletes, but he focuses on the team and pushes everyone to do well," said Tugade.
Friendly Rivalry
Last year, there was a showdown between the islands' top two sprinters with Tugade and GW's Raquel (Rocky) Walker battling for the title as Guam's fastest female. Tugade got her gold in the 200m and Walker evened the score with a victory in the 100m dash at last year's All-Island Meet.
Walker denied Tugade of the illustrious four gold medals and this season will be exciting with the pair going against one another yet again on the track.
"We are actually good friends and we've been off-island together competing for Guam as teammates," said Tugade. Tugade said that they keep in touch and there is definitely no animosity against each other. "We train separately but we still remain friends and we actually communicate online from time to time," said Tugade.
According to the coaches, the meets will either be held at GW or Okkodo this year. The first meet date is scheduled for April 10th. The All-Island Meet will be in May.
Special notes
Tugades PR's:
100m – 12.64
200m – 25.52 (Guam National Record)
Long jump – 4.95m
Triple jump – 10.61m
Guam Track and Field National records:
Women:
100m – Pollara Cobb (12.55)
200m – Regine Tugade (25.52)
400m – Naomi Blaz (60.12)
800m – Amy Atkinson (2:18.53)
4×100 relay – (49.49)
Tara Perez-Steffy
Corrine Neilsen
Aubrey Posadas
Jacqueline Baza Calvo
4X400 relay – (4:11.3)
Tara Perez-Steffy
Corrine Neilsen
Aubrey Posadas
Jacqueline Baza Calvo
Men:
100m – Philam Garcia (10.66)
200m – David Wilson (21.75)
400m – David Wilson (48.29)
800m – TJ Quan (1:53.26)
4X100 relay – (43.32)
Ryan Claros
Paul Claros
David Neilsen
PhilAm Garcia
4X400 relay – (3:30.6)
Florenz Quitlong
David Wilson
TJ Quan
James Evangelista

QUICK HITS
Guam MTB National Championship: Edward Oingerang and Jennifer Camacho are your 2023 MTB national champions. Oingerang finished the course in 1:13:24 while Camacho won her second straight title in 54:08.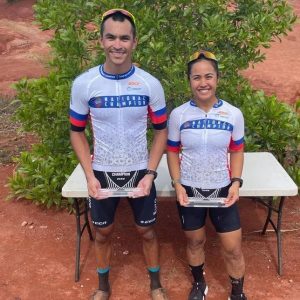 ——————————————
Kobe Miyashita, with St. John's coach Arvin Flores, was named the 2023 IIAAG Middle School Boys Volleyball MVP!