By Jay Leon Guerrero
Two high school records were broken in week two of the IIAAG high school track and field league Friday night at the Okkodo Track and Field. A pair of JFK female superstars, Regine Tugade (100m) and Alison Bowman (800m), shattered records for the green and gold according to head coach Jay Antonio.
Tugade smoked the field in the 100 meters sprint in heat 1 with a time of 12:26 seconds. Her record is not only the high school record but also the Guam National record breaking Pollara Cobb's previous time of 12.55 seconds set at the World Championships.
Bowman set a high school record in the 800 meters she set last year. Bowman's previous record was 2:28 set last year at Leo Palace track, her time she ran Friday night was 2:24.
*note: both records are unofficial, check GSPN for updates
In other track events, the boys' season title will probably go down to the wire with four teams looking strong. Joining the race of contenders are the Southern High School Dolphins.
Leading the way are seniors Ryan Teologo (short distances and hurdles) and Tatian Grajo (javelin and jumps) looking to win gold medals at the all-island meet. At the Okkodo track, Teologo (11.47 seconds) sent a huge message to the rest of the sprinting field clocking in first overall and barely beating out Guam Highs Keith Chauret (11.51 seconds) in the 100 meter dash.
"Last year, our team didn't do that great but this year we have so much potential. If everyone does their best then I'm sure we can finish up there (in the team standings) at the all-island meet," said Teologo. Teologo ran in the same heat as Chauret and had a significant lead until he stumbled with about thirty meters left. Chauret who said he got out of the blocks late, closed in on Teologo and almost caught him at the finish line but Teologo's length and lean helped him clinch the fastest time.
Grajo's victory was not as close as Teologo's win after he threw a personal best of 39.98 meters in the boys javelin, winning first overall by over three meters in the field event. "There is a lot of improvement in our team, more from the ladies then the guys actually. This is the biggest team we ever had," said Grajo. "We just need to keep working hard and improve in our cheering because we got yelled at last week for not being (more supportive)," joked Grajo.
In the girls sprints, Tugade (JFK), Raquel "Rocky" Walker (GW) , and Shania Bulala (Okkodo) each finished first in their respective heats with Tugade clocking in the fastest at 12.26 seconds. Walker and Bulala clocked in at 13.02 and 13.03, respectively.
Walker, last year's all-island gold medallist, said that it just felt good to run out there and she will be at 100 percent at the all-island meet.
"I'm actually still nursing an injury but it felt good to run out there. I actually skipped a few events tonight to make sure everything is smooth so that I can be ready for the all-island meet," said Walker. Walker was at the sidelines later in the meet cheering on her teammates. "Our team is really young, we have a lot of freshman and sophomores on our team that are really talented and I'm proud of them".
In the 3000 meter long distance race, a pair of new faces clocked in first overall in an event that has no outright favorite. Guam High freshman Isaac Ventura came in first for the boys and Okkodo's Adrienne Edrosa came from behind to win the girls race.
"I was nervous because this was my first meet but the pace out there was steady," said Edrosa. Edrosa was fourth in the pack going into the final lap and made her kick with heavy encouragement from her teammates to take the lead.
"I made my kick in the last 250 meters of the race, I was tired and wanted it to ends so I decided to just go for it," said a smiling Edrosa.
In the boys 110 meter and girls 100 meter hurdles, Johnny Quitugua from JFK and Christina Francisco from Guam High look to be favorites to win all-island gold blazing by the opposition comfortably. Francisco clocked in at 16.19 seconds, two seconds ahead of the second place finisher. Quitugua clocked in at at 15.99 seconds, also two seconds in front of the pack.
Quitugua said that despite the early success, there are still strong hurdlers in the 110 and 300 meter races. "For the 300, everyone looks out for Ryan Teologo; he is the fastest guy and he is a senior. In the sprints, it's anyone's game so I'm looking out for everyone, they are all in the same spectrum," said Quitugua.
Here are some results:
Boys long jump:
Richard Hale III (OHS) – 6.10m
Eric Alegre (GW) – 6.02m
Matthew Wong (THS) – 5.81m
Girls long jump:
Abigail Emmerling (GHS) – 4.55m
Rozie Larcia (OHS) – 4.46m
Roey Panganiban – (OHS) – 4.15m
Boys 110 hurdles:
Johnny Quitugua (JFK) – 15.99s
Zachary Cejoco (OHS) – 18.19s
John Olandez (OHS) – 18.27s
Ken Delfin (SSHS) – 18.27s
Girls 100 hurdles:
Christina Francisco (GHS) – 16.18s
Janine Rosario (JFK) – 18.38s
Maurine Delapaz 18.48s
Boys 4X100 relay:
Okkodo A (Mesias/Cruz/Lorenzo/De Leon) – 45.59s
Guam High A (Chauret/Hunter/Clark/Jones) – 46.21s
JFK A (Piolo/Manglona/Buenavidez/Grape) – 47.32s
Girls 4X100 relay:
Guam High A (Francisco/Emmerling/Whitaker/Bailey) – 52.39s
Okkodo A (Amparo/Flores/Larcia/Bulala) – 54.11s
JFK A (Galvez/Estay/Blaz/Calma) – 54.39s
Boys 100 meters:
Ryan Teologo (SHS) – 11.47s
Keith Chauret (GHS) – 11.51s
Michael De Leon (OHS) – 11.72s
Girls 100 meters:
Regine Tugade (JFK) – 12.26s
Raquel Walker (GW) – 13.02s
Shania Bulala (OHS) – 13.03s
Boys Javelin:
Tatian Grajo (SHS) – 39.98m
Robert Perez (JFK) – 36.60m
Jujuan King (FD) – 36.14m
PHOTO GALLERY:

QUICK HITS
Guam MTB National Championship: Edward Oingerang and Jennifer Camacho are your 2023 MTB national champions. Oingerang finished the course in 1:13:24 while Camacho won her second straight title in 54:08.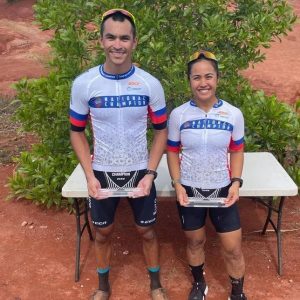 ——————————————
Kobe Miyashita, with St. John's coach Arvin Flores, was named the 2023 IIAAG Middle School Boys Volleyball MVP!