PRESS RELEASE – Defending champions Wings Red are poised to repeat for a second championship this year with an undefeated record moving into playoffs of the U12A division of the Triple J Auto Group Robbie Webber Youth Soccer League Fall Season at the Guam Football Association National Training Center.
"I hope we win the championship again," said Wings Red's Justin Joseph. "To win again, I think we need to strengthen our defense and also make better passes with each other to build up more plays to score.
"Most of us have played on the same team for a long time, so we know each other on the field and how we play. We also have a good coach who helps us and encourages us at our games," added the 11-year-old student at Harvest Christian Academy.
Wings Red continues its undefeated streak after its Week 7 victory over the Sidekick SC Saturday. Joseph, Taiyo Kanekatsu, Andrew Choi, Andrew Kilgore, Kai Suzuki, and Tayler Bonner all scored in the team's win.
In other U12A matches, the Crushers FC defeated Quality Distributors. Bobby Haddock, Hayden Morgan, Nate Morgan, Elijah Calvo, and Samantha Kenney all scored in the win. Terrence Camacho scored for Quality. Strykers FC defeated Tumon Typhoons Soccer Club 9-1 with three goals from Bryan Nakamine, two goals each from Kaia Malakooti and Zion Quitugua and one each from Adam Cruz and Simeon Whitaker. Dominic Cruz scored for Tumon. ASC Trust Islanders Betde defeated Community First/Days Inn Dededo Soccer Club 6-3 with three goals from Mason Sanchez and one each from Daniel Glasscock, Jadyn Palomares, and Jason Palomares. Aidan Cruz and Dakotah Ross both combined for Dededo's three goals.
Wings Black defeated Tsunami Flood with goals from Martin Iseke, Ernest Cho, Kyle Takano, Kai Pahl, Daisei Watabe, and Lucas Cooper-Nurse. Guam Shipyard Wolverines defeated the Tigers 6-0. Playoffs begin Oct. 31.
In U14 matches, the Tigers defeated Islanders Isa 6-0 with four goals from Seung Min Kim and one each from James Lee and Darrell Ramos. Islanders Betde defeated the Sidekick SC 8-1 with two goals each from Shawn Sablan and Gabriel Tan and one each from Javian Cruz, Jonathan Sevilla, John Kai Colisao, and Tiffani Lopez. Spencer Guzman scored for Sidekick SC. Strykers FC defeated the Wolverines 4-0 with two goals each from Joshua Calvo and Alan Thomas. Wings Red defeated the Southern Cobras with goals from Taiga Simon, Leon Morimoto, Eddie Cho, Hannah Matsushita, Anthony Moon, Kyle Halehale, Kainoa Ferguson, Matthew Iseke, Mark Iseke, Sho Meyar, Junya Kanemitsu, and Konosuke Yoshida.
In U17A division matches, Wings Red defeated Wings Black 4-2 with two goals each from Inochi Recella and Derek Okuhama. Ryo Suzuki scored twice for Wings Black.
Strykers FC defeated Quality Distributors 4-1 with goals from Xavier Naputi, Shawn Charfauros, Vince Cruz, and Joshua Lujan. Jason Kim scored for Quality. Southern Cobras defeated the Wolverines 6-4 with four goals from Phil Jardaleza and one each from Seth Surber and Cody Maestrecampo. Noah Camacho scored twice for the Wolverines and Trevin Gonzales and Randi Jo Paulino also scored. Islanders Betde defeated Sidekick SC with goals from Tevin Pangelinan, Matthew Deloso, Logan Mance, Leon Bamba, Kennedy Macatuno, Noah Duenas, Rhia Pangindian, Chino Gonzalez, Aaron Roque, Jeffrey Ho, Daniel Lanquin, and Cameron Miles. Autumn Rese Cruz and Giancarlo Abril scored for Sidekick SC.
Youth league action continues Saturday. Schedules and updated statistics are posted online at http://www.guamfa.com/all-leagues-youth-fall-results

Foody's 5 Fun Facts
Sanchez QB Jayton Penaflor
DID U KNOW?
Kein Artero has a list of who's who of Artero uncles who've starred in Guam's gridiron: Andre Artero UOG Tritons & Hals Angels OL, Bubba Artero UOG Tritons & Hals Angels OL, Kenny Artero SSHS DB/Baseball Pitcher, Jesse Sablan FD & Hals Angels FB, Roland San Nicolas FD & Hals Angels OL, Chuck Ada SSHS & Hals Angels DB,  Ed "Rock" Artero SSHS & Hals Angels MLB, "Wild" Bill Ada FD & Hals Angels ML, Jared Ada FD & Hals Angels WR/Utility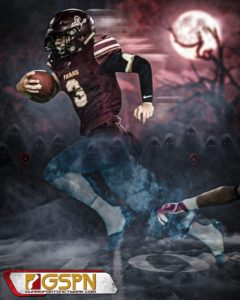 COMING SOON …
– 24th Marianas Fishing Derby
– NFL Week 3: Steelers at 49ers
– Jon Tuck's Bellator debut
QUICK HITS
Pro triathlete Mieko Carey finished third in XTERRA Japan on Sunday in a time of 3:43:02. Her career was on hiatus for a couple of years raising her twin children. It's safe to say the 40-year-old is back in top form. Congratulations Mieko san!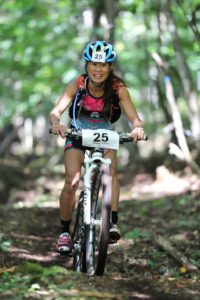 —————————————————-
UOG Athletics announced that head men's basketball coach Brent Tipton has stepped down due to personal reasons. UOG is now seeking for a replacement after Tipton's three years at the helm.