By John Baza
Intense girls high school volleyball action unfolded Friday night at the St. Paul gym as the Warriors defended their home court against the visiting JFK Islanders.
The game went a full three sets, highlighted by a third set that went down to the wire, but the Warriors emerged victorious taking the match (25-16, 22-25, 32-30).
Thrilling Third
St. Paul opened the final set on a pair of big plays from Respicio and Darby Samala, firing up the home crowd and giving them an early advantage (6-4).
JFK's Onedera hit one in to get offense flowing for her team, proving effective, as they were able to tie the game up at 8-all.
The serves of Warriors' Pangilinan and another kill from Samala (12-8) but Onedera served two aces of her own to close in on the home team.
Both teams rallied over the next few plays, with the Warriors maintaining a small lead, but found it tied up (17-17) after the effort of the Islanders.
The Warriors rallied to another lead (19-17) after a kill from Samala, but the scrappy Islanders showed sense of urgency as Tugade fired in a kill that deflected off the blockers to give JFK the lead (19-20).
The lead was brief after the Warriors' Lopez served an ace to reclaim a 21-20 lead.
St. Paul continued to keep the lead despite a line hit from Onedera (23-22). But both teams would eventually find themselves tied up 24-all, meaning that a team would have to score two straight points to end the game.
After an intense series of nail-biting rallies and lead exchanges, both teams found themselves in a sudden death like situation, but the pressure proved evident as both sides struggled to serve on potential game–clinching plays.
The Warriors and Islanders traded leads five times in the crucial last plays, but it was St. Paul's Samala that delivered the final blow, scoring the game winning point to take the set (32-30).
"We struggled a bit and felt the pressure, but I'm glad we came together and worked out the win", replied an excited Samala on her team's effort down the stretch.
First set action
St. Paul came off to an early start as they jumped to a 6-0 lead behind the early attack of Haley Senne. Senne helped further her team's lead (10-1) firing in two aces to get momentum flowing.
The Islanders' Regine Tugade and Isabele Itliong-Cruz looked to get some defense going for their team as they blocked and defended to close the gap (11-4), but the offense of the Warriors' Senne kept the visiting team at bay (16-11).
Tugade blasted in a kill (21-14) as she continued to pester the Warriors' defense, but her effort came up short as the Warriors' Shelby Respicio sparked her team with a pair of kills and aces to take the first set 25-16.
Islanders redeem
Opening the set was JFK's Anita Onedera who scored an ace, but the offense of the Warriors' Respicio and Senne combined for a kill and three aces, retaking the lead.
The Islanders seemed to be heating up as the duo of Tugade and Narissa Blaz showcased their blocking and attacking abilities (10-9).
Blaz exploded offensively as she served up five aces and a kill, in addition to teammate Tugade's kill, as the Islanders claimed a 10-14 lead,stunning the Warriors.
St. Paul's Joy Pangilinan scored off a lone ace for her team, but was overshadowed by the attack of the Islanders' Ericca Tomada and Tugade (13-19).
Senne got a clear look for the Warriors as she fired one to the floor (17-20), but the Islanders' Tomada contributed a kill and an ace to bring her to team to a convincing (18-22) lead.
The Warriors' Tiffany Lopez served an ace to keep her team's hopes alive (22-24) but JFK was able to force a third set, closing out the set (22-25) after a block.
PHOTO GALLERY BROUGHT TO YOU BY:

Foody's 5 Fun Facts
ND Royals Volleyball Setter Gabrielle Piper
DID U KNOW?
Guam National Track & Field sprinter and St. John's Cross Country/Track Star Madison Packbier is the daughter of former Track Star Tara Steffy granddaughter of GNOC's Bob Steffy.
COMING SOON …
– Marianas Open Aug. 31
– FIFA: Guam vs. Maldives Sept. 5
– Submit VI on Sept. 6
QUICK HITS
Former JFK All-Island lineman Christopher Parker transfers to De Anza College in Cupertino, CA. De Anza finished last season 10-1 and won the American Conference Championship Bowl. Good luck Chris!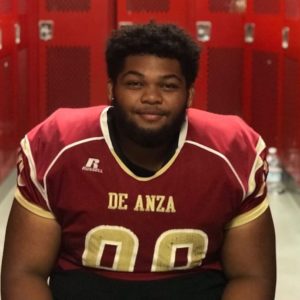 —————————————————-
Die-hard Rams fan Kenny Artero is in Hawaii to catch his beloved team play the Cowboys at Aloha Stadium in a preseason NFL game. Artero got a chance to meet Hall of Fame running back and Rams legend Eric Dickerson.