By Charlie Epperson
The (Saturday) morning started cool and clear on Lake Kanayama as race officials determined the water temperature was just above the cut off to cancel the swim at 15 celsius leaving participants with the daunting task of sliding into wetsuits.
With a 9 am race start it was almost perfect for racers to enjoy a nice breakfast and take the short drive to the picturesque venue.  As racers entered the water, it was evident the cold water temperature impacted a number of competitors.  It's no so common in the XTERRA Asia Pacific Tour series to encounter cool water that requires a wetsuit.  As a result, a number of racers abandoned the shorter than normal 1200 m swim due to the conditions.
One athlete that made little work of the swim course was none other than two-time Australian Olympian Courtney Atkinson.  Atkinson has probably swam in every water condition imaginable so it was just another day at the office.  Exiting the water with a 2-3 minute lead over a chase group that included Cedric Lassonde of France and Takahiro Ogasawara (Oga) of Japan, it was evident Lassonde didn't intend to let Atkinson have too easy of day in Hokkaido.
The bike course was in pristine condition as a few days of rain didn't seem to slow it down.  Lassonde bridged the difference from the swim by T2 with Oga another minute back to ensure the podium would be decided by the bike segment. As I heard from spectators, Atkinson set a blistering pace out of T2 across the sand that let Lassonde know real quickly that his ITU background means, if anything, he can run!  Atkinson broke the tape in 2:18:55  and Lassonde was not too far off at 2:21:13.  Oga held on for third place in 2:26:11.
Cameron O'Neal hung in for 6th in his first professional off-road race. The run course featured three miles of running on an angle riverbank that made this section treacherous, to say the least.
CAREY'S 5th JAPAN WIN
In the women's race, Mieko Carey of Japan (Guam based) and Lizzy Orchard of Auckland, New Zealand were separated by only a few seconds exiting T1.  Carey laid a blistering bike split down that was mostly set by crushing each climb. I know this because she passed me on each and everyone of them.  Her coach, Josiah Middaugh, has made her a formable opponent on the bike.  I came into T2 alongside Carey who didn't believe her lead was great enough to hold off the gazelle-like speed that Orchard possesses.  She was almost correct as Orchard closed the 6-7 minute gap from T2 to under three minutes by the end of the race. Carey claimed her 5th XTERRA Japan title with a 2:41:33 compared to Orchard's 2:44:24.
I asked Atkinson on what the future may hold for him racing after 2016 and if he moves away from ITU racing.  Atkinson responded, "I only got into mountain biking after the 2012 Olympics and broke my wrist during the first couple of weeks of riding, but I stuck with it.  My future (racing) may involve more adventuring races and off-road triathlons." (paraphrased)  If you haven't met Courtney he's certainly the type of athlete we want to see in the XTERRA community- a genuinely nice guy that can race with the best of them.
Carey, who I train with on Guam, is equally impressive in her dominance at XTERRA Japan. I asked her post race if her plan was to race the bike course lights out.  Carey smiled and offered "yeah, I was afraid of how fast Lizzy can run and I just wanted to push myself on the bike. My training has been focused on the mountain bike the last few months and I knew if was going to have a chance to win it would be with pushing the bike to my limit."
Carey got a moment to reflect on how important it is to come back home to race here,  "I've raced this race for years, I know Taro and many others for over 10 years, and it's special to come back and see them and be apart of this event."
Mark Cruz the elder statesman of this adventurous group and the sitting president of the Guam National Triathlon Federation completed his 30th XTERRA race in Hokkaido – an amazing accomplishment under these conditions.  Karly O'Neal was second in her age group with over a 100 competitors in the race.
Men's Championship Results:
Courtney Atkinson       Australia         2:18:55
Cedric Lassonde         France            2:21:13
Takahiro Ogasawara   Japan             2:26:11
Charlie Epperson         Guam            2:35:44
Taro Shirato                 Japan             2:51:06
Cameron O'Neal          Guam             2:55:30
Jason Hsieh                 Hong Kong     2:58:24
Cho Kaon                     S. Korea         3:00:18
Women's Championship Results:
Mieko Carey               Japan (Guam)  2:41:33
Lizzy Orchard             New Zealand    2:44:24

QUICK HITS
The Guam Smokin' Hot women's softball team captured first place in the Asia Cup Softball Championships 2023 in Bangkok, Thailand.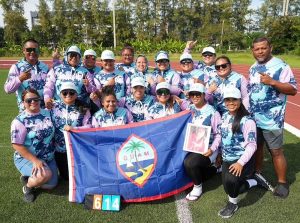 ——————————————————-
Roque Martinez gets the unanimous decision win Saturday night in his debut fight in South Korea's Black Combat promotions.
The 37-year-old controlled the tempo all three rounds and bloodied his opponent with some 3rd round ground and pound.