[useful_banner_manager_banner_rotation banners=72,74,79 interval=10 width=120- height=600 orderby=rand]
By Jay Leon Guerrero
Kindra Young made a tough decision over summer after deciding to transfer for her senior year to get a jumpstart on college. Young, an outstanding volleyball and basketball player last year as a junior at St. Paul Christian Academy, transferred to Edison High School in Colorado where she is also taking college courses.
"I decided to leave for Colorado in the summer of 2015. The school that I am attending offers class at a community college that you can take to get a head start on college. I took advantage of the opportunity and decided to live here with my extended family," said Young.
Young made friends and got situated in her new home and decided to play volleyball for the Edison High Eagles in the first quarter. Kindra quickly established herself as one of the key players in the lineup and was a force in her regional league called the Black Forest League.
The 17-year-old finished with a 94% serving percentage, 61 aces, 194 points off of serves, 144 kills, 33 blocks and 205 digs. The Eagles made the playoffs and finished the season with an 11-9 record.
"We ended up losing our playoff game to Stratton/Liberty in a single elimination format and that ended our season. I played middle blocker this season, even though I wanted to play the outside hitter. I also served as the co-captain of the team," said Young.
Shortly after her season ended last month, the awards came flowing in for Young. She was voted the MVP for the Black Forest League, also making the First Team all-conference. She was also voted the Eagles' MVP, winning additional awards which included most valuable server and blocker. Edison High School also recognized Young with a scholar athlete award and presented her with her varsity letter after the season in a small ceremony.
Young scouted
"After the season, I began receiving letters from the U.S. Junior Nationals and I was also invited to various tournaments to represent the Mountain region of Colorado. The only hard thing about playing are the expenses involved with playing year round," said Young.
Several coaches have shown interest in Young and she has been invited to visit college campuses. "Coaches have been in contact with me. I'm hoping I will be able to visit college campuses very soon".
The college campus visiting will have to wait as Kindra jumps straight into basketball season for the Eagles. Their season has already started for the Eagles.
"Basketball out here is very different from playing back home with the Saint Paul Warriors. I really miss Joylyn (Pangilinan), her and I had a strong bond that will be hard for me to create with the point guards here in Colorado," said Young.
On Guam, the St. Paul Warriors suffered a big blow without the presence of their multi-sport superstar. Warrior volleyball coach Stu Schaeffer said it was hard to replace Young for volleyball season.
"Of course, we didn't want her to leave," joked Schaeffer. "I'm just kidding! It was hard not having her here for her senior season but we all totally support her and wish her well".
With girls high school basketball in its mid-season, Young's presence in the paint is sorely missed. "She has such a great attitude and works well with her teammates. We know she is getting a head start on college courses and we are confident she will do well in sports and academics," said Schaeffer.
Missing home
Moving abroad can be challenging for anyone. Leaving the island culture and the warmth of Guam was challenging for the teenager, especially being away from parents Russell and Tina Young. "The transition was tough at first. I missed my friends, family and the weather for sure," said Young.
"I really miss the beaches. It's not something I thought about when I was living on Guam because I saw it everyday. Being in Colorado where there is no beach, only cold reservoirs which took a huge toll on me. I never truly appreciated the beach until now."

QUICK HITS
Guam MTB National Championship: Edward Oingerang and Jennifer Camacho are your 2023 MTB national champions. Oingerang finished the course in 1:13:24 while Camacho won her second straight title in 54:08.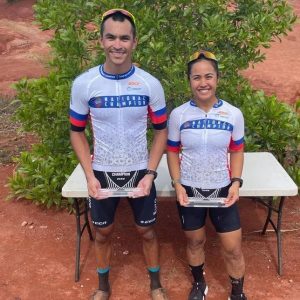 ——————————————
Kobe Miyashita, with St. John's coach Arvin Flores, was named the 2023 IIAAG Middle School Boys Volleyball MVP!