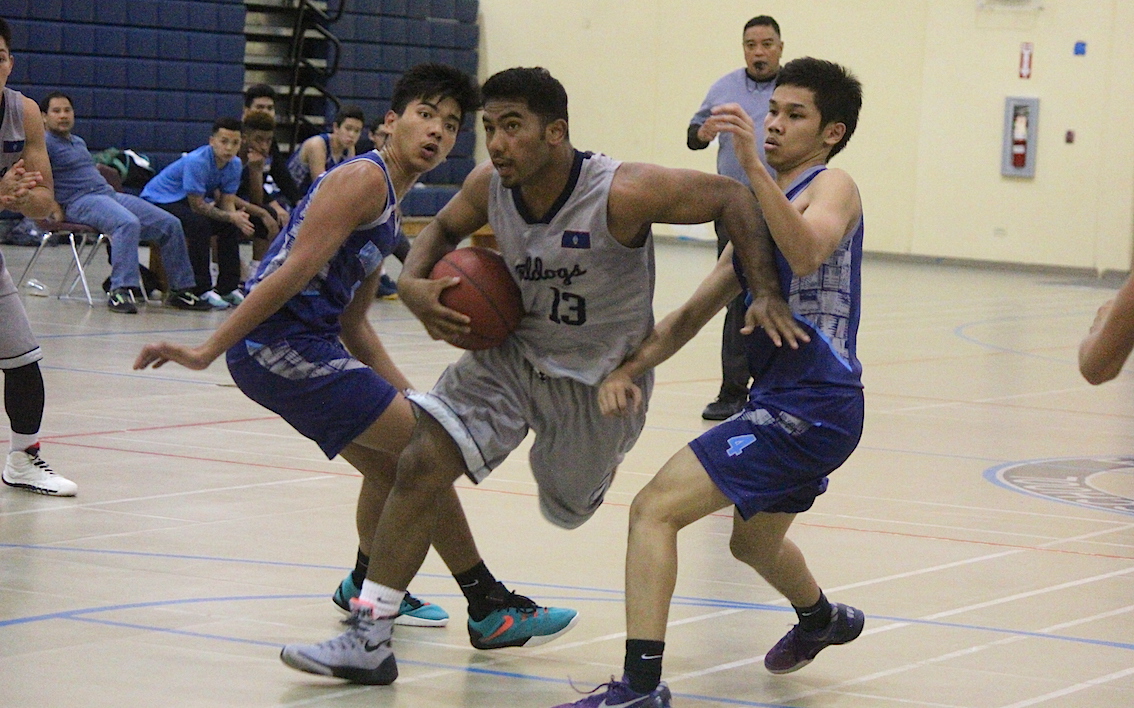 [useful_banner_manager_banner_rotation banners=72,74,79 interval=10 width=120- height=600 orderby=rand]
By Robert Balajadia
The second meeting between the Okkodo Bulldogs and St. Paul Warriors was strictly basketball.
Okkodo Bulldog Vern Gustilo played his first home game since receiving his four-game suspension and his spark on offense helped Okkodo earn the 65-56 win Wednesday night. Gustilo hit six three pointers to go along with 20 points off the bench.
The infamous first meeting earlier this year resulted in fan suspensions for the entire season as well as a four-game suspension for Gustilo. St. Paul earned the win at home after leading when the game was called off early in the final period.
"I lost my cool against St. Paul the first time and when I lose my focus like that, it's not right and it takes me out of my real game. I've learned through all the punishments and understand that I need to be more focused," said Gustilo on his return to basketball.
"We collectively put that game behind us," said Bulldogs head coach Desmond Mandell on getting his team emotionally prepared to handle the second meeting. "Today we just wanted to focus on basketball. Every game we need to make sure we bring it regardless of the situation."
Wednesday night's contest was shaping up to be another close finish with each team trading leads after each quarter. Gustilo was in for a big night after hitting his first three pointers to open the game, but none were more important than his two treys in the final quarter.
Gustilo hit teammate Nate Lorenzo off a pick-and-roll to go up 53-50 with two minutes left to play in the 4th quarter. After a missed layup from the Warriors, Gustilo nailed a three from the wing to extend the lead 56-51. A missed free throw from St. Paul led to a dagger three from Gustilo form the corner to go up 59-51 in the games final minutes.
"It's all in rhythm," said Gustilo on whether or not he has the green light to fire three pointers from deep. "Coach [Desmond] tells me that my shots only go in when it's a part of the play so all we had to do was run our offense and the shots eventually came."
A couple of layups from Okkodo's Aiden Ferrara sealed the Warriors last ditch comeback effort, giving Okkodo a (5-1) record through it's last six games. The team went (4-1) without Gustilo, and the team is now moving in a positive direction after their season's slow start.
"All of our losses this season have been within four points so we put ourselves in position to win games but just haven't pulled it off. Now that we're starting to get some W's, hopefully we can keep it rolling. We're improving right now, not peaking, but definitely improving," said Mandell.
As far as getting back Gustilo, Mandell was glad he's back but stated that his team has proven they can still play at a high level without Vern.
"No one player is bigger than the team. We went (3-1) without him and the team stepped up when he wasn't there. It's nice to have him back, but we played well without him so it was his responsibility to learn to mesh with us when he did come back. He understands that no one player is bigger than the team," added Mandell.
Ferrara scored 15 points for the game and the Warriors were led in scoring by guard Alan Santos with 17 points, the only Warrior in double figures with Eric Alegre and Chris Monk adding nine points.
Game flow
Gustilo checked in the game with three minutes to go in the 1st quarter where he knocked down two deep three pointers that helped Okkodo jump out to a 17-15 lead.
Eric Alegre and Santos scored four points each in the 2nd quarter to switch leads, giving St. Paul the 28-27 halftime advantage.
Santos scored six points in the 3rd and teammate Chris Monk added a spark to the end the quarter by scoring the teams last five points to reclaim the lead 46-44 after losing it late in the quarter.
Gustilo added two more threes in the games final two minutes which proved to be the difference. Gusto's layup, followed by teammate Shannon Enriquez's three pointer from the wing put Okkodo up 51-46, part of a 5-0 run.
PHOTO GALLERY BROUGHT TO YOU BY:

COMING SOON …
GUAM SPORTS ON HOLD DUE TO SUPER TYPHOON MAWAR
QUICK HITS
Bishop Obispos beat Mt. Carmel for the IIAAG Middle School Girls Basketball championship 37-25.
—————————————-
The Benavente Roadrunners crushed the Agueda Pirates 17-1 to win the 76 PONY Middle School Baseball League. Rodney San Nicolas was a beat, striking out 13 batters in a complete game while going 4-for-4 at the plate, including a homer and 4 RBI.