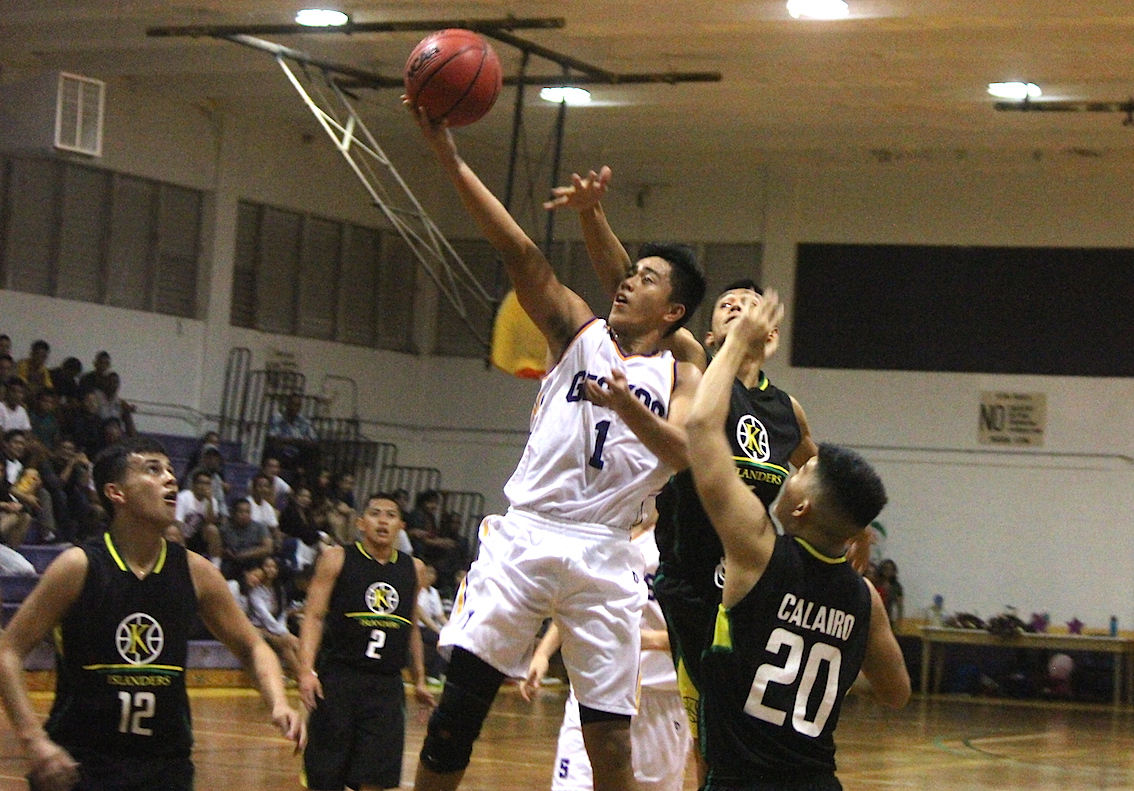 [useful_banner_manager_banner_rotation banners=72,74,79 interval=10 width=120- height=600 orderby=rand]
By Robert Balajadia
The GW Geckos snapped the JFK Islanders seven-game win streak at home Friday night, handing the defending champs just their second loss all season 60-51. GW improves to (7-4) while dropping the Islanders to (10-2).
Gecko Kyle Gaitan had a game high 18 points scoring 10 off second chance points, including six points off the offensive glass in the 4th quarter. Teammate Dev San Agustin finished with 12 points while scoring six on offensive put backs throughout.
"We took it upon ourselves to crash the boards tonight because every possession is big for us," said San Agustin.
"We work so hard to box-out in practice and we know the players from JFK are big and can jump high so boxing out was our priority to get the ball back," added Gaitan.
GW was celebrating a school carnival just outside the gym, but the circus crowd amplified the court presence. Playing in front of the ruckus home crowd, the Geckos took a 19-15 lead in the 2nd quarter after a 6-0 run and maintained the lead from then on out.
"It was a real positive crowd and it helped boost our confidence," said San Agustin on the crowd advantage. "It was a good win at home, but we still have a lot to work on with defense."
The long-ball is a valuable weapon for the JFK Islanders, but Friday they were held to just four three pointers all night and one coming as a garbage-time bucket. While facing a such a dangerous shooting team, the Geckos defense was up to the task.
"They are strong in all aspects offensively but we just had to deal with what they were showing us and we stuck to our defensive assignments," said Gaitan on the teams defensive focus.
JFK went down 30-22 early in the 3rd quarter before making a run. The Grape brothers Aljurrell and Alschae nailed three pointers and Chris Conner converted a layup as part of an 8-2 run to get as close as 32-30.
Gecko Fabric Ramos squashed the Islander run by converting an and-one play through two Islander defenders while falling down that sent the crowd in a frenzy. Ramos ended the quarter with a floater in the lane to maintain a 42-36 lead.
San Agustin and Gaitan scored on back-to-back put backs on the offensive glass to grab a 51-42 lead with five minutes left to go in the game. The Islanders started to pick up their offense in the final period but the Geckos answered each bucket and jumped out to their largest lead 59-44 in the final two minutes.
Islander coach Rey Serafico decided to pull his starters and emptied his bench while facing the 15-point deficit under two minutes.
Aljurrell Grape led the Islanders with a team high 13 points and was also the only Islander in double figures.
Guam High out rebounds Harvest, wins 47-35
By Jay Leon Guerrero
The Guam High Panthers defeated the Harvest Eagles 47-35 at their home gym. The Panthers won the battle of the boards and converted on second and third chance field goal attempts thanks to good offensive rebounding. The Panthers out rebounded the Eagles 54-25, collecting 29 offensive boards.
Kobe Sotelo led the fourth quarter comeback for the Eagles, but was countered by Panther guards Rodney Taitague and Juan King Jr down the stretch. Guam High is now the hottest team in the league, winning their fifth straight game to improve to 8-3, the Eagles drop to 4-7.
Robert Kranz lead the way for the Panthers with 11 points and 17 rebounds, Jujuan King had six points, 11 rebounds and 5 assists. Mark Temerowski had 10 points, 13 rebounds and three blocks for the Eagles, Sotelo contributed 10 points and three steals.
Other Scores
Okkodo 70, ND 62
Sanchez 41, Southern 21
St. John's 57, Tiyan 49
FD 57, St. Paul 55
PHOTO GALLERY BROUGHT TO YOU BY:

Foody's 5 Fun Facts
Harvest Eagle Trinity Terlaje
DID U KNOW?
After winning the title with ND in 2019, Tiyan Titan head coach Conrad Kerber has the Lady Titans sitting at 2nd place in the league with one week left in the season, the highest placement the Titans have ever been.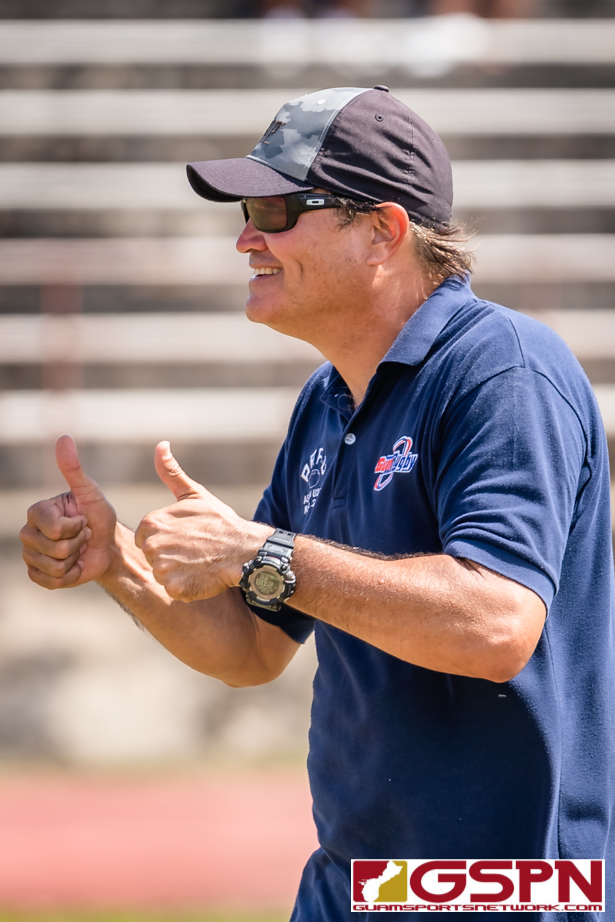 COMING SOON …
– FIBA Asia Cup: Guam vs. New Zealand, Feb 23
– Zach and Larry Return to Guam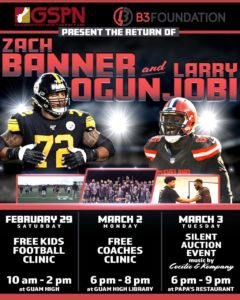 Brawl MMA March 13
QUICK HITS
190 runners took part in the 48th Hafa Marathon (half marathon).
Here are the top 5 finishers:
Ryan Matienzzo 1:13:17
Kris Lawrence 1:24:12
Taiga Sato 1:25:05
Chris Rasmussen 1:26:48
Carlos Leon Guerrero 1:28:46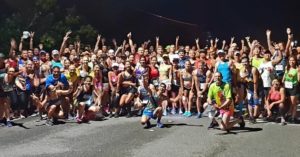 —————————————————-
Guam flags were waving in Clearwater, Florida in support of Bubba Nickles and Team USA in their Pre Olympics Softball Tour.