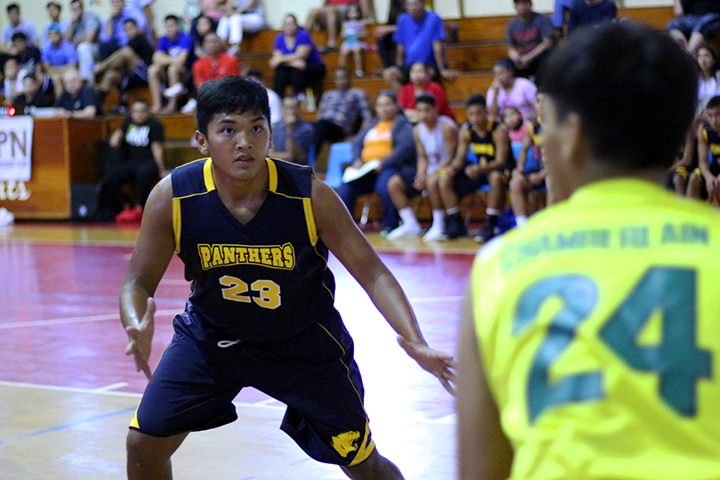 [useful_banner_manager_banner_rotation banners=72,74,79 interval=10 width=120- height=600 orderby=rand]
By Robert Balajadia
After 20 games, pool play officially ended Sunday in the GSPN pre-season boys basketball tournament presented by Buddy's Home Furnishings with the playoffs set to go down Monday night. Only the top three teams in Pools A and B advanced to further playoff action.
Playoff Schedule
Mon. St. John's vs. Guam High @ 5:30 pm – FD vs. Okkodo @ 7 pm
Tues. GW vs. Winner (St. John's vs. Guam High) 5:30 pm – JFK vs. Winner (FD vs. Okkodo 7 pm)
Wed. Team Kali vs. Team Destiny 5:30 pm – Championship Game 7 pm
SUNDAY RECAP
Kranz beats Bulldogs at the buzzer
Panthers center Robert Kranz isn't normally the team's first offensive option, but he turned out to be their best option with 2.6 seconds on the clock with the game tied at 44. Kranz received a pass right under the basket from the sidelines and quickly flipped up the shot that rattled around just before falling to beat the Bulldogs 46-44, handing Okkodo its first loss of the tournament.
Sadly, Kranz's big bucket was foreshadowed by an altercation during the team handshakes that led to a one-game suspension for Panther Juan King Jr. and Bulldog Vern Gustilo. Both teams played twice Sunday where both players served their forced absence which makes them eligible for Monday's playoff games.
Both teams were 2-0 heading into the morning with the Panthers briefly hanging on to the Pool B top seed after the win.
Juan King led the Panthers with 16 points while Aiden Ferrara had 19 for the Bulldogs.
Geckos clinch Pool A top seed
GW improved to 3-1 after handling the FD Friars 57-49 in the battle for Pool A's top seed. The Geckos Kyle Gaitan scored a game-high 23 points and teammate Jacob Frias splashed in 14. The high-tempo Geckos' only loss was their opener to the St. Paul Warriors' buzzer-beater.
Gaitan scored 13 of his 23 points in the 2nd quarter with GW providing an answer to all of FD's scoring.
Sharks grab first win against Eagles
After suffering a pair of overtime losses the Sanchez Sharks were already on the outside looking in. Lead man John Buan sat out against the Harvest Eagles, but the Sharks didn't skip a beat after coming away with the 49-45 win.
Anthony Castro scored a team-high 14 points and also hit a pair of clutch three-pointers to hold off the Eagle attack. Harvest guard Kobe Sotelo scored 13 points in the loss.
Knights edge Warriors for final playoff spot
The young St. John's squad closed the game on a 13-0 run led by Michael 'Mint' Min and Takumi 'Curry' Simon to punch the teams ticket into the playoffs in a 75-62 win. It was a win-and-in situation for both teams.
Min led all scorers with 31 points while Simon dropped in 22. The Warriors were led by twins Ethan and Eric Alegre who scored 24 and 18 points, respectively.
Tied at 62 and three minutes left to play, Min got just enough room for a heavily contested three-pointer that swished through the net for the definitive Knights lead. Min followed up the shot with a nifty move against three defenders for his second straight bucket that got the crowd into it.
Min then hit Simon for a corner three-pointer for a 70-62 lead with Knight free throws sealing the Warriors fate.
Islanders steal Pool B top spot
The JFK Islanders entered Sunday as the 3rd seed but left the day with the number one spot. A 54-44 win over the Panthers knotted the two teams records at 3-1 with JFK winning out by tournament points scored.
Guam High locked up the 2nd seed after the Bulldogs fell to the Harvest Eagles in the late game.
Billy 'The Kid' Belger scored 15 points and teammates Aljurell Grape and Chris Conner chipped in with 14 and 12. Panther Rodney Taitague led all scorers with 20 points and Kranz added 10 in the loss.
Eagles stun Bulldogs in finale
It was clear the Eagles were going home after Sunday but that didn't stop them from wanting to grab a tournament win. A handful of miscues nearly cost the Eagles after Bulldog's Ferrara missed a contested game-winning shot under the basket as time expired, giving the much-improved Eagles the 45-44 win.
Sotelo led all scorers with 16 points and Shannon Franquez led Okkodo with 12.
Harvest led majority of the game with Okkodo catching fire late. Three straight turnovers allowed the Bulldogs six quick points to pull within 45-44 with three seconds left to play.
A turnover by the Eagles on the inbound play underneath their own basket gave Okkodo one last shot at the win, but Ferrara's attempt was too strong with the Eagles securing the rebound as time expire.
Friars close out Royals to end Pool Play
RJ Rokop led a balanced Friar scoring night with 14 points as FD closed Sunday with a 73-42 win over the ND Royals.
Off the bench, it was Royals Shayden Atiao who led the team in scoring with 12 points. Atiao's buckets all came in the second half and all were from downtown which seemingly gave life to the evening fans.
Final Pool Play Standings
Pool A: GW (3-1), FD (3-1), St. John's (2-2), St. Paul (2-2), Notre Dame (0-4)
Pool B: JFK (3-1), Guam High (3-1), Okkodo (2-2), Sanchez (1-3), Harvest (1-3)
PHOTO GALLERY BROUGHT TO YOU BY:

QUICK HITS
3rd place: Big ups to the Para Todu Rugby Club for finishing 3rd out of 16 teams in the Manila 10's Rugby Tournament today. Biba Guam Rugby!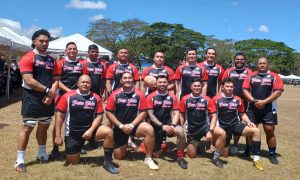 ——————————————
Guam MTB National Championship: Edward Oingerang and Jennifer Camacho are your 2023 MTB national champions. Oingerang finished the course in 1:13:24 while Camacho won her second straight title in 54:08.