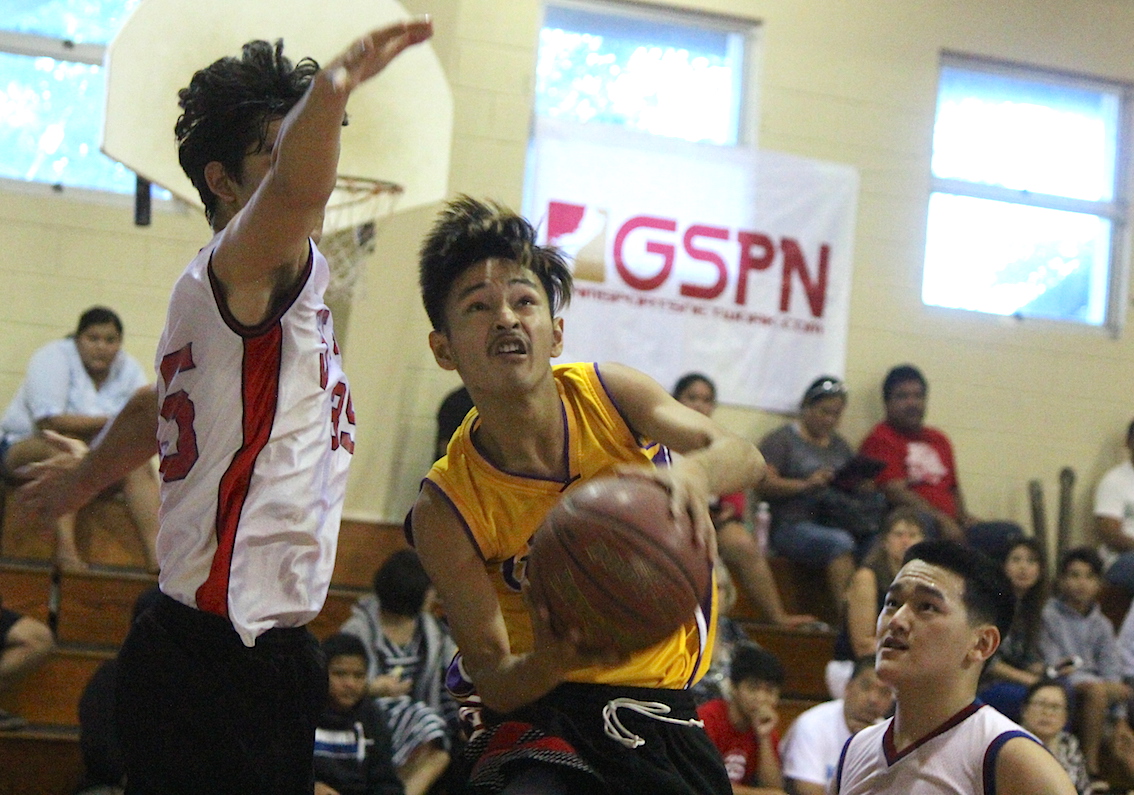 [useful_banner_manager_banner_rotation banners=72,74,79 interval=10 width=120- height=600 orderby=rand]
By Robert Balajadia
From 9 am to 8 pm, Saturday's Day 4 of the boys basketball pre-season tournament presented by Buddy's Home Furnishings dominated the day. The playoff picture has gotten a little clearer with only one day left for teams who are trying to win in as Sunday officially closes out pool play.
Geckos get big tipoff win over Royals
The early Gecko caught the Royal in the 9 am contest as GW scored over 20 points each quarter to beat the Royals 93-60.
Leading the way for GW was Karl De Leon with 19 points and teammate Kyle Gaitan scored 18. ND's Ethan Lang's finished with a team high 16 points and Hance Barcinas and Roland Balajadia added 15 and 14, respectively.
GW pulled away in the 2nd quarter outscoring the Royals by 13 points to hold a 51-37 score at the half. A 20-point 4th quarter to the Royals just five points allowed GW to cruise to their first tournament win after losing to the St. Paul Warriors at the buzzer Thursday night.
Bulldogs sting Sharks for second OT loss
After two separate delays, the Okkodo Bulldogs improved to 2-0 in the tournament after getting past the Sharks in a thrilling game that needed an overtime, 51-48.
Down by three, the Sharks turned to RJay Saburo in the closing seconds of the 4th quarter when Saburo nailed a three ball from the right wing to knot the game at 46. Bulldog Lian Torres knocked down a big three pointer in the extra three minutes and Shark John Buan missed his game-tying attempt as the Sharks fell to 0-2.
Vern '#TheVern' Gustilo led Okkodo in scoring with 16 points and Buan also had 16 for the Sharks.
Friars shake off slow start to beat Warriors
The FD Friars only registered one bucket in the 1st quarter and had not scored their first point until the final two minutes of said quarter. Instead of hanging their heads, the Friars deployed a strong defensive game and hit timely buckets to chip away at the Warriors lead before finally dominating the closing period for a 48-38 win to stay unbeaten at 2-0.
Friar Leon Shimizu scored eight of his team high 11 points in the 4th quarter after consistently attacking the middle of the Warrior defense while FD also managed to hold St. Paul to just six points in the period.
Ethan Alegre led all scorers with 15 points with he and Shimizu being the only players who scored in double figures.
Panthers pull away from quick start Eagles
Rodney Taitague and Blaise Taitano led the Panthers with 12 points each as they overcame a strong start from the Eagles to improve to 2-0 in the tourney with the 52-40 afternoon win.
Harvest jumped out to a 9-0 advantage getting an eight-point quarter from JD Lin. The Panther defense bucked down in the second half allowing just five Eagle points in the 3rd quarter. The Eagles shot an abysmal 5-20 from the free throw line and just 1-8 in the slow third quarter.
Jujuan King hit two three pointers in the final three minutes of the 4th quarter to finish with 11 points. Kobe Sotelo led the Eagles with 14 points with Lin finishing with 10 points as the Eagles fall to 0-2.
Geckos continue to roll in big win over Knights
The early morning blowout wasn't the only big win for the Geckos as they outpaced the St. John's Knights 81-55 in the afternoon game.
Senior Devin San Agustin finished with his best outing in the tournament thus far with 18 points followed by 16 points from Jacob Frias. The young Knights did get 17 points from Takumi 'Curry' Simon and 13 points from Michael 'Mint' Min in the loss to fall to 1-2.
The defending pre-season tournament champion Geckos are now 2-1 and appear to have put their Thursday night loss well behind them.
Warriors hold off surging Royals
A 4th quarter rally by the ND Royals came just short as the Warriors improved to 2-1 thanks to late game free throws by Allen Santos and another clutch jumper from Eric 'The Buzzer' Alegre in the 57-53 win.
The Royals scored 21 points in the final period and put together a 14-2 run to tie the game at 53 after Hance Barcinas converted on an and-one play. The Warriors then turned to Alegre once more as he hit a wide open midrange jumper for the 55-53 lead.
ND's leading scorer Roland Balajadia tried to feed Barcinas down low for a game tying bucket, but the Warriors Santos was quick to intercept the ball which forced the late game free throws after the Royals immediately fouled.
Balajadia led the Royals with 17 points while the foul-plagued Warriors were led by Alegre twin Ethan with 11 points. St. Paul had two players foul out and four other players with four fouls each.
Islanders end night with win over Sharks
JFK got a surge of plays from center Chino Cruz in the 4th period to improve to 2-1 over the now 0-3 Sanchez Sharks. The Islanders closed out Saturday with a 50-39 win behind 12 points from Billy 'The Kid' Belger.
Cruz ignited the Islander bench with two straight blocks that led to transition buckets in the closely contested 4th quarter. Cruz was also the beneficiary of two dimes from teammate Aljurell Grape to go up 46-35 with two minutes left in the game.
Shark John Buan and Anthony Castro each had 13 points in the loss.
Pool A Records
FD 2-0
St. Paul 2-1
GW 2-1
St. John's 1-2
ND 0-3
Pool B Records
Okkodo 2-0
Guam High 2-0
JFK 2-1
Sanchez 0-3
Harvest 0-3
Remaining Schedule
Sun: Okkodo vs. GH 9 am
Sun: FD vs. GW 10:35 am
Sun: Harvest vs. SS 12:10 am
Sun: SP vs SJ 1:45 pm
Sun: JFK vs. GH 3:20 pm
Sun: Okkodo vs. Harvest 4:55 pm
Sun: FD vs. ND 6:30 pm
Mon: A3 vs. B2 5:30 pm
Mon: B3 vs. A2 7:05 pm
Tues: Semifinals A1 vs. A3/B2 5:30 pm
Tues: Semifinals B1 vs. B3/A2 7:05 pm
Wed: Team Kali vs. Team Destiny Exhibition and Finals
PHOTO GALLERY BROUGHT TO YOU BY:

QUICK HITS
Guam MTB National Championship: Edward Oingerang and Jennifer Camacho are your 2023 MTB national champions. Oingerang finished the course in 1:13:24 while Camacho won her second straight title in 54:08.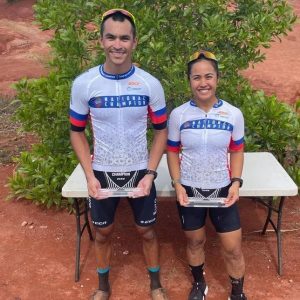 ——————————————
Kobe Miyashita, with St. John's coach Arvin Flores, was named the 2023 IIAAG Middle School Boys Volleyball MVP!