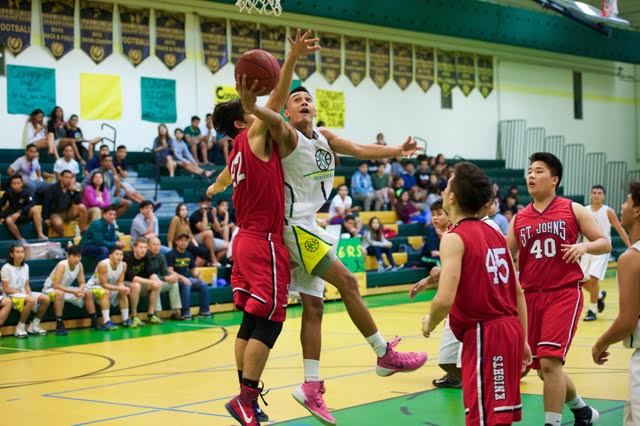 [useful_banner_manager_banner_rotation banners=72,74,79 interval=10 width=120- height=600 orderby=rand]
By Jay Leon Guerrero
After suffering an upset defeat on Tuesday, the defending champion JFK Islanders bounced back and defeated the previously undefeated St. John's Knights 68-53 Friday night at JFK's home court. Chris Conner dominated the glass and Billy Belger flirted with a triple-double for the Islanders to improve to 4-1.
The victory for the Islanders has both teams at identical 4-1 records atop the IIAAG Boys Basketball League's Taga Division standings. After the upset loss to the Harvest Eagles on Tuesday, JFK coach Rey Serafico reminded his team that 'anyone can be defeated on any given night'.
"It was a big wake up call for them, we have to come out strong in every game. Tonight was a good example, we needed to come out strong against a team with Takumi Simon and Michael Min or they are going to burn us," said Serafico.
Serafico's team responded and guarded the backcourt duo from St. John's very closely. The Islanders had Belger guarding Min and Nolan Chamberlain sticking to sharpshooter Takumi 'Curry' Simon.
With the backcourt neutralized, the Islander front court had the advantage with size and athleticism. Conner saw the opportunity and capitalized scoring eight quick points to put the Islanders up 14-9 in the first quarter.
With substitutions taking place in the second quarter, Simon finally found room and scored five quick points after going scoreless in the first quarter to help the Knights go up 17-16. Anthony Smalls provided a spark off the bench for JFK to close out the half scoring six points as the Islanders headed into the locker rooms up 30-23.
Big third quarter
JFK pushed the lead to 20 points in a highlight-reel third quarter filled with stingy defense and acrobatic lay-ins. Smalls started the third quarter after coming off the bench in the first half and made an immediate impact scoring a quick bucket. Conner followed with a lay-in, Chamberlain made an easy lay-in off a steal and guard Alschea Grape seized the momentum with an 'and-1' bucket.
"Our game plan going into the second half was to keep playing hard on defense, box out and run," said Belger. The Islanders followed the plan and scored on transition baskets in the third quarter.
"We had to redeem ourselves (after the loss against Harvest) and we worked hard in practice at improving on some of our weaknesses. We had to work on coming out stronger and boxing out for rebounds better," said Conner who pulled down a game-high 13 rebounds.
Simon and Min ignited comebacks in the final period, chopping the deficit down to 12 points. But their deficit was too far to overcome and their hopes of an undefeated season were shut down after Belger sank a long three-pointer to seal the victory with two minutes remaining in regulation.
Belger had a good stat line of 11 points, 7 rebounds, 8 assists and 2 steals for the Islanders. He talked about going against his friend Min.
"Michael and I are actually teammates for outside leagues so we know each others game well. We have practices together for these leagues so we go one-on-one during practice drills."
Min had to work hard for open shots with Belger nagging him and managed to still put up 19 points, 6 rebounds and 6 assists with 4 turnovers for the Knights. Simon made five shots from downtown for a team high 21 points, Ricky Brown contributed four points and eight boards for the Knights who will face the Southern Dolphins at home Saturday night.
Conner had a game-high 33 points, 13 rebounds and 2 blocks. Smalls had 12 points and 7 rebounds, Grape had 6 points, 7 rebounds and 3 assists for he Islanders. The Islanders will have no time to celebrate as they will take on the Guam High Panthers on Saturday night at Guam High.
The Panthers were in a battle as well on Friday night, taking the undefeated FD Friars to overtime at the Phoenix Center. The Friars escaped with the narrow 57-55 victory and are now the only team without a loss in the league. Devin Sudo led the Friars scoring 12 points, Juan King Jr. scored a game high 15 points for the Panthers.
Other Scores
GW Geckos 65, Tiyan Titans 37
Notre Dame Royals 58, Southern Dolphins 47
JFK Islanders 68, St John's Knights 53
Okkodo Bulldogs 35, Sanchez Sharks 33
St Paul Warriors 57, Harvest Eagles 42
FD Friars 57, Guam High Panthers 55 (OT)
JV game
In the junior varsity game, the Islanders improved to 5-0 with a convincing 88-15 victory over the Knights. The Knights struggled to get open looks, smothered by the swarming Islander defense. Ruedel Galang led the way for the Islanders with 20 points, Tonny Tonny chipped in 11 points.
The Friars also got the victory in their junior varsity game to improve to 5-0 as well. The Friars had more of a challenge winning 58-55 against the Guam High JV squad. The Friars have been undefeated since last season under coach Jimmy Yi. Mark your calendars for a showdown on Tuesday Feb 2 meeting between the two schools.
The only other JV score available was the Titans defeating the Geckos 74-17.
PHOTO GALLERY BROUGHT TO YOU BY:

Athletes Birthdays by W5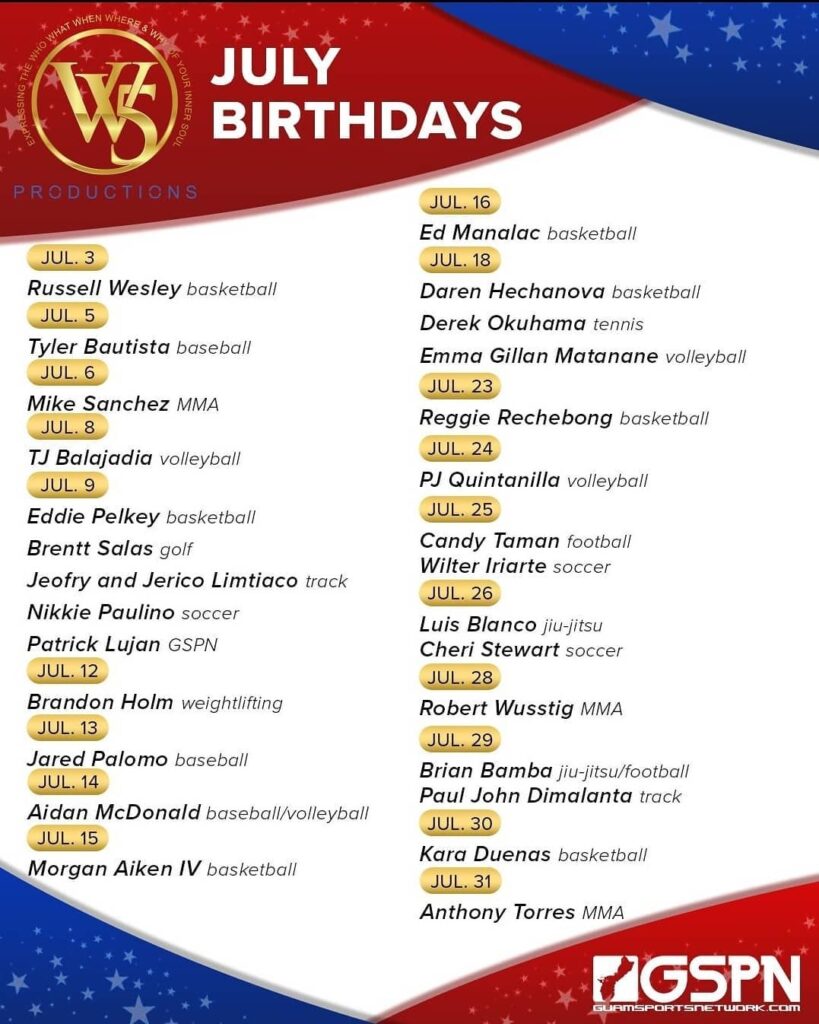 Foody's Fun Facts
Favorites From Year 2
COMING SOON …
2020 Tokyo Olympics
UFC Fight
Aug 1: Trevin Jones vs. Tony Kelley
QUICK HITS
——————————————————–
Guam's Joey Miranda met up with Chamorrita Softball Star Bubba Nickles and Olympic Teammates Dejah Mulipola and Aubree Munro out in Tokyo as we approach the Olympics!
Photo credit: GNOC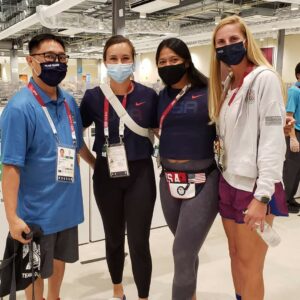 ——————————————————–
Former Guam resident Tre Taylor has committed to play cornerback for the Southwestern Junior College Jags.
Turner attended Harvest and FD before transferring to Hawaii where he played for Saint Louis, the 5th ranked team in the nation.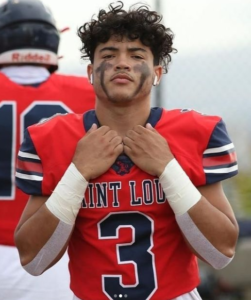 ——————————————————–
The big man Zach Banner getting to throw out the first pitch earlier today for the Pittsburgh Pirates!