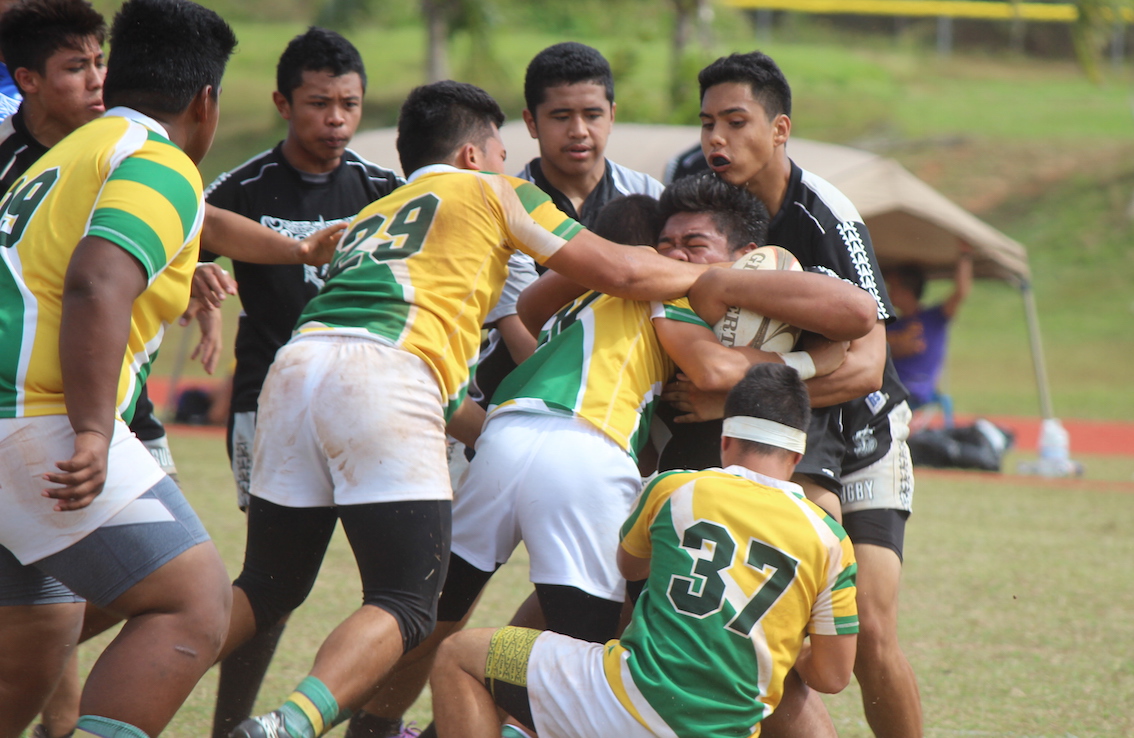 [useful_banner_manager_banner_rotation banners=72,74,79 interval=10 width=120- height=600 orderby=rand]
By Rob Leon Guerrero
Bulldogs take a bite out of Geckos, come away with draw
As IIAAG high school rugby action resumed at GW Field Saturday, the day could not have started out on a better note. One week removed from a resounding 75-0 victory over the Guam High Panthers, the defending champion GW Geckos had their hands full with the Okkodo Bulldogs as the home team needed the entire 50 minutes of regulation to secure a draw at 12-12.
From the start both teams were forced to deal with huge gusts throughout the match, which particularly kept the Geckos from their usual attacking performance. With less than ideal conditions the Geckos held on to the ball a little too long as they were swarmed by the Bulldogs defense. Poor ball handling led to errors for GW, keeping them from stringing together a series of attacks. This seemed to play into Okkodo's strategy as scrumhalf Mark Lao took the opportunity to keep their opponents in their own territory with well-placed kicks followed by defensive pressure.
Okkodo's forward pack came out hungry, eating up yards on offense and Gecko runners on defense, making it difficult for the home team to establish a rhythm. All of this frustration came to a head as GW's Brendan Santos was yellow carded and relegated to the sin bin, leaving his team a man down. Showing their tough mentality the Bulldogs took advantage of the matchup and grinded their way into the Geckos defense, with Lao capping off their campaign with a try.
The saving grace for the Geckos in the first half was the workload of their big man, Louis Hofschneider, who carried the bulk of the workload in the first half for the Geckos. However, the Okkodo defense remained strong, closing out the half and keeping the Geckos from scoring.
In the second half, GW definitely found their stride and created opportunities for themselves. Several Okkodo turnovers and a yellow card to Bulldog John Olandis kept GW in the driver's seat, as Damon Hocog found himself scoring a try on the end of a huge drive by the Geckos against the Bulldogs. However, Okkodo's defense remained stout throughout the contest, and eventually led to their second score. Out of a lineout, winger Jaythaniel Cruz scooped up a loose ball and weaved through several Geckos defenders en route to scoring another try.
When commenting on his incredible score to put Okkodo in control, Cruz explained, "I just picked up the ball, threw a dummy (pass) and kept running like our coach taught us."
That would be as far as Okkodo would get. From here, the Geckos made the necessary adjustments and their team leaders quickly took control of the game, leading their team down the field.  Despite some errors earlier, GW scrumhalf Teddy Palomo redeemed himself by scoring a try. After converting their try, GW found more opportunity as an Okkodo player received a yellow card for a dangerous tackle.
A huge kick put Okkodo on their heels deep in their territory, but GW could not manage to come away with any points. Following a huge kick by Okkodo to reverse field position, GW's sweeper committed a serious penalty late in the game, giving Okoodo the chance to break the tie before the end of regulation. Unfortunately, the kick sailed wide as the official sounded the final whistle, leaving the final score at 12-12.
Bulldogs continue to build momentum
Okkodo scrumhalf Mark Lao and winger Jaythaniel Cruz both attributed their team's performance to the hard work that they've been putting in. "In our first game, we know we had a lot of problems," said Lao, "since then we've worked on tackling and putting pressure on the other team."
Cruz added that their forward pack has been playing really well, and that has set the tone for their team moving forward with the season. Heading into the season Cruz stated, "one thing we want to say is 'don't sleep' (on the Bulldogs this season)."
This marks the second consecutive strong performance from the Bulldogs as last week they pushed the FD Friars throughout the game, despite losing 34-12. With back to back showings of this caliber, the Bulldogs are looking to position themselves as the dark horse in this year's chase for the championship.
Geckos' rebuilding is not a obstacle to their title defense
It has to be said that, while conditions limited their efficiency, the Geckos possessed enough poise under pressure to rally back from being down a try at halftime. "It's tougher getting up for an early morning game," flyhalf Ryan Quitugua said, "but that's no excuse, every game you have to bring your A-game."
As back-to-back champions, GW find their ranks filled with young, inexperienced players. However the experience from their seven returnees, along with the coaching of Guam national player Johnny Borja and domestic rugby stud Kelvin Hocog, has helped to move these boys along smoothly. Hofschneider commented on this, stating, "we have a lot of new guys, but they learn (quickly). We just want to make sure that we keep learning every day."
Despite the slow start and a largely inexperienced team, the Geckos are still setting a standard for other teams to respect. "Second half rugby is Gecko rugby," Quitugua added, "we want to bring the intensity." The Geckos still sit on the throne in boys rugby in Guam, and Saturday's result, while not preferred, is still enough to show the rest of the league that it's going to take a lot of the right circumstances to unseat them.
Saturday Scoreboard
9:00am Okkodo 12, GW 12 Boys Varsity
10:30am Guam High 5, Tiyan 43 Boys Varsity
12:00pm FD 21, Southern 5 Boys Varsity
1:30pm Sanchez 0, JFK 10 Boys Varsity
3:00pm ND 7, GW 19 Girls Varsity TACKLE
3:20pm Academy 7, Okkodo 10 Girls Varsity
3:40pm Guam High 5, Tiyan 17 Girls Varsity
4:00pm Sanchez 5, JFK 31 Girls Varsity
4:20pm GW 12, Okkodo 5 Girls Varsity
4:40pm ND 26, Tiyan 0 Girls Varsity
5:00pm Academy 10 Southern 24 Girls Varsity
5:20pm Guam High 0, JFK 24 Girls Varsity
5:40pm Tiyan 0, GW 38 Girls Varsity
6:00pm Okkodo 12, Southern 0 Girls Varsity
6:20pm ND 17, JFK 5 Girls Varsity
6:40pm Academy 21, Sanchez 0 Girls Varsity
PHOTO GALLERY BROUGHT TO YOU BY:

QUICK HITS
3rd place: Big ups to the Para Todu Rugby Club for finishing 3rd out of 16 teams in the Manila 10's Rugby Tournament today. Biba Guam Rugby!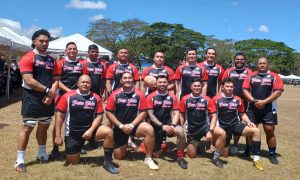 ——————————————
Guam MTB National Championship: Edward Oingerang and Jennifer Camacho are your 2023 MTB national champions. Oingerang finished the course in 1:13:24 while Camacho won her second straight title in 54:08.