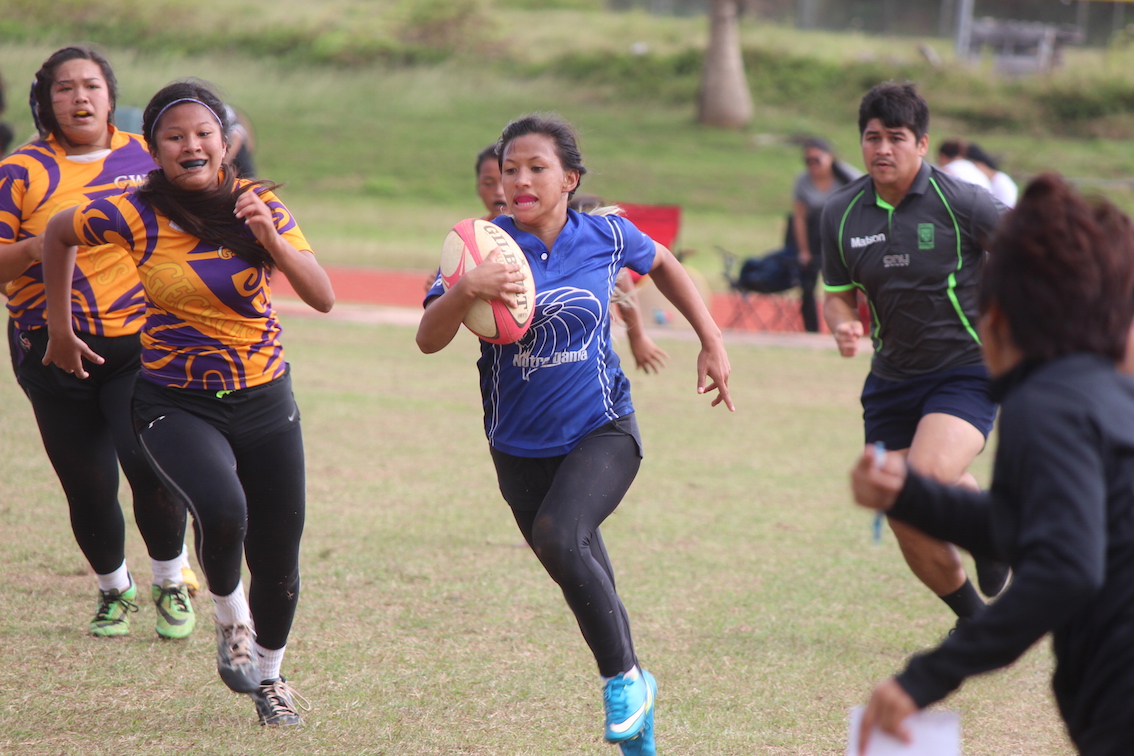 [useful_banner_manager_banner_rotation banners=72,74,79 interval=10 width=120- height=600 orderby=rand]
By Rob Leon Guerrero
Royals' season is one of 'redemption'
In the IIAAG high school girls' varsity league, the ND Royals are looking to take a huge leap forward from a mediocre performance last year.
"Last year, we know we had a bad season," said senior Royal Paris Blas.
The first two weeks of the 2016 season would convince any spectator that this team is hungry to redeem themselves, as they finished out the day winning two of three matches with their only loss coming in a hard fought battle with the GW Geckos.
Starting off the day for girls' games, ND looked unafraid of the Geckos, as they created defensive pressure that kept the Geckos at bay. If you need proof of the Royals' hunger for its first girls tackle championship, you would only need to look to ND back Jessica Fernandez, who fearlessly sacrificed her body to make the stop against a GW runner who far outsized her.
While Fernandez ended up limping off the field, ND's defense kept the Geckos limited to one score in the first half, before running away with the game and winning 19-7. The highlight of the game for ND came as Blas took the pass out of scrum, and raced nearly 70 meters downfield to score the try and conversion.
The Royals bounced back immediately in their next match against the Tiyan Titans. The theme of defense continued as on one Madison Duenas landed a big tackle and poached the ball for a turnover. After grinding their way up the field, Davie Lefever would dot the ball down the first score. This was quickly followed up with a try from Carmiana Tedtaotao, as the Royals went into the half up 12-0.
In the second half, Blas continued her stellar performance, scoring two consecutive tries in the exact same fashion, taking a pass from over 60 meters out and outpacing the field for the scores, as the Royals closed out the game 26-0.
In the Royals' last game against the JFK Islanders, they put on a great display of their ball handling skills in contact as they managed to keep the ball in play and offload to each other. As hard as JFK tried to keep them out, the Royals could not be kept out of the try zone, and Blas tallied another two tries on the day, before Annanea Pitter forced her way past the Islanders defensive line for the final score, as ND handled JFK 5-17.
The Royals squad boasts a heap of experience, as they have been competing together for nearly three years before coming into this season. All of this time together has strengthened the chemistry, as the Royals' strongest area today was their ability to absorb the contact and pass the ball to oncoming supporters which keeps the defense discombobulated.
"Our team bond is strong," Blas explained, "we read each other well and we have each other's back." Blas continued, saying that this sentiment extends beyond the players. "we give our hearts to each other, and to all those who come support us."
Blas has been a special talent to watch over her time playing rugby. Coming from Mount Carmel Catholic School, "Mames" caught lots of people's attention as she and teammate Destiny Castro displayed a natural ability on the rugby field. In her final season, Mames continues to showcase her talents on the field, and seems very interested in progressing into the women's national team.
ND Coach Gerald Sablan was very proud of his team's journey over the past year, as they have put in a huge amount of work to get better and come back stronger. "The girls have been working hard since the summer, " Sablan explains, "half of our team has been cross-training at Crossfit Gof Metgot, and they've been aiming to come out here and perform."
The results of their hard work have been apparent over the first two weeks of the season, as Sablan points out that their defensive mentality has been to suffocate their opponents' attacking space and create frustration. "The girls understand that defense is attitude, and I tell them to be ferocious, be relentless."
While most people would assume that the Geckos are positioned for another championship campaign, the Royals are more than happy to play the spoiler role. Despite their loss to GW, ND managed to push them to the brink before lapses in their defense opened the door for the Geckos. From their performance, it would be in the best interest of the league to take note of the Royals, as they look primed to make a huge leap forward into the 'contenders' pool.
Saturday Scoreboard
9:00am Okkodo 12, GW 12 Boys Varsity
10:30am Guam High 5, Tiyan 43 Boys Varsity
12:00pm FD 21, Southern 5 Boys Varsity
1:30pm Sanchez 0, JFK 10 Boys Varsity
3:00pm ND 7, GW 19 Girls Varsity
3:20pm Academy 7, Okkodo 10 Girls Varsity
3:40pm Guam High 5, Tiyan 17 Girls Varsity
4:00pm Sanchez 5, JFK 31 Girls Varsity
4:20pm GW 12, Okkodo 5 Girls Varsity
4:40pm ND 26, Tiyan 0 Girls Varsity
5:00pm Academy 10, Southern 24 Girls Varsity
5:20pm Guam High 0, JFK 24 Girls Varsity
5:40pm Tiyan 0, GW 38 Girls Varsity
6:00pm Okkodo 12, Southern 0 Girls Varsity
6:20pm ND 17, JFK 5 Girls Varsity
6:40pm Academy 21, Sanchez 0 Girls Varsity
PHOTO GALLERY BROUGHT TO YOU BY:

QUICK HITS
Guam MTB National Championship: Edward Oingerang and Jennifer Camacho are your 2023 MTB national champions. Oingerang finished the course in 1:13:24 while Camacho won her second straight title in 54:08.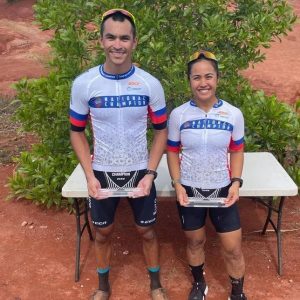 ——————————————
Kobe Miyashita, with St. John's coach Arvin Flores, was named the 2023 IIAAG Middle School Boys Volleyball MVP!