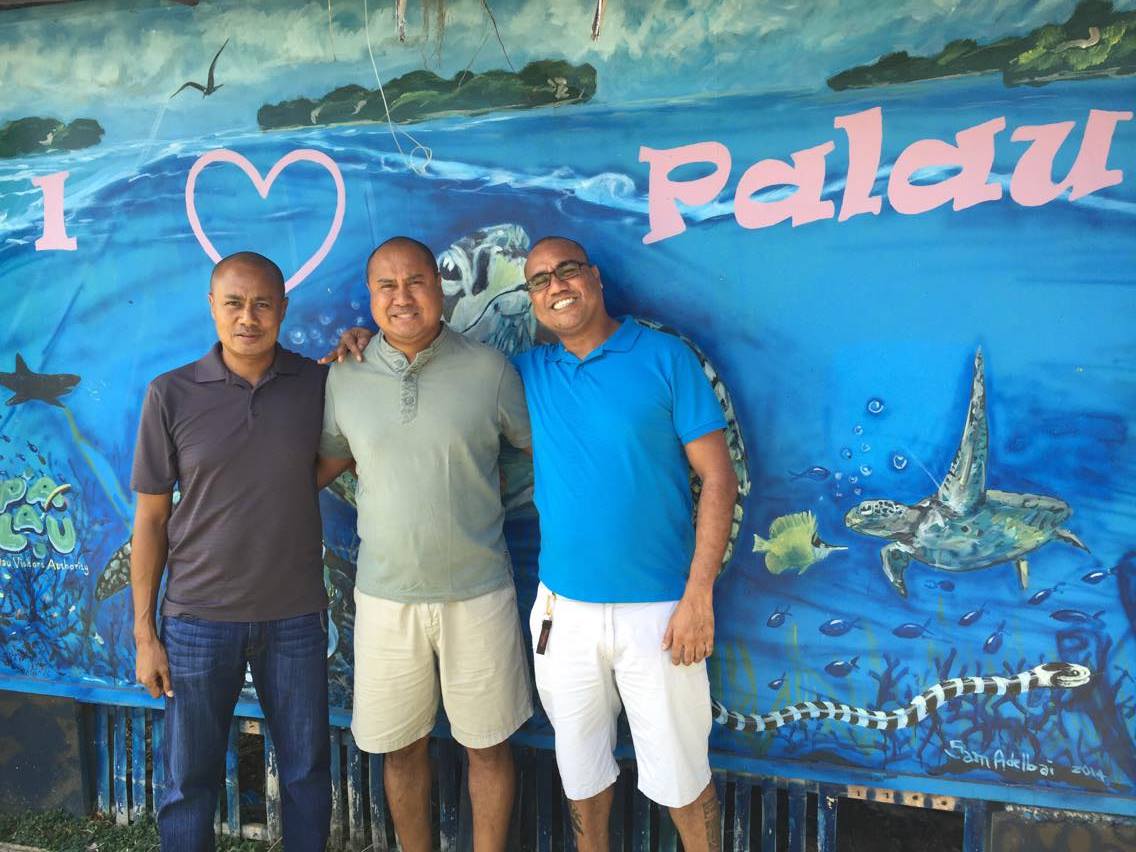 [useful_banner_manager_banner_rotation banners=72,74,79 interval=10 width=120- height=600 orderby=rand]
By Patrick Lujan
KOROR, Palau – Moving away from your homeland is always an anxious endeavor. Doing it as adolescents without your parents in the name of education only adds to the anxiety.
For the Tmetuchl brothers (pronounced MA-TOOL), excelling in sports at St. John's School in the late 1980's and early 90's was just the surface of life's challenges at a young age.
Uchel and Ngirai moved to Guam first in 1983 with Glib following behind a year later. The boys stayed with a trusted sponsor in Mrs. Sam Inay in Dededo until later settling into the family condo.
"It was hard," Uchel (pronounced OOO-WELL) remembers. "First, it was culture shock because Palau isn't as big as Guam. Then we were forced to comply with (our sponsor). We didn't have a choice. We had to follow what Mrs. Inay said, so it was hard for the first couple of years, let alone St. John's was always hard."
Former school administrator Dale Jenkins, who is now retired and lives in Palau, was teaching at the time of the arrival of the young brothers at St. John's.
"These guys set the culture for sports at St. John's. They came in and they were like a test case (for the school). They were the first ones on student visas (I-20). It was mostly a white school. Luckily for me, I served in the Peace Corp. in Palau so at least I understood a little bit where they were coming from.
"They helped develop that school adding a great deal of culture there. They took the standards imposed by the school and took it to the next level."
"I don't remember any islanders (at the school) other than the Castros," Ngirai added.
Palau was a brand new nation, becoming the Republic of Palau in 1981 but experiencing civil unrest at the time. So parents Roman and Tua Tmetuchl decided to send their sons to Guam to attend school.
"Palau was so complex at that time. Our President (Haruo Remeliik) just got assassinated. So even if I explained it to (my classmates), they wouldn't understand, so I decided not to talk about it," said Uchel.
"When I came in, (my brothers) were telling me 'don't talk about this…don't talk about that'. It was things (about Palau) that was out of our control," added Glib about the unsettling political times of Palau in the 1980's.
The transition to Guam was harder for the youngest of the three despite him arriving a year after.
"We adjusted well," said Ngirai. "It was Glib who had a hard time."
"I had to sleep with Uchel for the first couple of years," Glib admitted. "You miss your parents, so most of the time Uchel would calm me down."
For the first few years, the Tmetuchl's couldn't play sports because they didn't have a ride after practice. Hitching rides home after practice would be the eventual solution to the problem.
Uchel's quiet demeanor and natural talents at all sports he played set the bar high for not only his brothers but other teammates as well.
"We had no idea Uchel was fast. He would just blow people away (on the track)," Jenkins said about the older sibling's speed.
As the school's high school student base slowly grew, the brothers usually possessed the highest of athletic skills on the Knights teams – placing the biggest targets on their backs for opposing teams.
"We were just so excited to play, there was no pressure," Uchel said. "We were the laughing stock of the league so there was no pressure at all."
"It was literally one-on-five with these guys but they never complained," Jenkins jumped in. "They had good sportsmanship."
"But we have a very competitive nature," added Ngirai. "If we play Nintendo, we would fight. We wanted to win."
Ngirai was a star at volleyball, basketball and even as the Knights goalie on the soccer team. But it was his love for volleyball that he remembers the most. "I would go home and set for hours on the wall," he said.
"I loved beach (volleyball). I would go down there at lunch time. In fact, I recruited Hillary and Gerry Toves at the beach to be our volleyball coaches at St. John's. The beach (players) was a family."
Not only was he skying for the Knights in interscholastic competition, he was also a top member for the volleyball club PIVA under legendary coach Ernie Abanes.
As for Glib, he had some huge shoes to fill with his older brothers setting the athletic pace. He had a taste of success but admitted, "There were too much extracurricular activities!"
According to Jenkins, St. John's started its baseball team because Glib had the skills to shine in the sport.
"It was to try to keep him out of trouble," Jenkins laughed.
Post St. John's
Uchel went on to get a degree at the University of San Francisco, never to play competitive ball again.
Ngirai was a member of the Guam Men's Volleyball Team in the 1992 South Pacific Games in Papua New Guinea before going to college at Williamette University in Salem, Oregon.
Glib dabbled with baseball at William & Clark (Portland).
Strong Guam Connections
Friendships they created while at St. John's continue to be strong, including their opponents such as Pete Valdez (JFK), Harry Chang (FD), Joel Quitugua (GW) and Art Mariano (GW).
"I had to fight twice as hard against those guys," said Ngirai. "And today, we're really close friends."
"Those (years) are most of my memories," Glib added. "I had no education (leaving Palau) and I was able to get into college because of St. John's."
Peculiar Feeling
Though they've been back in their home nation for more than 20 years now running the family businesses, all three brothers feel like outsiders in their own home.
Apparently, being away for all those years left a void in their Palauan lives.
"Most of my stories are from Guam," Ngirai said with Uchel agreeing. "Most of our friends are from Guam."
"We missed the family part of Palau," Uchel said. "Palau is big on high school classes and reunions and none of us are a part of that. We're not alumni here."
"There's missing years (from Palau)," Glib added. "It's a transition (home) we're still in. It doesn't really go away over night."
Building Palau's Sports
Jenkins and the Tmetuchl brothers are taking what they started at St. John's to Palau as they are a part of the group that developed a sports organization similar to the IIAAG currently in its first year of existance.
"I feel the kids should play in high school because it's probably the only thing they'll ever play," Uchel said. "And I learned that playing on Guam. My kids aren't going through the same things I did playing here in Palau."
Meanwhile, Ngirai is getting a taste for coaching volleyball for the first time as well, leading Midzenty High School which includes Jeter, the youngest son of Jenkins.
Talk about coming around full circle.
NOTES: One of Uchel's basketball teammates at St. John's was GDOE Superintendent Jon Fernandez and was classmates with former Guam Olympic swimmer Barbara Gayle…The airport in Palau was renamed in 2006 after their father: it's now the Roman Tmetuchl International Airport…their father was known to be a stout proponent to separate from the United States and become an independent nation…older brother Mlib is running for Vice President of the small nation…Ngirai was only one of two high school players (Vince Bamba) on Guam's volleyball SPG team in 1992…Uchel's roommate at USF was former Miller Bears linebacker and BJJ black belt Brian Bamba…Dale Jenkins served in the Peace Corp. in Palau before taking a teaching position at St. John's in 1977…It is Jenkins whom the St. John's Gym is named after; his wife is Palauan…the brother's mother Tua attended the Academy of Our Lady.
PHOTO GALLERY BROUGHT TO YOU BY:

QUICK HITS
Guam MTB National Championship: Edward Oingerang and Jennifer Camacho are your 2023 MTB national champions. Oingerang finished the course in 1:13:24 while Camacho won her second straight title in 54:08.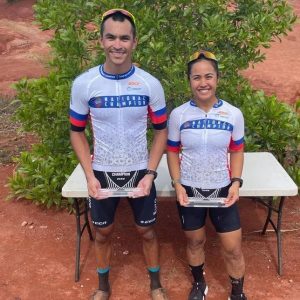 ——————————————
Kobe Miyashita, with St. John's coach Arvin Flores, was named the 2023 IIAAG Middle School Boys Volleyball MVP!