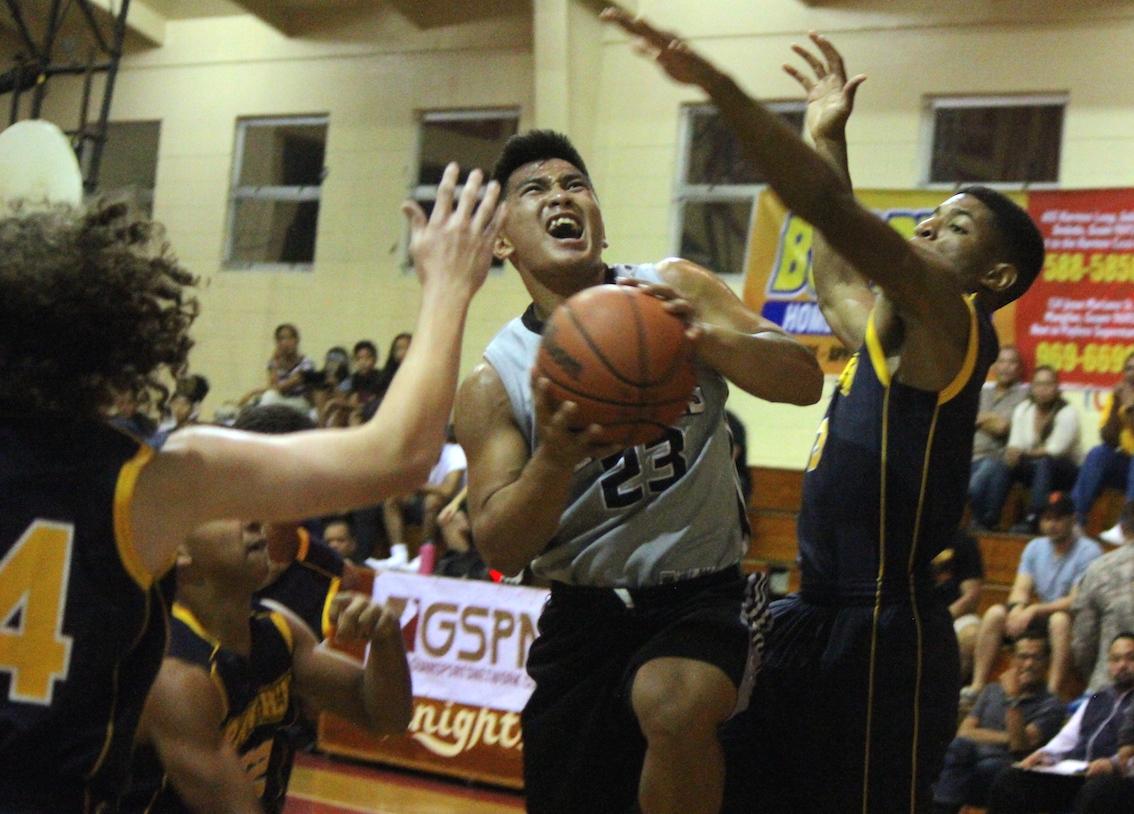 [useful_banner_manager_banner_rotation banners=72,74,79 interval=10 width=120- height=600 orderby=rand]
By Robert Balajadia
What a second day of pre-season basketball.
Day 2 of the GSPN pre-season boys basketball tournament presented by Buddy's Home Furnishing at the St. John's gym featured two nail biters both ending in dramatic fashion with the St. Paul Warriors getting a buzzer-beater win over the GW Geckos and the Guam High Panthers getting by the Sanchez Sharks in overtime.
Get the full recap of Day 1 and get set for a great weekend of basketball!
Alegre beats buzzer to sink Geckos
Eric Alegre and twin brother Ethan had never played a high school basketball game outside of the GW Geckos purple and gold. Wednesday night, the former Gecko Eric sank the shot of the tournament so far, hitting a buzzer-beating three-pointer for a thrilling 65-62 win. (Check @guamsportsnetwork on Instagram for video)
"Sometimes you get lucky and sink a lucky shot," Alegre laughed when asked about beating his former team at the buzzer.
A tight contest throughout, the game got most exciting in the final few possessions. Nathaniel Kyle Gaitan received a bullet pass from Fabric Ramos to tie the contest at 55. Both teams traded free throws with the still Geckos down 62-60.
A missed three-pointer by GW was corralled by the Warriors, but Ramos was quick on the defensive end and stripped the Warriors rebounder for an easy layup to tie the game.
Ten ticks left and the Warriors got the ball in the hands of Alegre.
"That wasn't the play, but with the clock winding down I had to just try and make something happen," he added.
Alegre took two dribbles before heaving up a fadeaway corner three that hit nothing but net. He finished with 19 points to lead the Warriors and twin brother Ethan had 10 points. For the Geckos, Gaitan finished with 21 to lead all scorers and Ken Brozo added 12 points to round out the top scorers. Gecko Devin San Augustin led the game in rebounds with 15.
King takes over in tournament's first OT
It took an extra three minutes to decide the winner and both squads had their best five on the floor. The Guam High Panthers survived an all-out effort from the Sanchez Sharks in overtime to get the 74-71 win.
Panther Juan King didn't score a single point in the first half, but poured in a monstrous 30-point second half and overtime to lead Guam High in crunch time. King's biggest bucket came in the games final seconds of the 4th quarter by going the length of the floor for a game tying layup after a pair of free throws from Sharks Anthony Castro.
Shark John Buan heaved a full-court three point attempt and got rim on the desperation shot, but the miss forced overtime as the buzzer sounded.
King then took control hitting back-to-back layups in overtime for a brief lead. Sharks Jun Agregado converted on an and-one with less than a minute left to pull within one 67-66, but King went in the paint for another layup and then nailed a pull-up jumper for a 74-69 advantage.
Another bucket from Agregado and free throws from Buan cut the score within a single bucket in the last 20 seconds. The Sharks forced two turnovers to get three good looks, but Buan's contested three pointer for the tie was just short giving the Panthers the nail-bitting win.
Buan led the Sharks with 25 points and teammate John Garcia scored 18 points before fouling out midway through the 4th quarter. Rodney Taitague scored 25 points to pace the Panthers with Juan taking lead with his game-high 30.
Remaining Schedule
Fr: Harvest vs. JFK 5:30 pm
Fri: FD vs. SJ 7:05 pm
Sat: ND vs. GW 9 am
Sat: Okkodo vs. SS 10:35 am
Sat: SP vs. FD 12:10 pm
Sat: Guam High vs.Harvest 1:45 pm
Sat: SJ vs. GW  3:20 pm
Sat: ND vs. SP 4:55 pm
Sat:  JFK vs. SS 6:30 pm
Sun: Okkodo vs. GH 9 am
Sun: FD vs. GW 10:35 am
Sun: Harvest vs. SS 12:10 am
Sun: SP vs SJ 1:45 pm
Sun: JFK vs. GH 3:20 pm
Sun: Okkodo vs. Harvest 4:55 pm
Sun: FD vs. ND 6:30 pm
Mon: A3 vs. B2 5:30 pm
Mon: B3 vs. A2 7:05 pm
Tues: Semifinals A1 vs. A3/B2 5:30 pm
Tues: Semifinals B1 vs. B3/A2 7:05 pm
Wed: Team Kali vs. Team Destiny Exhibition and Finals
POOL A
St. John's 1-0
St. Paul 1-0
FD 0-0
GW 0-1
Notre Dame 0-1
POOL B
Okkodo 1-0
Guam High 1-0
Harvest 0-0
Sanchez 0-1
JFK 0-1
* Top 3 teams in each pool make the playoffs
PHOTO GALLERY BROUGHT TO YOU BY:

QUICK HITS
3rd place: Big ups to the Para Todu Rugby Club for finishing 3rd out of 16 teams in the Manila 10's Rugby Tournament today. Biba Guam Rugby!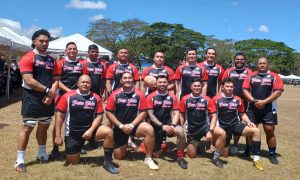 ——————————————
Guam MTB National Championship: Edward Oingerang and Jennifer Camacho are your 2023 MTB national champions. Oingerang finished the course in 1:13:24 while Camacho won her second straight title in 54:08.