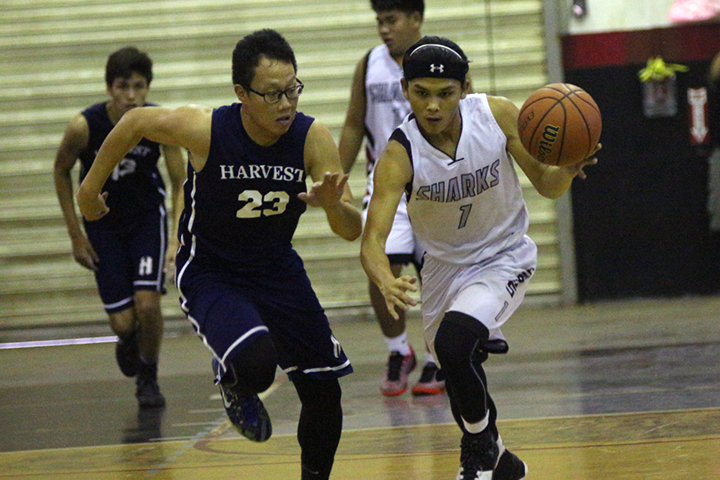 [useful_banner_manager_banner_rotation banners=72,74,79 interval=10 width=120- height=600 orderby=rand]
By Jay Leon Guerrero
With the playoffs approaching, the Simon Sanchez Sharks are playing their best basketball of the season. After a rough start, the Sharks won five games in a row and are looking to join the party of major contenders for this season's IIAAG boys basketball title.
The Sharks hosted the dangerous Harvest Eagles Friday and played their best defensive game of the season winning 39-26. It didn't look too good for the Sharks early in the season but coach Jin Han has his squad in good position to clinch a bye in the first round of the playoffs for a potential second or first seed in the Taga division.
Winning their fifth game in a row was no easy task, the Sharks needed to break the tough 1-3-1 Eagle zone and knock down long range shots. The Sharks had a game plan coming into the contest and execution from their guards were vital.
John Buan, the Sharks' captain and top scorer, led the Shark offense directing a series of cuts and picks until a high percentage shot was available. Buan is a strong candidate for the leagues MVP and had a strong performance Fridaynight with 13 points, 15 rebounds and four steals.
The Sharks started the game on a 9-2 run forcing Harvest coach Stephen Yates to burn an early timeout. The Eagles finally got into rhythm with Daniel Villanueva making a three-pointer and Kobe Sotelo making a jump shot to trail 12-11. The Sharks separated from the Eagles by halftime with Anthony Castro making a three-pointer and Buan hitting from the free throw line for a low scoring 25-14 lead at halftime.
The Eagles came out in the third quarter with JD Lim and Ben Tevid contributing with buckets to cut the deficit to single digits. But it was Anthony Castro's twin brother, Aaron Castro, who closed out the third period scoring six points with two steals to increase the Shark lead to 34-21 after three periods.
Harvest continued to struggle from the field in the final period and were no threat at making a comeback. The Eagles shot 22 percent from the field making 9-of-41 shot attempts for the game. Sotelo had six points, four assists and four steals for the Eagles, Lim was the leading scorer with seven points. Mark Temerowski had four points and a team high 11 rebounds for Harvest.
Anthony Castro scored 12 points, Aaron Castro had six points and three assists. Sanchez improves to 9-4, Harvest falls to 4-10.
"The past two days we worked on the 1-3-1 zone in practice, looking for ways to break the defense. We figured if we found openings, maybe they would switch their defense to man and they did," said Anthony Castro said of their game plan against Harvest.
"Our defense was really good tonight, especially our help side defense," said Buan. Buan and the Sharks have very crucial games remaining against Okkodo, St. John's and St Paul. "We cannot under estimate any team and keep playing good defense the rest of the way," said Buan.
If they win their remaining games, they will receive a bye round and have playoff games on their home court. The Sharks want to host playoff games, recognizing the fact that other top teams struggle to shoot well in their gym.
Okkodo vs St John's
After being embarrassed on their home court on Tuesday against JFK, the Okkodo Bulldogs had a strong bounce back game against the St John's Knights on their home court. The Bulldogs led from start to finish, taking out the Knights 73-65.
Okkodo's Aiden Ferrera was unstoppable in the first half, scoring 20 points as the Bulldogs led 37-30 at halftime. The Bulldogs continued their solid play in the second half with birthday boy Vern Gustillo leading the way to maintain their lead.
St. John's guards Michael Min and Gavin Moore led a fourth quarter comeback, but their deficit was too far to overcome. The loss drops St. John's to a 9-5 record and they are now in third place in the Taga division. JFK is first with an 11-3 record, Okkodo improves to 9-6 in the division and is currently a very dangerous fourth seed.
Ferrara finished with 31 points, Gustillo celebrated his birthday scoring 26 points. Min scored 21 points for the Knights, Takumi 'Curry' Simon scored 11 points.
Other games
FD 65, ND 51
GW 57, Southern 46
PHOTO GALLERY BROUGHT TO YOU BY:

QUICK HITS
Guam MTB National Championship: Edward Oingerang and Jennifer Camacho are your 2023 MTB national champions. Oingerang finished the course in 1:13:24 while Camacho won her second straight title in 54:08.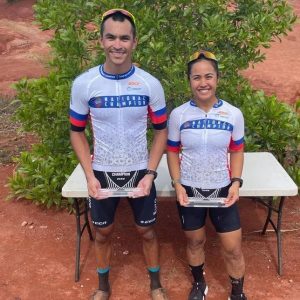 ——————————————
Kobe Miyashita, with St. John's coach Arvin Flores, was named the 2023 IIAAG Middle School Boys Volleyball MVP!