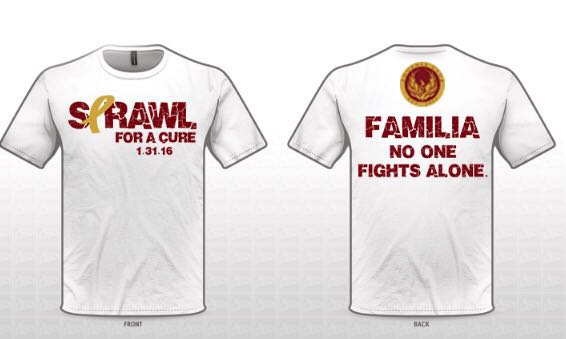 [useful_banner_manager_banner_rotation banners=79,74,72 interval=10 width=120- height=600 orderby=rand]
The Phoenix Wrestling Club will have the Sprawl for a Cure this Sunday January 31, 2016 at noon at the Phoenix Center.
The "Sprawlers" are collecting pledges for each sprawl they can complete in 10 minutes.
Proceeds for the Sprawl and shirt sales are being raised for Warang McManus, sister of FD wrestlers Sean and Liam, who has been preparing for a bone marrow transplant.
Warang was diagnosed with cancer at 15 months, again at 13 years old, and most recently late last year while in her second year at the University of Oregon.  A great video about a Nike shoe inspired by Warang can be found at this youtube link https://www.youtube.com/watch?v=S2Kahhh4Fn0
"So what we will be doing is laying out the mats, have a playlist made up of the "Sprawlers" favorite songs playing loud and we will time one or two at a time for 10 minutes they will continually do sprawls, (which can be compared to a burpee)," said event coordinator Natalie Calvo. "We thought a sprawl in its definition was appropriate for the fight against cancer. A defensive technique to avoid takedown attempts."
At a recent event meeting, Warang's mom, Suzanne shared that in preparation for her bone marrow transplant in Oregon, Warang will undergo conditioning or three days of chemo followed by three days of radiation (possibly the other way around) to kill any cancer cells and suppress the immune system so that the transplanted cells will be able to produce new healthy cells. After a day of rest, on Day Zero or her Birthday – the healthy stem cells are transplanted and then she will be closely monitored for 100 days during her recovery. Warang lives far from the hospital so she will be staying in a Ronald McDonald house for the 100 days.
Sprawlers will get an event t-shirt, but additional shirts are on sale for $15.
If you are interested in buying shirts or participating, you can contact Mrs. Calvo at [email protected] or call 688-2071.
The Phoenix Wrestling Club is a local non-profit organization established to encourage and support our young athletes from as young as age 8 extend their sports learning and physical training beyond the seasonal prep leagues. In recent years, the objective and focus of our organization has grown in helping students improve their academic studies and prepare for post secondary education.

QUICK HITS
Guam MTB National Championship: Edward Oingerang and Jennifer Camacho are your 2023 MTB national champions. Oingerang finished the course in 1:13:24 while Camacho won her second straight title in 54:08.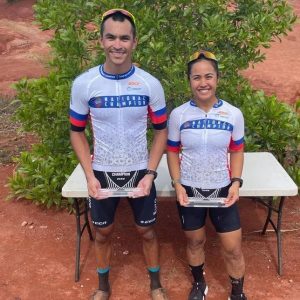 ——————————————
Kobe Miyashita, with St. John's coach Arvin Flores, was named the 2023 IIAAG Middle School Boys Volleyball MVP!