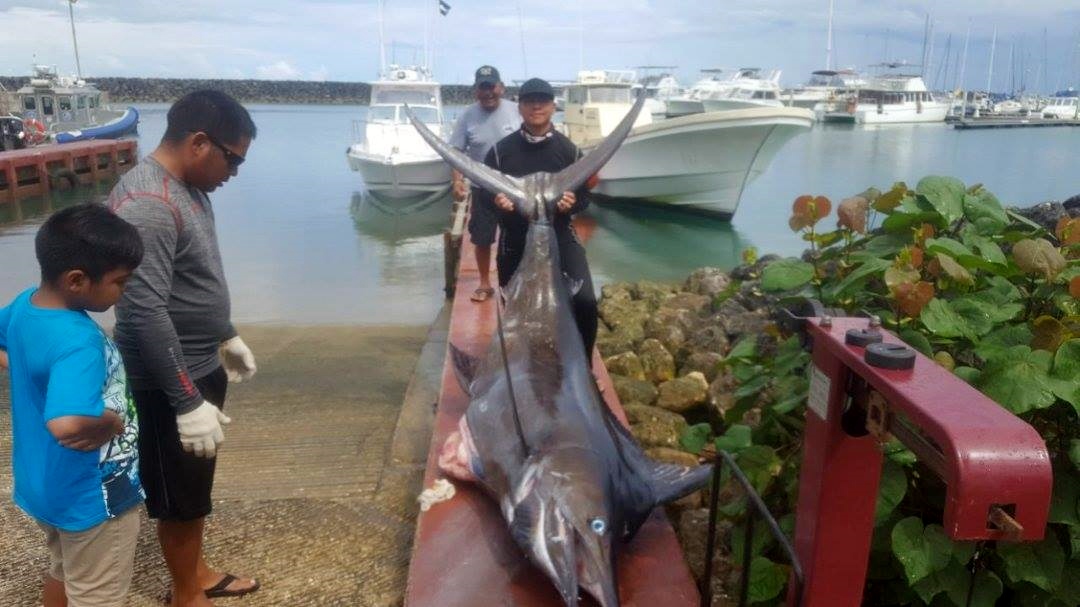 'Debbie I' reeled in the biggest marlin (511 lbs) in the 22nd Marianas International Fishing Derby over the weekend.
Debbie I also caught the biggest marlin in the Saipan derby earlier this year. Captain Roque Chaco was along with anglers Anthony Chaco, Randal Chaco, Ray Chaco, Romy Magan, & Aris Abiera.
"It wasn't a fight, it was a battle," said captain Roque Chaco. "The reel broke so we handlined the marlin for over 30 minutes until we tied the main line to another reel and started cranking him in. It took over two hours before we got him to the side of the boat and secured him."
The marlin bit the hook around 6:20 am Sunday about a mile by Facpi 2 buoy.
Here are the other results:
MARLIN
Debbie I (Roque Chaco) 511.75 lbs
Bella (Perry Inos) 493 lbs
Hitman (Carlos Herrera) 323.25 lbs
Chamori (James Gumabon) 296 lbs
YELLOW FIN
Reel Nuts (Gerry Bejerana) 78.8 lbs
Monique Ka (Phil Flores) 40 lbs
Emmanuel (Mike James) 34.3 lbs
WAHOO
Tropical Anesthesia (Todd Smock) 34.6 lbs
Onaga II (John Castro) 31.45 lbs
S&J (John Kakas) 29.25 lbs
MAHI MAHI
Victoria (Diego Benavente) 24.9 lbs
Inina Isabelle (Will Topasna) 13.65 lbs
Reel Tight (Guy/Chino) 7.75 lbs
BONITA
Last Minute (Matthew Orot) 14.65 lbs
Boka Box (Frank Alig) 11.6 lbs
Danet (John Hattig) 11.25 lbs