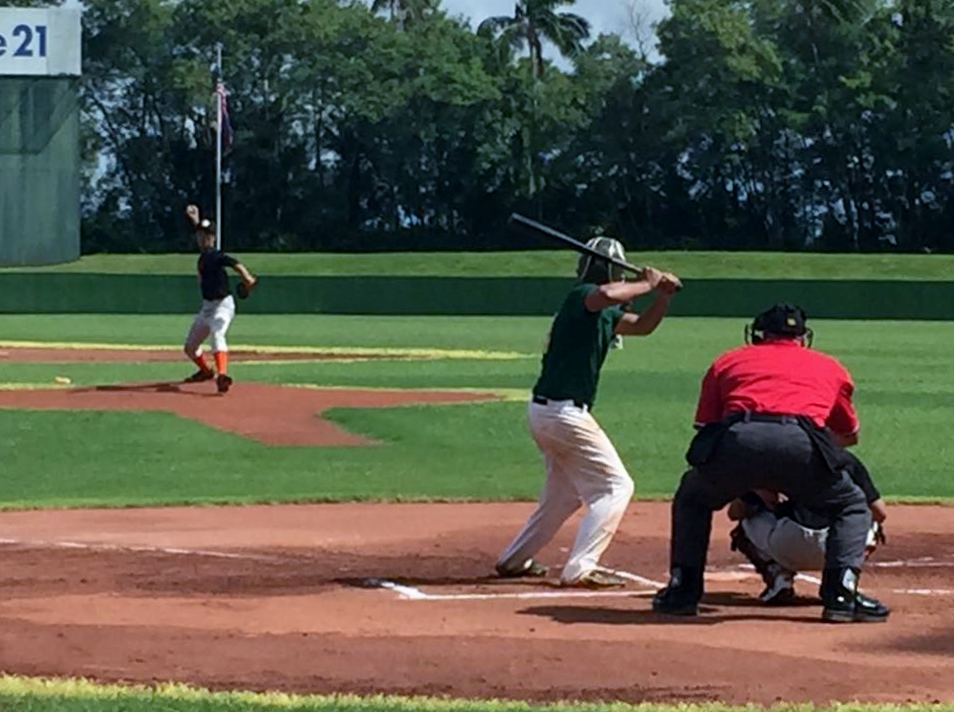 Sinajana Giants 4, Talofofo Rangers 3
The Sinajana Giants took down the Rangers 4-3 to pick up their first win of the season and kick off Amateur Summer Wood Bat League weekend action. Cameron Masanayon allowed just two hits and no earned runs over 4 innings for the win.  Joel Sablan blanked the Rangers over the final three frames for the save. Zach Sablan led the offense going 2 for 3 with two RBI as the Giants improve to 1-4 on the season. The Rangers drop to 1-2.
WP- Cameron Masanayon 4ip, 2h, 0er, k, bb, 3hp
SV-Joel Sablan 3ip, 2h, 3k
Zach Sablan (Giants) 2-3, 2b, r, 2rbi
Joel Sablan (Giants) 1-3, 2r
Kagan Rabago (Rangers) 2-3, bb, sb
Jose Santos (Rangers) 2-2, hp, sb
Frank Santos Jr (Rangers) 5ip, 6h, 2er,2k, bb
Kosrae Speedos 11,  Rooks 8
The Kosrae Speedos pounded out 13 hits to outlast the Rooks 11-8 to improve to 2-3 on the season. Shane Tenorio got his second win of the season allowing one earned run with four strikeouts over six innings. Geoffrey Freddy delivered the go ahead two RBI single in the top of the 7th inning to lead the Speedos to the win.  Richard Ward had four RBI and David Talley was 2 for 4 with two runs and two RBI.  
WP- Shane Tenorio 6ip, 1er, 4k, 6h
Brandon Rosario (Rooks) 2-3, r, 4rbi, 2 doubles
Darrin Pangelinan (Rooks) 2-4, 3b, 3rbi
Fred Malaca (Rooks) 2-4, 2r
David Talley (Speedos) 2-4, 2b, 2r, 2rbi
Richard Ward (Speedos) 2-3, 2b, 2r, 4rbi
AutoSpot Canyons 4, Rays 3
The AutoSpot Canyons improved to 5-0 on the season with a 4-3 win over the Rays in Sunday afternoon matchup. Derwin Aguon notches the win with 3 2/3 innings in relief allowing no earned runs with five strikeouts. Starter Muna allowed one earned run with four strikeouts and six walks in 3 1/3 innings. Mike Bautista was 2 for 3 with a run and Randy Alcantara continued a hot season at the plate going 3 for 4 with a run and RBI.  The Canyons have a marquee matchup this coming Sunday 3 pm when they take on the 2nd place Blue Jays (4-1).
WP- Derwin Aguon 3 2/3ip, 4h, 0er, 5k, 2bb
Mike Muna (Canyons) 3 1/3ip, h, er, 4k, 6bb
Gavin Salas (Canyons) 3ip, 3h, 0er, k, 2bb
Mike Bautista (Canyons) 2-3, r,
Randy Alcantara (Canyons) 3-4, r, rbi
Shon Muna Jr (Canyons) 2-4, 2b, rbi
Athan Yatar (Rays) 4ip, 6h, 4er, k, 3bb
Dave Fernandez (Rays) 1-2, 2 rbi
Blue Jays 6, Sumay Chiefs 3
In the Sunday nightcap, the Blue Jays improved to 4-1 with a 6-3 win over the Sumay Chiefs. Blue Jay Ricky Fernandez went four innings out of the bullpen allowing no runs to pick up the win.  Mike Peredo powered the offense going 2 for 2 with two walks, two stolen bases and three runs. Keith Castro chipped in with two hits and two runs for the surging Blue Jays. The Chiefs even their record at 1-1 with the loss.
WP-Rick Fernandez 4ip, 4h, 0er, k, 2hp. SV- Roy Celis 2ip, 3k, bb
Collin Lavoie (Chiefs) 3-4, r, sb
Devin Bigby (Chiefs) 2-4, sb
Mike Peredo (Blue Jays) 2-2, 3b, 3r, 2sb, 2bb
Keith Castro (Blue Jays) 2-3, 2r, sb, bb
NEXT WEEK SCHEDULE
29-Jul Sat 3 pm Sumay Chiefs vs Barrigada Crusaders
29-Jul Sat 6 pm Sinajana Giants vs Rooks
30-Jul Sun 3 pm AutoSpot Canyons vs Blue Jays
30-Jul Sun 6 pm Rays vs Talofofo Rangers
CURRENT STANDINGS
Canyons 5-0
Blue Jays 4-1
Crusaders 2-1
Chiefs 1-1
Rays 2-3
Speedos 2-3
Rangers 1-2
Rooks 1-4
Giants 1-4

QUICK HITS
Guam MTB National Championship: Edward Oingerang and Jennifer Camacho are your 2023 MTB national champions. Oingerang finished the course in 1:13:24 while Camacho won her second straight title in 54:08.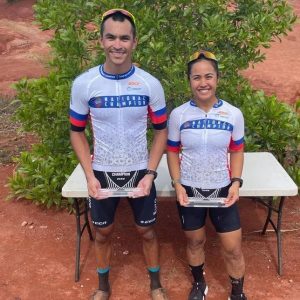 ——————————————
Kobe Miyashita, with St. John's coach Arvin Flores, was named the 2023 IIAAG Middle School Boys Volleyball MVP!