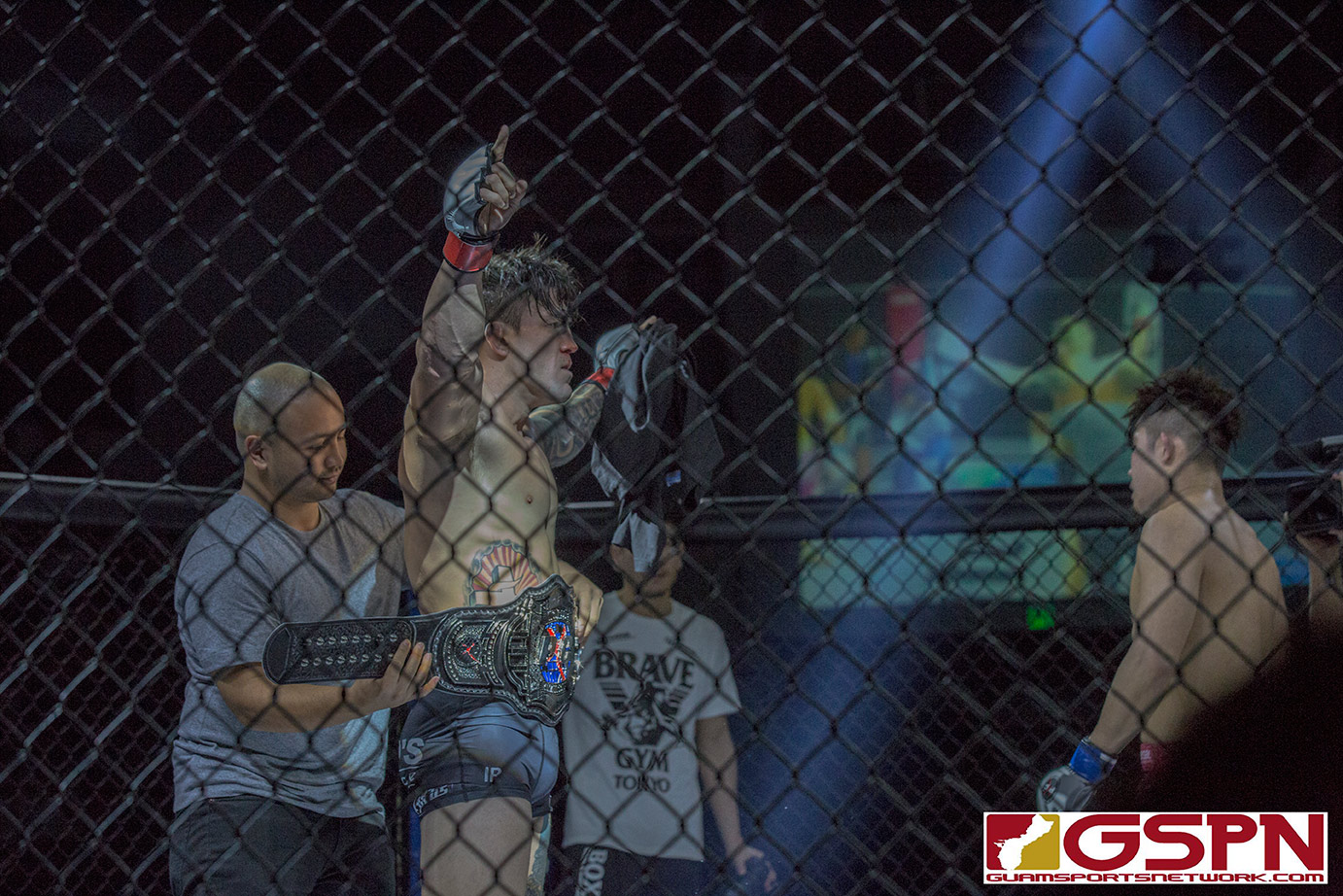 By Robert Balajadia
A headline change didn't stop the local MMA fans from coming out the UOG Calvo Field House for PXC 56. The night was highlighted by 'Superman' JJ Ambrose capturing the lightweight title with a submission victory over Takahiro Ashida in the 4th round.
Check out the card and the results from the night below:
Frank Meno (155) def. Jose Ramirez (160.6) via Unanimous Decision
RD1: Ramirez first to land an inside leg kick, Meno responds with a strong outside kick. Fighter exchange inside-outside kicks once more. Meno lands a short combination that backs up Ramirez. Meno lands an outside leg kick but eats a straight from Ramirez that forces Meno to clinch. Meno presses Ramirez to the cage as the two exchange foot stomps. Ramirez holding on to a guillotine attempt, Meno landing body shots to pry himself free. Meno scores a takedown but Ramirez still holding tightly on the guillotine attempt. Meno escapes and quickly grabs hold of Ramirez with a standing guillotine attempt. Meno lands hard body shots from his knees as Ramirez tries to get back to his feet. Meno presses Ramirez against the cage once more ending the round.
RD2: Meno lands an outside leg kick to begin the round. Ramirez dials a head kick that was partially blocked, Meno responds with a single leg takedown. Meno in the guard trying to gain a mount. Meno lands a big left fist to the temple of Ramirez from the top but eats a counter shot. Meno works his way into a guillotine attempt as he starts to bleed from the nose. Ramirez slips out of the attempt after a minute has passed. Meno scores with dirty boxing as Ramirez tries to stand up. Meno scores on a double-leg takedown. Ramirez counters with a leg lock attempt, but Meno transitions out and gains the back of Ramirez. Meno scores another takedown after both fighters got to their feet. Meno ends the round with a submission attempt from the back of Ramirez with the bell granting Ramirez the escape.
RD3: Meno lands an inside leg kick that causes Ramirez to stumble. Ramirez grabs hold of Meno in the clinch for a standing guillotine attempt with his back against the cage. Referee Jacob Guerrero separates the fighters. Both fighters exhausted, throwing a series of feints. Meno shoots for a takedown and Ramirez welcomes the attempt, grabbing the neck of Meno in a guillotine attempt. Ramirez lands short shots to the head from his back in full guard. Guerrero stands both fighters up. A one-two body kick combo lands for Ramirez and Meno responds with a single leg takedown. Round ends with both fighters wrestling for position on the canvas.
Jeff Mesa (136) def. Kai Kamaka III (134.7) via Unanimous Decision
RD1: Kai opens with an inside leg kick and lands a straight to the body moments later. Kai repeats the leg and body shot forcing Mesa to back peddle to the cage. Mesa takes advantage of a Kai takedown attempt and scurries to the top guard. Mesa works his way to the back of Kai, but Kai lands hard body blows to keep Mesa pinned to the cage. Mesa catches a head kick but Kai follows up with strong body shots. Kai unloading on Mesa after landing a knee to the body. Mesa recovers and grabs hold of Kai for a moment. Kai scores a takedown as with Mesa holding on to the neck from his back as the round ends.
RD2: Kai lands a pair of leg kicks before opening up his striking. Mesa can't find the range with straights and jabs, Kai lands a straight right before Mesa sprawls a takedown attempt. Kai takes an awkward spin and lands on his back, appearing to have injured his shoulder, as Mesa races down with hammer fists. Mesa in the side control as Kai works to defend his face. Mesa lands a big elbow that forces Kai to try and escape. Mesa lands more shots as Kai tries to escape. Mesa gets the crowd excited as he lands heavy shots with Kai in trouble, but Kai manages to survive the round after Mesa was seconds away from securing a rear-naked choke.
RD3: Kai lands a kick and Mesa reacts as if there was a groin strike, but Kai continues to land a flurry before referee Frank Camacho could step in. Fight stops for a moment for Mesa to collect himself. Kai opens the break with a flurry and Mesa responds with his best combinations. Kai lands a right hook and Mesa avoids further damage with a takedown. Mesa slams Kai for another takedown. Mesa wrestles Kai to full guard. Fighters go back to standing with Kai landing clean inside jabs. Kai lands two straight rights as the round ends.
Joon Yong Park (170.6) def. Ray Cooper Jr. (169.3) via 1st round submission (head and arm choke)
RD1: Ray storms in with a wild flurry but misses. Park Lands a head shot that stumbles Ray, but Ray scores on a double leg takedown. Ray works from the half guard onto the back of Park. Ray transitions to his feet but eats elbows from Park in the clinch. Park lands more elbows to the temple, Ray responds with a seamless transition into head and arm triangle, forcing Ray to tap.
Michito Abe (139.5) def. Shane Alvarez (140.5) via Unanimous Decision
RD1: Alvarez opens with a head kick attempt, Abe shows game in his attempt as well. Alvarez lands a kick to the body and Abe shoots and scores for a double-leg takedown. Abe lands heavy shots from the guard forcing Alvarez to cover up. Abe makes Alvarez attempt to stand difficult, landing head and body shots as Alvarez is pressed on the cage. Alvarez gets the back of Abe as Abe is seated. Alvarez working a rear-naked choke as the fans go wild. Abe doing well defending as Alvarez tries to open up with strikes to further sink the choke. Abe transitions in the full guard. Abe gets free for solid shots from the guard, bloodying Alvarez from a cut on the nose.
RD2: Abe lands a body kick for the rounds first contact. Abe scores a single leg takedown with Alvarez pressed on the cage. Fighters stand and Abe crawls the back of Alvarez, trying to find an opening with strikes. Abe working some stakes form the back as Alvarez is covering up. Abe continues to strike as Alvarez escapes and transitions into guard. Abe tries for a triangle trap but Alvarez escapes ending the round.
RD3: Alvarez forces Abe to backpedal with a combination attempt. Alvarez swinging heavy as Abe dodges the haymakers. Alvarez holding Abe to the cage eventually scoring on a double-leg takedown. Abe fishing for Alvarez left arm from side control. Alvarez gives a thumbs up as Abe tries to crank Alvarez arm back. Alvarez escapes the submission attempt as Abe an Alvarez wrestle to the end of the round.
Charlie Alaniz (125.9) def. Seigo Yamamoto (124.3) via 2nd round submission (rear-naked)
RD1: Seigo connects with an inside leg kick. Seigo lands a kick as Alaniz catches Seigo with a straight left counter shot. Seigo getting some ooh's from the crowd as he encourages the praise. Alaniz misses on a left hook as Seigo tries a combination. Fighters get close as punches fly with Alaniz getting the better exchange. Alaniz lands a right hook and chases in for a combination. Alaniz trips up Seigo after the flurry, working from the full guard. Alaniz starting to pummel Seigo with short elbows and hammer fists as the round ends.
RD2: Alaniz aggressively striking, missing most of the flurry but manages to trip Seigo for a takedown. Seigo attempts a takedown from his knees but Alaniz sprawls and ends up taking the back of Seigo. Seigo transitions out, but right back in to a dangerous position, forcing the fight after Seigo taps from the Alaniz choke.
Kelvin Fitial (239.2) def. Ben Sosoli (263) via Unanimous Decision
RD1: Ben swings upstairs but misses as Fitial lands a leg kick. Fitial lands a jab as Ben struggles to find the range on his punches. Ben eats jabs but lands a right hand as Fitial quickly backs up. Fitial fishes for knee as Ben swings upstairs and misses again. Fitial scores on a body kick and gets away from a Ben overhand. Ben blocks a short combination from Fitial. Kelvin attempts a straight right to end the round.
RD2: Kel lands a leg kick, the trend to opening there rounds. Ben graves the chin of Kel on a left hook. Kel attempts a knee from the clinch but Ben reads the attempt and blocks it. Ben still struggling with the range, missing another heavy shot. Kel counters the straight jabs from Ben with a knee that was partially blocked. Fitial loads up a right hand as both fighters dropping their hands in exhaustion.
RD3: Kelvin back with the leg kicks to start the round. Both fighters working around the cage, hearing boos from the crowd. Ben starting to get a second wind as he lands a left, Fitial responds with a combination. Ben misses two heavy left hands. After both fighters regain their breathes, a brief exchange excites the crowd. Ben grazes Fitial with a head kick. The heavy hitters end the round in a brief exchange.
J.J. Ambrose (154.2) def. Takahiro Ashida (154) via 4th round submission (guillotine)
RD1: Ashida opens with the ceremonial leg kick tonight. JJ dials a heavy shot upstairs but misses, grabs hold of Ashida's neck in a guillotine attempt. Ambrose circling around Ashida looking for an opening. JJ takes the back of Ashida, attempting to get his hooks in. JJ lands shots from the back as Ashida wiggles away for a moment. Ambrose quick to react, once again working the back of Ashida. Ashida trying to shake the pressure from JJ with elbows and strikes. Ambrose working form half guard. Round ends with Ambrose working from the guard.
RD2: JJ leads off with a combination attempt. Ambrose quick on short jabs but Ashida escapes. Ambrose takes the back of Ashida on a scramble. Ashida transitions out into the guard. Ashida transitions from his back, putting JJ against the cage. Ambrose attempts to stand up as Ashida tries to take his back. Ashida shoots for a takedown but JJ sprawls, eventually taking the back of Ashida. Round ends with Ambrose working from the backside of Ashida.
RD3: JJ partially lands a high kick and Ashida responds by going high with a head kick attempt. Ashida lands a right, but a takedown attempt was quickly sprawled. Ambrose gains top position and works his way to Ashida's back. Ambrose starts to land shots from the back after a series of wrestling and transitions. Round ends with Ambrose operating from the Ashida's guard.
RD4: Ashida counters a kick attempt with a straight left that catches JJ. Ambrose sinks in the guillotine choke as Ashida shoots in for a takedown.