By Robert Balajadia
Guam Auto Spot has taken initiative over the past year to show support for Guam athletes. Thursday morning at Kentos in Hyatt Regency Guam, Auto Spot announced they would be backing Guam's Joe 'The Iron Assassin' Gogo, a Muay Thai champion, to help kick start his venture to become a world champ.
Gogo becomes the second athlete Auto Spot has sponsored after aiding his cousin Baby Joe Taimanglo last year.
"We owe it to these athletes to get behind them and give them a boost. We can't support them 100% alone, but if the rest of the community rallies behind these top athletes then it gives them energy and funds to do what they need to do. It's important for us to appreciate the guys who represent us outside of our shores," said Auto Spot's Sammy Sotelo.
Gogo had been seeking support from the Island and his fundraising event at Kentos Friday evening, along with Auto Spot's extra support, will go a long way in Gogo's quest to become a champ.
"It's overwhelming and I'm very grateful. I've never had true sponsorships before and I've been doing everything on my own for a very long time. Going out there and fighting with that mindset of losing a fight due to working a 10-hour shift and having to train around that or serving food while I'm trying to cut weight is tough. I don't like to make excuses, but given this opportunity I'm blessed," said Gogo.
With Gogo now allotting 100% of his time to training, his best is yet to come. Gogo will be adding new elements to his already versatile fight game.
"I'm a firm believer in loyalty, but I'm going to venture out to other camps, with my coaches permission, even if it's just more sparring partners to get a different look. I get to put more time into specialized training. There were times where my training sessions, because of the lack of hours in a day, would consist of just running for three hours. I would go to bed that night thinking how my opponent probably threw 10,000 punches and worked on technique while all I had time to do was run. Now I get to focus and program design," added Gogo.
Gogo has lived by the motto "Inspire the uninspired", which has also extended to helping the community through the likes of Americorps and speaking to kids at DYA. The former 2006 Notre Dame graduate had been raising the stakes for all of Guam's MMA stars over the past couple of years and the current support from Guam might just give Gogo the tools he needs to achieve his goals.
"It's not about putting Guam on the map, we're already on the map. Let's take it to another level," said Gogo.

Foody's Fun Facts
Favorites From Year 2
COMING SOON …
SATURDAY
Boys Volleyball: Champion vs. Champion
Saturday 6 pm: FD vs. Tiyan
UFC Fight
July 25: Trevin Jones vs. Tony Kelley
QUICK HITS
Nadine Del Carmen graduated from Santa Clara University on June 11. She was named captain of the Santa Clara women's tennis team in her senior year and she will be attending Georgetown University in the fall to pursue her masters and will be playing for the Hoyas women's tennis team.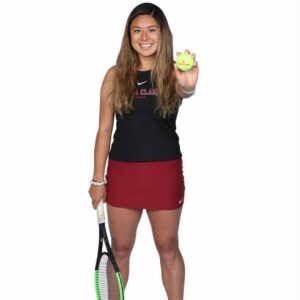 ——————————————————–
After a star-studded collegiate career at UCLA, Bubba Nickles turns her focus on the Tokyo Olympics with Team USA after the Bruins were eliminated in the College World Series. Nickles endured a broken arm on April 7 and worked her way back into the Bruins lineup for the WCWS. She will go down as one of UCLA's best softball players in its storied history.