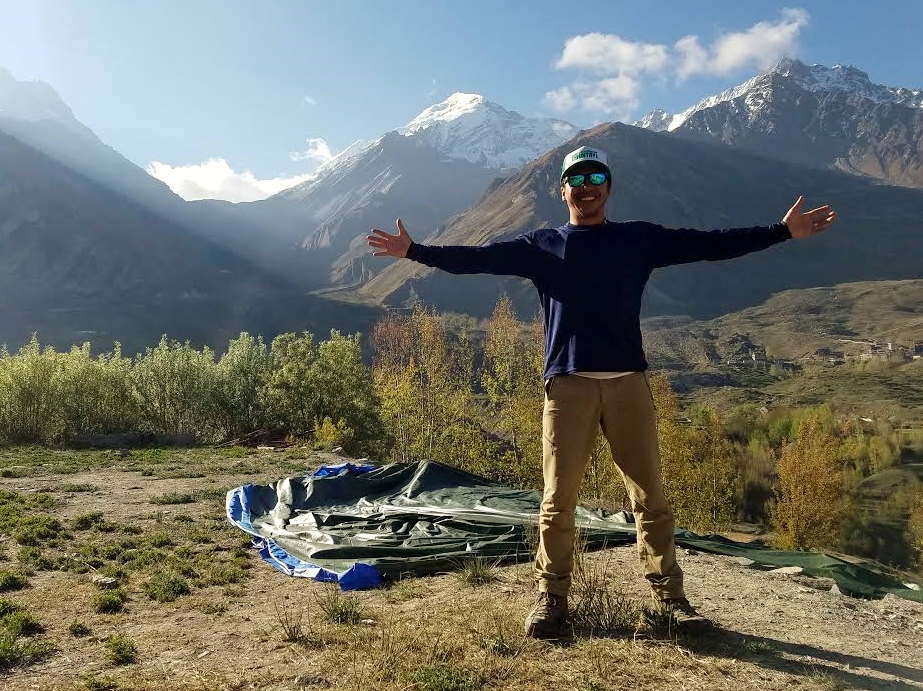 By Patrick Lujan
Former Guam track star T.J. Quan ventured on a whole new trek recently, climbing the hills of the Himalayas last month. Now a resident of Hawaii, Quan shares with GSPN why he decided venture on this spiritual journey.
The former St. John's and Father Duenas record holder in the middle distance events took time off from his role as a family man and attorney to spend two weeks in Mustang, Nepal.
How did the idea come about to do such a trek?
For as long as I can remember, I have always held an affinity for being in the mountains and it's been one of my life long goals to take a trek/expedition through the Himalayas. The Himalayas are regarded as some of the highest places on earth and for me, they've always seemed to hold a certain sacredness, serenity, and mystery that cannot be found anywhere else.
A couple of years ago, my good friend Julie married a very nice guy by the name of Jeff Fuchs. It turns out Jeff  was a Canadian explorer/expeditioner and had lived/traveled thoughout the Himalayas for decades. Jeff and I became good friends and talked extensively about making a trek happen through the Himalayas in Nepal. Finally, in February of this year, we organized a group of six people (five from Hawaii including former Guam resident Keoki Ching, one from Hong Kong) to take a 14-day, 110-mile trek in May of this year through the Mustang region of Nepal. Mustang is located  in northeast Nepal and borders Tibet/China. Historically, it was known as the Kingdom of Lo and formerly part of Tibet.
How much preparation has to go into a two-week trek?
About two and half months before the trek, I started  undergoing a high intensity cardio program of running, swimming, and stair master. I also tried to train consistently on various uphill hikes through some of Honolulu's hiking trails. I wanted  to make sure I did everything in my power to prepare my lungs/legs for the high altitude and all-day trekking demands of the expedition.
What research was done and what did you find most rewarding about the trek?
Thankfully, Jeff had previously visited Mustang on another expedition and had already established connections for our expedition. We worked through a Kathmandu agency with a special focus on Mustang who organized a team of local guides/Sherpas to assist our group on the trek. As much as we wanted the expedition to be physically challenging and aesthetically pleasing, we also wanted to experience the culture and the communities of Mustang. Mustang is deeply impacted by Tibetan Buddhism and its people have lived in their subsistence/nomadic ways of life, undisturbed by foreigners, for centuries. At the same time, Mustang and its people are on the brink of some serious changes – the impacts of global warming are affecting their water sources and China's looming presence appears to threaten traditional ways of life.
I have never seen such beautiful, majestic spaces and was in awe of the mountains every single day of the trek. I was also deeply touched by the humility and compassion of the people and communities in these places. It was truly inspiring to see people, living in the most difficult and arduous of conditions, be so open, giving, and altogether resilient. They seemed so firmly rooted in their Buddhist traditions and spirituality. On a personal level, it was nice to have no access to the internet or my phone for over two and half weeks during the trek. This allowed me to enjoy the silence of the mountains and be completely with myself and  my thoughts during the  journey. I said a lot prayers for my family and friends and meditated on my life and its direction.
It's not quite Mt. LamLam. Have you done mountain training before?
Ironically, I've never climbed Mt. Lam Lam. Lol. My expedition to Mustang was my first high altitude mountain trek. If anything, it inspired me to venture out on more of these types of expeditions in the future. I will definitely return to Nepal and the Himalayas again!

Athletes Birthdays by W5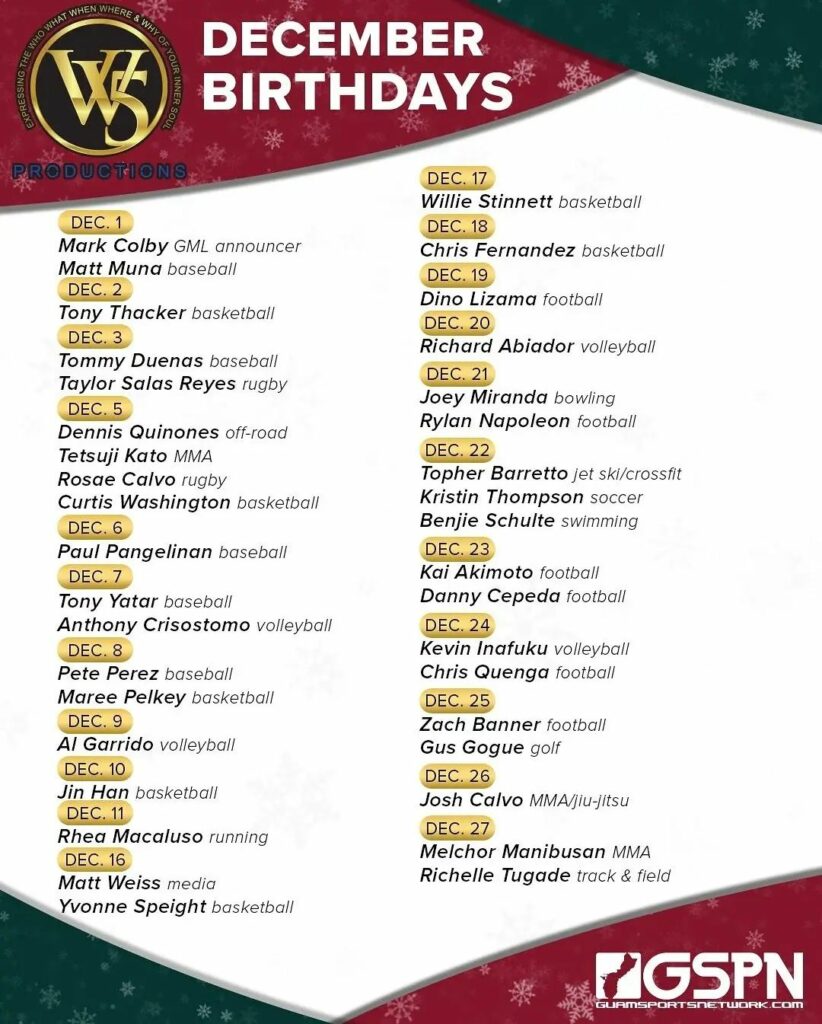 GPS Sports Calendar
SU

MO

TU

WE

TH

FR

SA
Events for December
5th
No Events
Events for December
6th
Events for December
7th
Events for December
8th
No Events
Events for December
9th
Events for December
10th
Events for December
11th
06:00 AM - 08:00 AM
Umatac
Events for December
12th
No Events
Events for December
13th
No Events
Events for December
14th
No Events
Events for December
15th
No Events
Events for December
16th
Events for December
17th
Events for December
18th
19

20

21

22

23

24

25
Events for December
19th
No Events
Events for December
20th
No Events
Events for December
21st
No Events
Events for December
22nd
No Events
Events for December
23rd
No Events
Events for December
24th
No Events
Events for December
25th
No Events
26

27

28

29

30

31

1
Events for December
26th
No Events
Events for December
27th
No Events
Events for December
28th
No Events
Events for December
29th
No Events
Events for December
30th
No Events
Events for December
31st
No Events
National Guard Athletes
Scott Eclavea
Scott Eclavea is a jiu-jitsu black belt and an accomplished MMA fighter. The Guard has given him an outlet in combatives to display his martial art skills, where he's become a head instructor for that program. Eclavea has served since coming out of high school and the Guard has only changed his life for the better.
COMING SOON …
LIVE FOOTBALL ON GSPN
Semifinals: #1 FD vs. #4 Southern (Friday 7 pm)
GSPN Preseason Basketball Tournament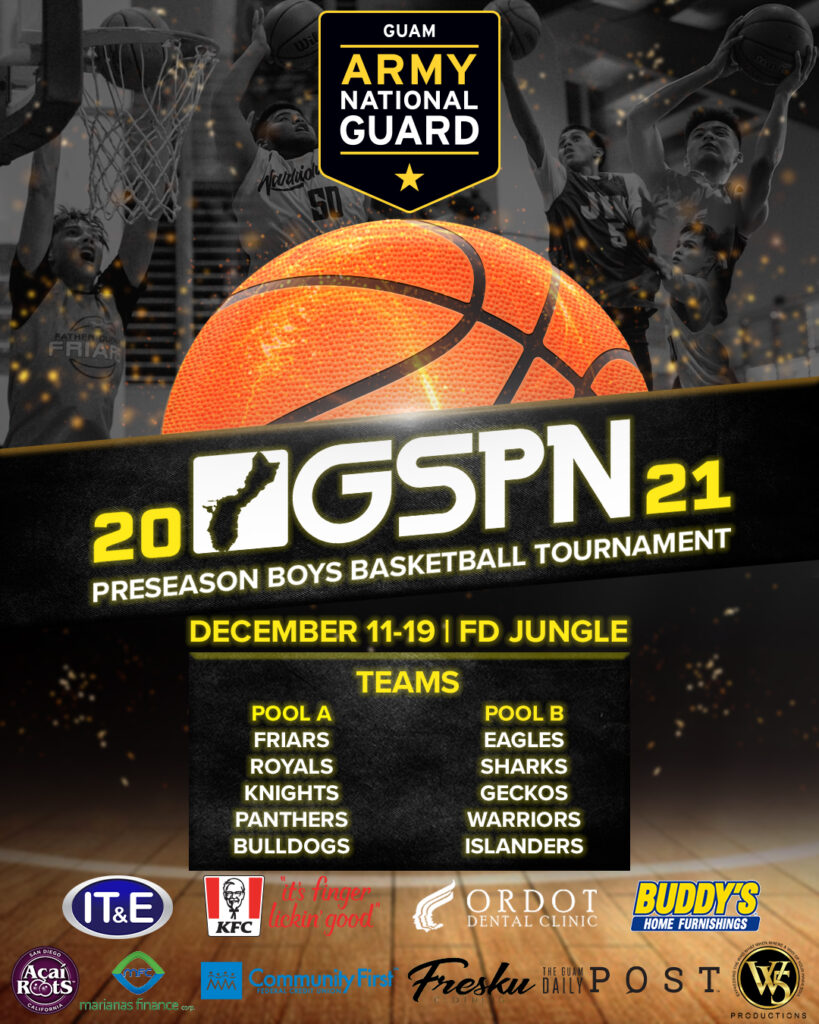 QUICK HITS
Robert Artero Maley recently captured the 182-lb. division of the Costa Mesa Classic, winning via pin in 4 out of 5 matches. Robert is a 4-year varsity wrestler at San Clemente HS (Tritons) and is currently ranked 15th in California's high school scene. He is the son of Jacque Artero Maley (AOLG 1991).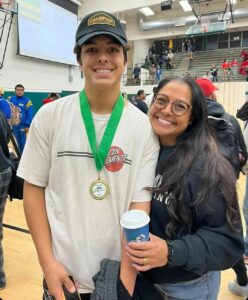 ——————————————–
Pat Taitano and Rich Abiador, teammates on the 1995 SPG volleyball team, have led their high school girls volleyball teams to the Washington State Championships in Yakima, Wa.
Taitano coaches Mt. Rainier High while Abiador leads North Creek High.
There for support is Dr. Mark Perez, a health professor at Central Washington University and a former UOG volleyball player.