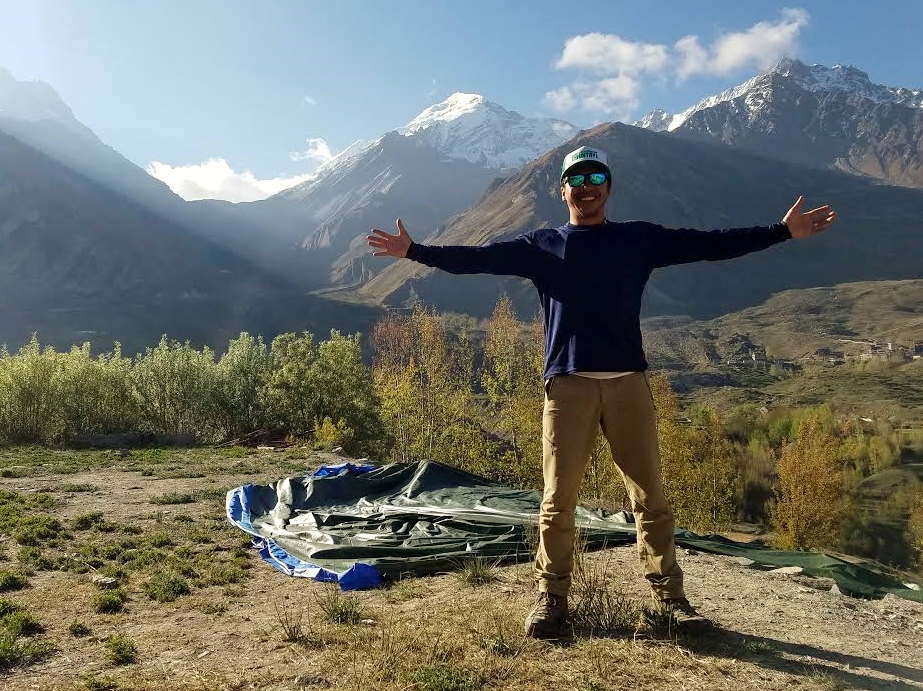 By Patrick Lujan
Former Guam track star T.J. Quan ventured on a whole new trek recently, climbing the hills of the Himalayas last month. Now a resident of Hawaii, Quan shares with GSPN why he decided venture on this spiritual journey.
The former St. John's and Father Duenas record holder in the middle distance events took time off from his role as a family man and attorney to spend two weeks in Mustang, Nepal.
How did the idea come about to do such a trek?
For as long as I can remember, I have always held an affinity for being in the mountains and it's been one of my life long goals to take a trek/expedition through the Himalayas. The Himalayas are regarded as some of the highest places on earth and for me, they've always seemed to hold a certain sacredness, serenity, and mystery that cannot be found anywhere else.
A couple of years ago, my good friend Julie married a very nice guy by the name of Jeff Fuchs. It turns out Jeff  was a Canadian explorer/expeditioner and had lived/traveled thoughout the Himalayas for decades. Jeff and I became good friends and talked extensively about making a trek happen through the Himalayas in Nepal. Finally, in February of this year, we organized a group of six people (five from Hawaii including former Guam resident Keoki Ching, one from Hong Kong) to take a 14-day, 110-mile trek in May of this year through the Mustang region of Nepal. Mustang is located  in northeast Nepal and borders Tibet/China. Historically, it was known as the Kingdom of Lo and formerly part of Tibet.
How much preparation has to go into a two-week trek?
About two and half months before the trek, I started  undergoing a high intensity cardio program of running, swimming, and stair master. I also tried to train consistently on various uphill hikes through some of Honolulu's hiking trails. I wanted  to make sure I did everything in my power to prepare my lungs/legs for the high altitude and all-day trekking demands of the expedition.
What research was done and what did you find most rewarding about the trek?
Thankfully, Jeff had previously visited Mustang on another expedition and had already established connections for our expedition. We worked through a Kathmandu agency with a special focus on Mustang who organized a team of local guides/Sherpas to assist our group on the trek. As much as we wanted the expedition to be physically challenging and aesthetically pleasing, we also wanted to experience the culture and the communities of Mustang. Mustang is deeply impacted by Tibetan Buddhism and its people have lived in their subsistence/nomadic ways of life, undisturbed by foreigners, for centuries. At the same time, Mustang and its people are on the brink of some serious changes – the impacts of global warming are affecting their water sources and China's looming presence appears to threaten traditional ways of life.
I have never seen such beautiful, majestic spaces and was in awe of the mountains every single day of the trek. I was also deeply touched by the humility and compassion of the people and communities in these places. It was truly inspiring to see people, living in the most difficult and arduous of conditions, be so open, giving, and altogether resilient. They seemed so firmly rooted in their Buddhist traditions and spirituality. On a personal level, it was nice to have no access to the internet or my phone for over two and half weeks during the trek. This allowed me to enjoy the silence of the mountains and be completely with myself and  my thoughts during the  journey. I said a lot prayers for my family and friends and meditated on my life and its direction.
It's not quite Mt. LamLam. Have you done mountain training before?
Ironically, I've never climbed Mt. Lam Lam. Lol. My expedition to Mustang was my first high altitude mountain trek. If anything, it inspired me to venture out on more of these types of expeditions in the future. I will definitely return to Nepal and the Himalayas again!

QUICK HITS
The Figo Islanders 40s women's softball team took gold in the Senior Softball World Championship in Las Vegas. Figo came out of the loser's bracket and beat the Arizona Belles 17-3 in the AA division championship game Sunday afternoon.
Other Guam teams that played in the 40s tournament were: Team SOTTA (women's) and Bud Light Guam, Friars 671 and Sindalun Guahan (men's).
Sindalu finished a respectable 4th out of 24 AAA division teams.