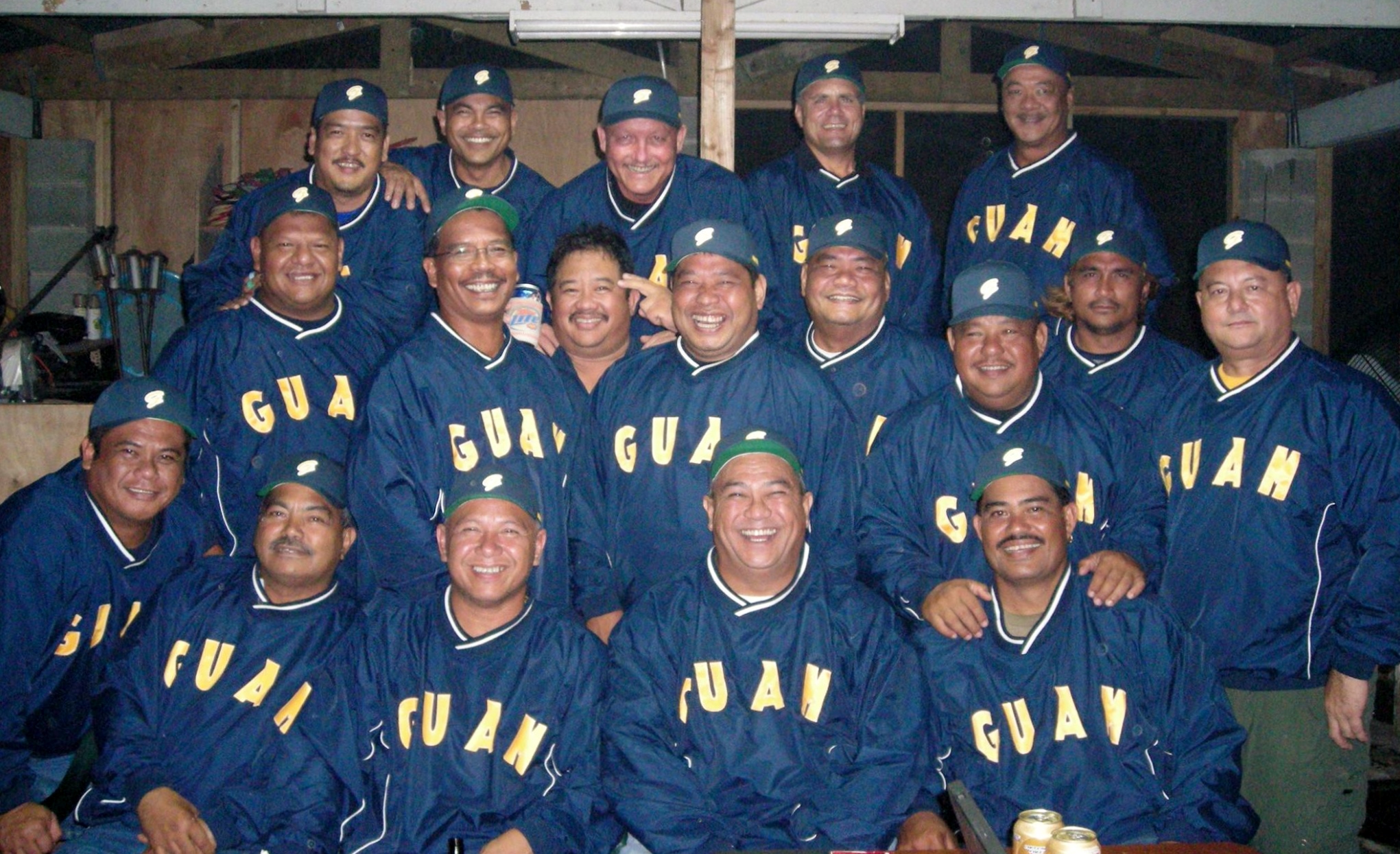 By Patrick Lujan
'Speak softly and carry a big stick.'
No baseball player carried this presidential proverb more than Melan Borja. The quiet catcher from Agat who went on to star throughout his Guam Major League career from the 1970's and into the 2000's succumbed to cancer early Saturday morning on April 8th.
He was 55.
The long-time Parks & Recreation employee always wore #28. He was the anchor to so many talented GML teams such as the AK Islanders and Exxon Tigers in the heydays of the 1980's and later for the Agana Hts. Cougars as player/coach.
Borja's funeral services is slated for Friday, April 21st at the Mangilao Catholic Church with the burial shortly after.
GSPN got with some of Borja's former teammates, friends and opponents to pay tribute to this great catcher.
Peter Aguon (former teammate from the 1970's-90's and pare')
'Melan was a great ball player. He always led by example, never really said much, just what needed to be said. He was a great husband to Arlene, a great father to his kids and grandchildren. He was a funny man when he had to be and he was a great friend and pare'. He also was a great coach and we will all miss him dearly. He was one of the best and smartest hitting machine. He caught Paul Carbullido's no-hitter game. My favorite catchers I played with were Melan Borja, Richard Martinez, and my brother Ray (Aguon).'
Keith Hattig (former softball teammates with Boleros)
'Not only is he a great friend he is also my pare'. On and off the field, he was always a great person to play with, hang out with and just be around with. When we played together or against each other it was always a good time because like all good players he played the game the way it should be played: smart, have fun and do what needs to be done. When you talk about the game, it's always positive and ways to win. Off the field in gatherings with friends he would always enjoy himself and make people laugh and have a good time . He's one to be missed. Rip brother Mel.'
Wilton Acta (former teammate 1991-98)
'He was a quiet leader both behind the plate and in the dugout. One of the best right-handed opposite field hitters I've ever saw. Others were more flashy. He was more consistent…not many got by. Richard Martinez, Ray Aguon, Cabrera, Mertz, McDonald. All very good. Melan was more complete. On the personal side, I met him back in 1982 at the Guam Hilton. We talked baseball among other things. The following season there I was playing my first GML game with the GCC Tradesmen. We shared many off baseball gatherings and as always there he was with his big bear smile. He will be truly missed.'
Jimmy Pangelinan (former Exxon Tigers, Boleros and Masters teammate)
'Pare' Mel was a humble person with a sense of humor – all-around persona. As a player he was a complete player on and off the field. His memories forever lives. He's a legend we'll never forget.'
Russell Maratita (coached by and played with Borja)
'I had the privilege of being coached by him in Babe Ruth 15U All-Stars, played with him in the Guam Major League and Masters Baseball League, and finally I've been privileged that he always supported the PGF Nationals 18U Guam Girls Junior National Fastpitch Travel Team. A great ball player, coach and friend. My condolences to his wife, children, and other family members. Our softball and baseball community lost a great advocate for Guam. He's won championships as a catcher for the AK Islanders and the Exxon Tigers. He was very good at picking guys off on back door plays and a wall on defense – hardly gave up passed balls.'
Eloy Fujikawa (former AH Cougars pitcher)
'He was always a hard guy to get out. He'd get game-winning home runs off me – he did it twice. He's such a die-hard ball player. One of the best catchers we've ever had.  You ask any pitcher, he was always tough to get out. You have to earn your stripes to get through Melan. He's my primo too so we're really close on and off the field.'
Steve Muna (former GML batting champion)
'I made the Babe Ruth All-Star team in 1980, the Guam team went to Brawley, California. I was only 16-years-old and the youngest player on the team. All the Guam players were paired up with each other in sponsored homes. I was the only Guam player without a teammate living with a Mexican family whose sponsored parents didn't speak a word of English. Melan always looked out for me, he made sure I was always okay. This was one of the only times we ever played together. He was a great team captain and leader. The rest of our baseball career we played opposite each other. But no matter what, Melan's presence on the field always made me play my best. Melan was a dangerous hitter, he could pull the ball and then he could surprise you at anytime and slap it to right field anytime, that is why I was always on my toes when he was at the plate. (Defensively) Melan's ability to throw guys out stealing bases was his quick release, with accuracy he would always get them stealing.'
Paul Carbullido (threw a no-hitter on April 27, 1992 with Borja as the catcher)
'It was so much fun playing with Melan. I'm going to miss him. On the field Melan made my role as a pitcher so much easier. I was so comfortable on the mound knowing that Melan was calling the shots. He would take charge…all I had to do was throw to the target. Off the field, Melan was a real gentleman. Such a humble guy.'
Eddie Siguenza (former Guam sports journalist)
Most people knew him as a catcher, but he was also a great first baseman. He just couldn't play 1B when he was with that awesome Exxon Tigers team that had Jimmy Pangelinan and Pete Aguon (backup) at the position.
I had the honor of working with Melan at Guam Shipyard and playing together on several softball teams. He was our shortstop. Met him many times when he worked at Parks and Rec. He was a good athlete, good friend and good mentor. I remember one game I showed up feeling sick and he told me to "just shut up and suck it up. We need you." That game we hit back-to-back home runs.
It's sad Guam has lost the baseball calibers of Melan Borja, Ray Rojas, and few others in recent years. They added to the unforgettable glory years of the Guam Major League. Wish I can tell you a play when Melan was catching with Exxon and Barry Mead was the plate umpire, and after one of Barry's many controversial calls, Melan let one pitch go by that whizzed past Barry's ear. Did Melan intentionally miss that pitch? "Maybe," Melan told me the next day at work. "It was a bad pitch. The right throw would have landed on Barry's balls."

COMING SOON …
High School Football starts Sept. 29
Brawl 3: Oct 13
Guam's Strongest Man and Woman Competition October 29
QUICK HITS
The Figo Islanders 40s women's softball team took gold in the Senior Softball World Championship in Las Vegas. Figo came out of the loser's bracket and beat the Arizona Belles 17-3 in the AA division championship game Sunday afternoon.
Other Guam teams that played in the 40s tournament were: Team SOTTA (women's) and Bud Light Guam, Friars 671 and Sindalun Guahan (men's).
Sindalu finished a respectable 4th out of 24 AAA division teams.