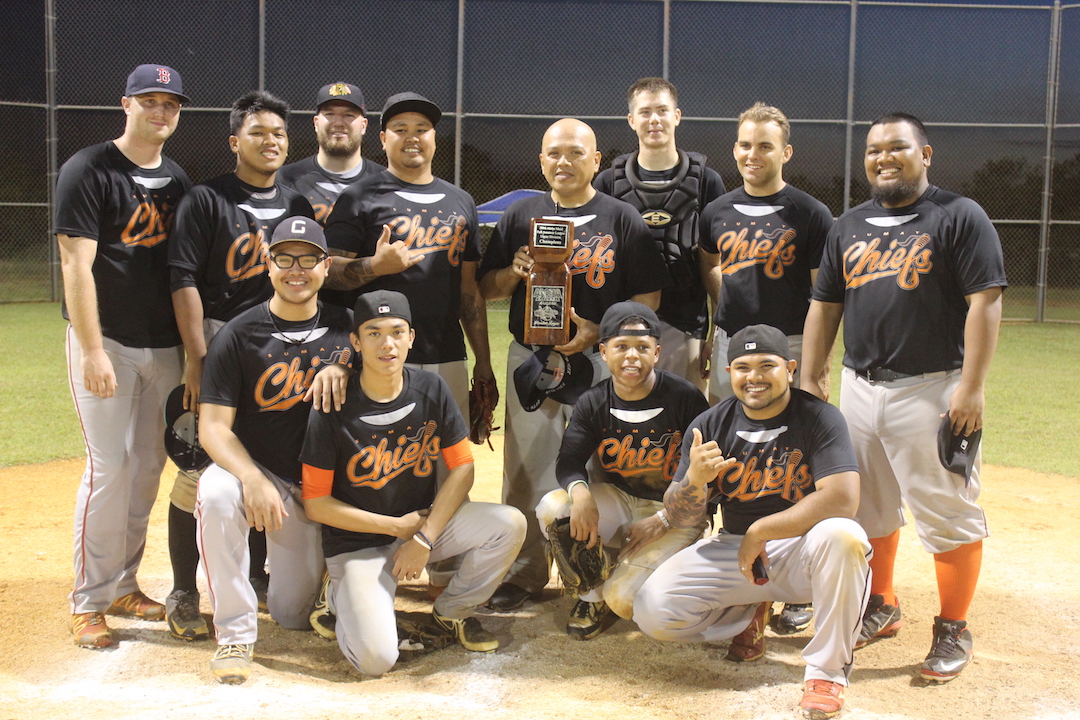 By Robert Balajadia
The Sumay Chiefs were crowned champions of the 2017 Aloha Maid Amateur Baseball Finals Sunday evening by getting through a tough Auto Spot Canyons squad in seven thrilling innings, tallying a close 4-3 final score.
Game MVP, pitcher Ryan Coleman, had everything going against him in the final inning, but his composure plus great outfield plays from Devin Bigby came through in the clutch.
"I don't worry about pressure too much, I just have to throw and everything else will work itself out," said Coleman on the 7th inning.
Down 4-3, Canyons got a base hit from lead hitter and all-around slugger Matt Muna. Birthday boy Mike Bautista was walked on a full-count which put the pressure on Coleman. Randy Alcantara then bunted Muna and Bautista into scoring position, setting up what appeared to be a game-breaking run.
Canyon's Carl Quintanilla then tried to even the score, but his shot sailed deep left right into the waiting glove of Bigby.
"Man, his catches made my job easier. He really saved the game with his play," said Coleman on Bigby's big plays.
Coleman's next hurdle was the Canyon's spark plug Ryan 'Marty' Martinez with Muna and Bautista eager to get off their bags. A foul ball and a missed swing from Martinez put Coleman in a much favorable position. Martinez, the lefty, got contact on a pitch down the middle which flew into the vicinity of Bigby, who hauled in the game winning out.
J.R. Hatting smacked a solo homer in the bottom of the 3rd inning to take a 2-1 lead to seemingly spark the Canyons, but it didn't motivate anyone more than Coleman.
"I was pissed off after that home run so that gave me energy. The adrenaline just carried me throughout the game, but now I feel terrible. I overthrew on that last fast ball so my shoulder hurts right now," laughed Coleman.
Canyon's pitcher Roke Alcantara Jr. took the loss, but ended the game with 9k's. Both Alcantara and Coleman pitched all seven innings.
Canyon errors allow costly runs
The Canyons played clean baseball until the 5th inning while hanging on to 2-1 lead. An errant throw to first base on a Josia Perez hit and a pass ball a play later put Perez on third. Cody Williams then brought in Perez with a base hit to tie the game only to be broken by a Cody Terlaje RBI later in the inning.
In the bottom of the 5th, Muna let a clean hit ride the left field grass to bring in Hattig to tie the game at three runs each.
Alcantara earned his seventh strikeout in the 6th inning, but the Chiefs defense kept the Canyons off the board as well to set up the exciting final inning.
With two outs away and two counts on the batter, Devin Bigby hit a grounder through left field to spark the rally. Teammate Dave Santiago hit a single left field that would end disastrously for the Canyons.
The throw from the outfield went over the leaping third baseman Hattig, giving Bigby the green light to sprint home for what would eventually be the game winning run.
PHOTO GALLERY BROUGHT TO YOU BY:

QUICK HITS
Guam MTB National Championship: Edward Oingerang and Jennifer Camacho are your 2023 MTB national champions. Oingerang finished the course in 1:13:24 while Camacho won her second straight title in 54:08.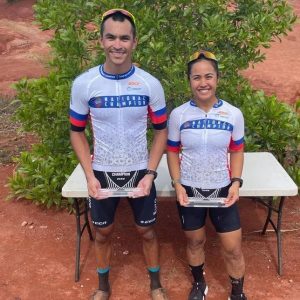 ——————————————
Kobe Miyashita, with St. John's coach Arvin Flores, was named the 2023 IIAAG Middle School Boys Volleyball MVP!