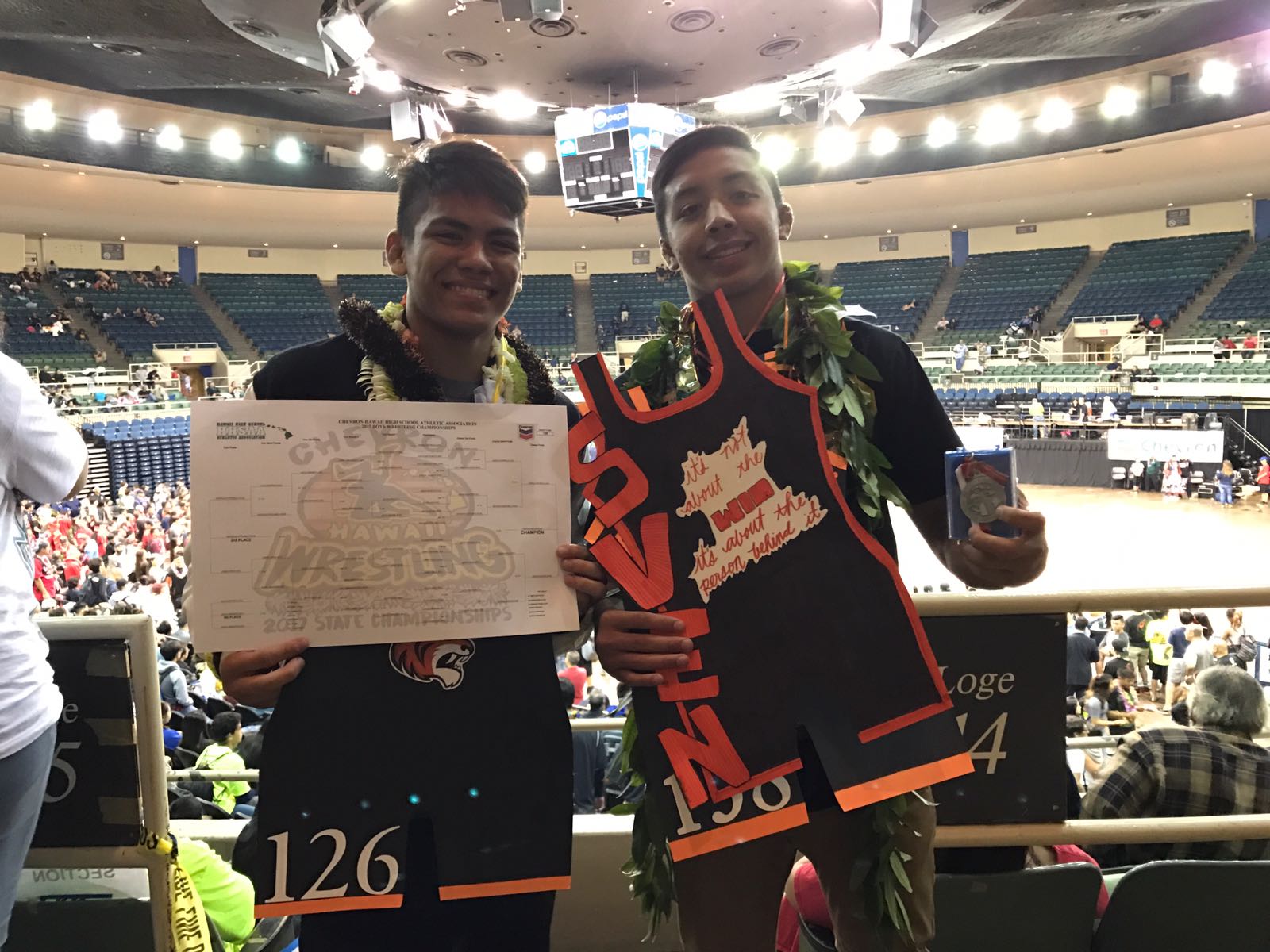 By Jay Leon Guerrero
Guamanians living overseas continue to make headlines in high school wrestling.
A pair of Chamorro wrestlers had a successful HHSAA (Hawaii High School Athletic Association) Wrestling Championships last weekend for their high school. Triston Santos and Steven Pangelinan, both wrestling for James Campbell High School, made it to the gold medal match with Santos winning gold in the 126 lbs. division and Pangelinan coming in a respected second place in the 138 lbs. division. Both are from Guam and attend the same school (James Campbell High School) in Ewa, Beach, Hawaii.
"All that work I put in, all the long hours on the mat after practice with my Dad, Brother and anyone willing to do extra training finally paid off," said Santos. Santos' father, Charles Santos, is also his high school wrestling and strength and conditioning coach. "He always pushes me to the limit in all my training. My brother, Brandon, was my personal drill partner and mentor throughout the years," said Santos.
Santos worked hard to build his resume and is known as one of the top wrestlers in the State. He is a two-time HHSAA champion, three-time Oahu Interscholastic Association (OIA) Western Division Champion, and three-time OIA Boys team champion. Santos made history for Campbell high school becoming the first 3-time champion in 20 years. Santos looks forward to wrestling in the collegiate level next year.
Underdog does well
Pangelinan was an underdog entering the state championships and was unseeded. But Pangelinan was focused entering the tournament and surprised everyone by making it to the finals. "During the Semi-finals, I beat the number one seed and the favorite to win it all. Not many people believed that I would make it past my semi-final match and go on to become a state finalist," said Pangelinan.
"Prior to entering the state championship, I was thinking of all the hard work and sacrifices I had been making throughout the long season prior to the state championship. This included things like waking up at 4am to run or train and maintaining a clean and healthy diet. I mainly focused on my mindset going into this tournament, reminding myself to fight for every inch and just believing that I was capable of becoming a state champion even though I only began wrestling my junior year," said Pangelinan who didn't qualify for the tournament last season as a junior.
According to Pangelinan, his final match opponent was very seasoned and he lost via points (13-5) in the final match. "He was a very skilled opponent, he has six years of experience over me. He was able to catch me on my back on two occasions, widening the lead and in wrestling you do not want to be on your back. I was able to get some of my moves off on him but just was not able to put together the entire performance needed to win," said Pangelinan.
Despite coming up short, Pangelinan's family and school was happy for him and his accomplishments. Pangelinan thanked his parents Manny and Valerie Pangelinan, brother Daniel, the Campbell High coaching staff and his Uncle Chris Duenas for the strength training and conditioning. Duenas, an Olympic swimmer, now stays in Hawaii and helped his nephew prepare for the championship.
Aside from wrestling, Pangelinan also practices Brazilian Jiu Jitsu and is a blue belt in the martial art. He placed second at the IBJJF World Championship in 2015. "I look forward to getting back into competing in jiu jitsu and possibly going on to wrestle in college," said Pangelinan who moved to Hawaii from Guam in 2013.
Originally from Yigo, Pangelinan said he misses his Nana, Ana Pangelinan, and cant wait to visit Guam and go to a fiesta and spearfish. Santos also misses his family on Guam. "My last time I was on Guam was 2010 and I than all my family and friends for supporting me and my wrestling career," said Santos. Santos said he misses his grandparents, Antonette and Ted Padua.
Triston Santos (left) and Steven Pangelinan (right) are pictured after the finals at the HHSAA Wrestling state championships.
Steven Pangelinan (black singlet) shown wrestling at the HHSAA wrestling state championships.
PHOTO GALLERY BROUGHT TO YOU BY:

QUICK HITS
The Figo Islanders 40s women's softball team took gold in the Senior Softball World Championship in Las Vegas. Figo came out of the loser's bracket and beat the Arizona Belles 17-3 in the AA division championship game Sunday afternoon.
Other Guam teams that played in the 40s tournament were: Team SOTTA (women's) and Bud Light Guam, Friars 671 and Sindalun Guahan (men's).
Sindalu finished a respectable 4th out of 24 AAA division teams.