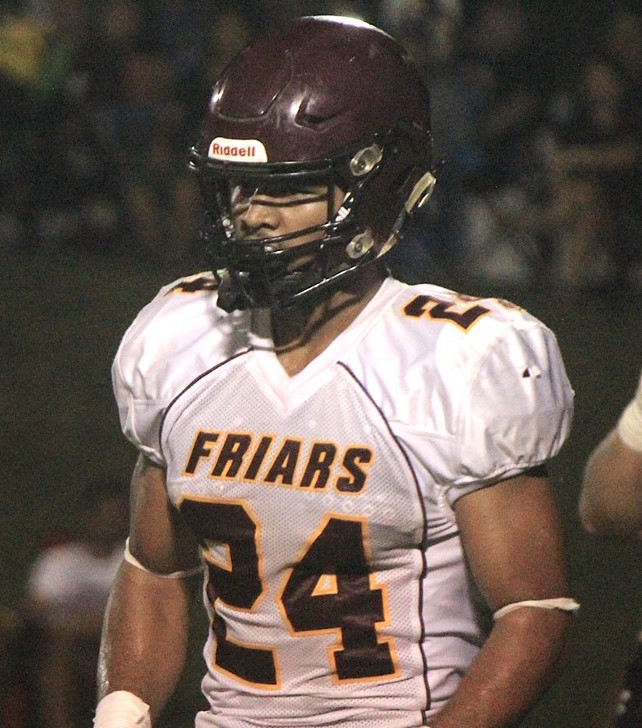 By Robert Balajadia
News broke a couple of weeks ago that the high school football career of one of Guam's most transcendent stars will come to an end. FD Friar De'Aundre Cruz will depart Guam on July 31st to gear up to play football for Shoemaker HS in Texas, but it isn't farewell for too long!
"I'm coming back to FD for the second semester. I've already worked it out with the school and I just need to take the same, or similar, classes when I come back. I want to graduate from FD," said Cruz.
To most, seeing De'Aundre leave to get more exposure isn't shocking. There has been a trend in recent years with high schoolers forfeiting their senior years on Guam, like former FD quarterback Tyler Okiyama and JFK QB Quintin Iriarte, to play football elsewhere and Cruz sees a big opportunity to get recognized.
"Since attending five off-island camps all summer I realized that I was doing really well out there and that I'm on the same level of the other athletes," said Cruz on his inspiration to take his talents to Texas.
And though Guam had been making waves in getting recruited through film while playing on-island, Cruz was given a different perspective from a coach from one of the camps out in San Jose.
"He stated that a lot of coaches won't go out of their way to recruit from the island and that if I really wanted to get recognized then I'd have to compete on a national level," said Cruz on the advice.
That's when De'Aundre decided it was best for his future to take on football at the national high school level with his dreams stretching as far as a D1 scholarship.
"I'm really hoping to get a D1 scholarship offer from any school. But even if I don't, I'll have learned the play style out there because football is played a different style than on Guam and I'll at least know how the program works," added Cruz.
About Shoemaker
Cruz will be in unfamiliar territory having traded in a school of roughly 400 students to a school of 2500-3000 students. He has little experience of the area and completely foreign knowledge of the school he'll be attending. Needless to say, he's nervous, but he's not losing focus on the goal.
"I have to have a strong mentality. My mentality starts with telling myself I'm the best at what I'm doing and believing in that won't allow me to do bad. I can't think it any other way."
Sharing his decision
It was tough to break the news to his friends and family, but it was even tougher to do so to his FD coaches Bruce Meno and Keone Badua, who have been with Cruz since his humble beginnings.
"It was really hard to let them know. I've been with them since freshman year, but they were understanding and I have their support," said Cruz.
De'Aundre has a close relationship with his mother Millie who's never missed a football game, which adds another difficult dynamic since this will be the longest period of time he'll be away from her.
"It's really tough on her, but she's my biggest fan and she's been the most supportive. She'll be coming out to my senior night out there so I'll be looking forward to that," said Cruz.
Cruz will be staying with his father in Texas until he makes his trip back to Guam to finish schooling.
Looking back
Cruz will end his career a two-time IIAAG champion all while reaching the title game each of his three years playing. He's amassed over 2000 yards rushing, over 40 touchdowns and a handful of memorable moments captured on film.
With his Guam career coming to a close, Cruz has plenty to be proud of during his dominant three-year run.
"Since it's all over, I'm pretty proud of what I've been able to accomplish. It's amazing how fast those years went by. When I was a freshman I was looking forward to how good I would do and how good I could get when I got older and I'm glad how it all turned out."
De'Aundre will be keeping tabs on the Guam high school football season while away!

QUICK HITS
3rd place: Big ups to the Para Todu Rugby Club for finishing 3rd out of 16 teams in the Manila 10's Rugby Tournament today. Biba Guam Rugby!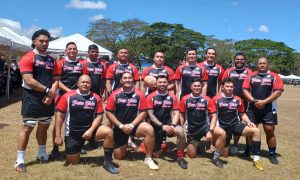 ——————————————
Guam MTB National Championship: Edward Oingerang and Jennifer Camacho are your 2023 MTB national champions. Oingerang finished the course in 1:13:24 while Camacho won her second straight title in 54:08.