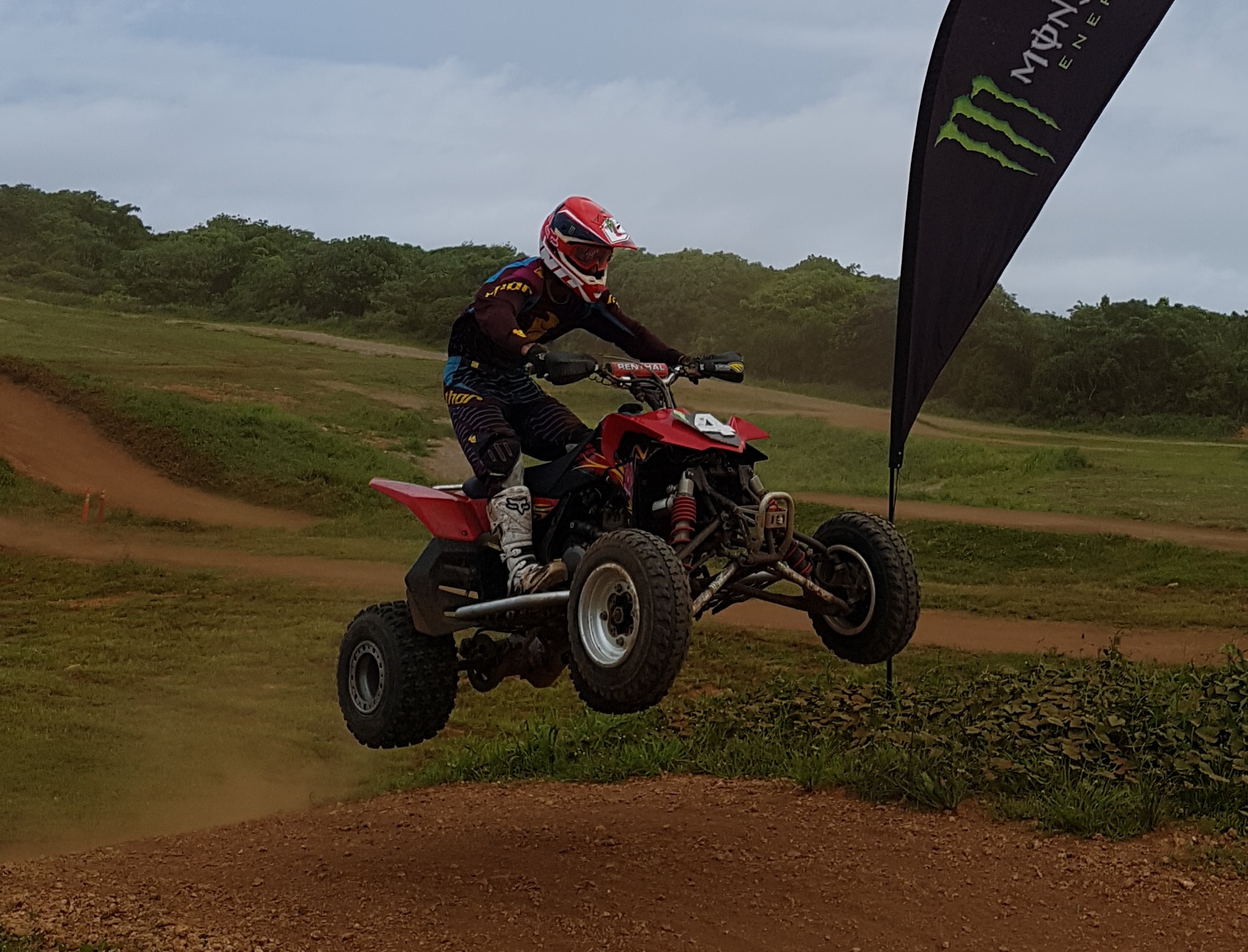 PRESS RELEASE – Guam International Raceway Motorcycle and Atv Corporation
2017 Monster Energy Guam Motocross Championships Round 9
It was hot and humid this past Sunday at the Guam International Raceway for the ninth round of the Monster Energy Guam Motocross Championships.  Add the rough, rutted, and jump filled motocross layout to the mix and those participants looking to rise to the top of the winners podium had a tough day of racing in the dirt instore for them.
Racers and supporters from all over the island converged this past Sunday for a full day of racing which included both two and four wheeled motocross classes. Classes included mini bike and atvs for the kids and the full sized machines of the Open Atv and Motorcycle classes for the older racers. Gates opened at 8am for practice with the racing starting at 11:30am and finished at 5pm.
Class Highlights
Open Motorcycle
Current championship points leader in the Open Motorcycle class #31 Tim Wenden aboard his Rocky Mountain Precast supported Ktm once again swept both heats to take the round win.   #18 "little" John Agoun aboard his Ground Tech Maintenance supported Yamaha took a solid second. Wenden with 399 championship points was unstoppable once again as he dominated extending his lead in the championship to 26 points over second place finisher and second in the standings "little" John Agoun who has 373 points in the championship standings.. Taking third was #55 Carlo Pangelinan aboard a Yamaha.
Open Atv
In the Open Atv class it was the #15 Kawasaki of Albert Garlit who jumped out to an early lead with Cycles Plus team rider #4 Robert Bucek aboard a Suzuki just sliding his way past Yamaha mounted #7 Matt Taimanglo at the start to run second with Taimanglo glued to Buceks rear wheels in third. On the first lap Bucek was making a hearty challenge to get past Garlit for the lead with Garlit staying on the throttle able to fend off several high flying attempts before finally succumbing to the persistent Bucek. Once Bucek had moved past Garlit into the lead it was the #7 of Taimanglo in third who was getting in the mix with Garlit for second.
Taimanglo making quick work got by Garlit and proceeded to reel Bucek in to make a challenge for the lead. With Bucek fending off the assault from Taimanglo for the lead and Garlit still in tow the pace had quickened which allowed the lead trio to pull away from the rest of the field.
The days demanding conditions was ultimately the deciding factor as Garlit fell off the pace and then just past halfway into the race Bucek was able to begin pulling away from Taimanglo who had also fell off the pace allowing Bucek to take the round win. Taimanglo placed second with Garlit in third. Fourth place went to #11 John Gilman on his Yamaha and rounding out the top five was #22 Rosie Castro on her Yamaha.
With two more points earning rounds left in the championship series the Open Atv standings are close with Bucek  holding 366 points aboard the Cycles Plus Suzuki leading by a mere 13 points over Taimanglo on the Yamaha who holds 352 points.
In other class results
In the 450cc class #18 "Little" John Aguon took the win aboard his Groundup Services supported Yamaha and with Yamaha mounted #86 Mike Uribe in second. Third was #56 vet racer John Aguon sr.
In the 250cc class #31 Tim Wenden took the win aboard his Rocky Mountain supported Ktm. Second was #55 Carlo Pangelinan aboard his Yamaha. Third place finisher was #44 Nolan Minor on a Yamaha.
In the Open Novice class #24 Jonathan Aguon aboard a Kawasaki swept the class for the win with early race leader #21 Sade Pitter on her Pit Stop Supported Kawasaki taking second. Third place went to #59 Robert Terrel on a Honda .
In the 85cc class #25 Lawrence  C. Limtiaco  took the win with #101 Arthur Manglona in second.
In the 65cc class #31 Richard Wenden aboard a Ktm took the win with Wyett Santos took the taking second and #25 Lawrence C. Limtiaco  in third.
In the 50cc class #39 Izaiah Green took the win on his Ktm with #18 Jon Agoun in second and in third was #20 Jace Calvo.
In the Mini Atv class #27 Camerish Chaco took the win with #22 Wyett Santos in second and #7 Mia Taimanglo in third. Fourth was #222 Jordan Chargualaf , fifth was #22 Karter John.
The tenth round of the 2017 Monster Energy Guam Motocross Championships will take place on Sunday August 20th out at the Guam International Raceway. Gates open at 8am for practice.
Racing starts at 11:30am and again the public is encouraged to come witness all the bar banging racing action free of charge. For more information including the full championship schedule along with practice and race heat schedules please visit and down load the GIRMAC Team App at https://girmac.teamapp.com . Those seeking more information can also contact Public Information Officer Robert Bucek at 727-5381.

Foody's 5 Fun Facts
Sanchez QB Jayton Penaflor
DID U KNOW?
Kein Artero has a list of who's who of Artero uncles who've starred in Guam's gridiron: Andre Artero UOG Tritons & Hals Angels OL, Bubba Artero UOG Tritons & Hals Angels OL, Kenny Artero SSHS DB/Baseball Pitcher, Jesse Sablan FD & Hals Angels FB, Roland San Nicolas FD & Hals Angels OL, Chuck Ada SSHS & Hals Angels DB,  Ed "Rock" Artero SSHS & Hals Angels MLB, "Wild" Bill Ada FD & Hals Angels ML, Jared Ada FD & Hals Angels WR/Utility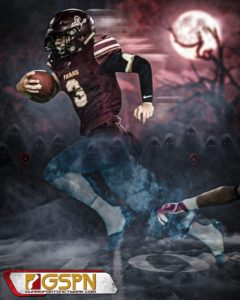 COMING SOON …
– 24th Marianas Fishing Derby
– NFL Week 3: Steelers at 49ers
– Jon Tuck's Bellator debut
QUICK HITS
UOG Athletics announced that head men's basketball coach Brent Tipton has stepped down due to personal reasons. UOG is now seeking for a replacement after Tipton's three years at the helm.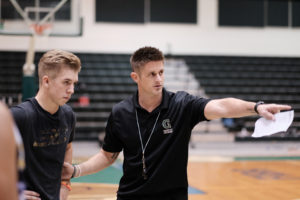 —————————————————-
Kyle Reyes brought the Boom to Russia and delivered a huge 1st round knockout in ACA 98.