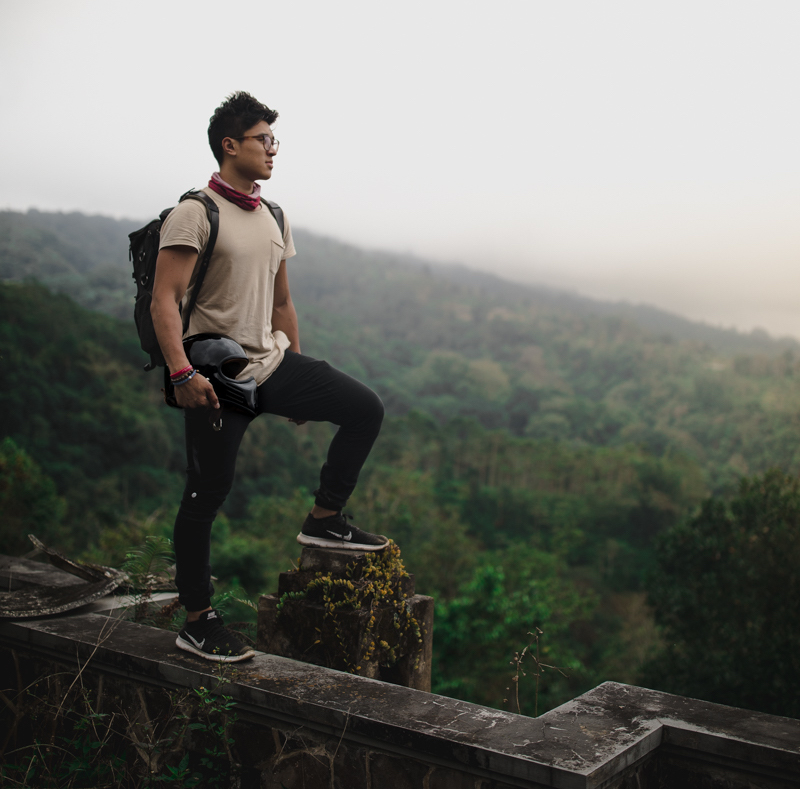 By Jay Leon Guerrero
GSPN recently caught up with former Guam National Basketball Team Member Daniel Del Carmen before he departed back for college in California last week. Del Carmen is a pre-med student attending the University of Southern California.
He graduated from St John's and competed in the 3X3 FIBA Oceania Tournament for Team Guam, was in the Guam team for the 2012 Youth Olympics and was also on the roster for the Men's National Team that competed against teams from the Philippines last year.
Del Carmen went on an adventure in Asia, discovering much about the new places and people and also learning much about himself.
GSPN: First of all, what motivated you to go on the journey? When did you decide to go on the trip?
Del Carmen: Growing up, I did a good amount of traveling with my family and it was always something I really enjoyed. After high school, I spent a year in the Philippines playing basketball, a year in Paris studying, and I am now currently studying at the University of Southern California in Los Angeles. Within that span of 3 years, I was exposed to three very different lifestyles and cultures. Now that I'm in Los Angeles, I plan on staying here until I graduate, but still want to do my share of traveling. At the beginning of my 2016 school year, I began to play with the idea of backpacking through South East Asia. After the new year, I lost two really good friends and it was a couple of months after they'd passed away when I began to book my flights. I felt that traveling would be a good way to collect myself and help get me back on the right track. Originally, I wanted to backpack across Thailand, Indonesia, and Vietnam. But with a time constraint of 4.5 weeks, I figured that my time would best be spent staying in one country, allowing me to get a more complete experience without feeling rushed.
GSPN: Leaving Guam and starting your journey, what initial thoughts did you have as you boarded the plane? What did you seek to learn or accomplish from the trip?
Del Carmen: As my plane began to take off, I remember looking out the window thinking, 'This is it. I'm about to solo backpack through Indonesia.' I was both excited and nervous because even though I had previously traveled and studied in other countries, this was my first time that I'd be traveling without the structure of having a set place to stay. I was a bit scared that I was not going to meet other travelers and was hoping that I'd made the right decision to do this alone. I had a hostel booked for first two nights in Canggu, Bali but after that, I had no plan. Other than wanting to expose myself to a different culture and using this trip as to refresh myself before school, I was also hoping that I'd get to go on unforgettable adventures and make good friends along the way.
GSPN: Upon arriving to your first destination, what were some of the initial troubles or hardships you encountered? You had a budget per day, how did that impact you?
Del Carmen: My first stop was Canggu, Bali and I wouldn't say that I had any hardships during my time spent there. Budget wise, I really tried to stay in hostels, guesthouses, or home stays that would cost around $3 to $8 a night. Most days I could get by spending less than $10 on food a day. If you can allow yourself to be open to trying the local food and eating at local restaurants or street food, most days you won't get close to spending the full $10. I feel that choosing to live on a budget gave me a more genuine backpacking experience. By limiting my costs, it forced me to interact with the local people of all the places I came across. Every passing day, I slowly began to realize that I did not need much to have a good time. My standards for places to stay began to drop and eventually, when it came to finding housing, I was satisfied as long as my room had a bed for me to sleep in. To cut costs even more, I would even get to splitting a single $5 room with other travelers I became friends with.
GSPN: Throughout your journey, you met some people from around the world. What did you learn from them?
Del Carmen: In the beginning of my trip, I was not sure if I'd meet other travelers or make as many friends as I did. I met people from all over the United States, Canada, South Africa, Australia, Switzerland, England, Brazil, and Europe. When you stay at hostels, guesthouses, and home stays, meeting other travelers comes naturally. It's much different than staying at resorts and hotels. I remember making friends within my first half hour of arriving in my hostel in Canggu. Most hostels have common areas and if by some reason you don't meet anyone there, you will probably end up starting small talk with the other guests during breakfast time. Besides meeting people at the places that you stay, you also meet travelers at the places you choose to visit. Whether you're going to the beach, waterfall hikes, historic sites, or temples, there are travelers everywhere!
When you meet other backpackers, you learn more than about just where they are from. Most of the time, you share stories and learn about who they are and how they ended up traveling. Some of the travelers I met quit their corporate jobs so that they could see the world. But it was cool to see that there were others who were also using travel as a refresh period. I'd say that the most important lessons I learned from other travelers wasn't anything I was told directly but something that I realized for myself at the end of my trip. I learned more about myself and a gained new perspective on how I wanted to spend my daily life through the time I spent with such different people. I learned that it is easy is to get caught up by the desire of a materialistic lifestyle and to think that a new car or a big house would provide a considerable amount of satisfaction or happiness to ones life. Spending time with other backpackers who were looking for the most affordable housing or meals taught me that I would rather go on adventures and be surrounded with good company than stay at luxurious hotels. I feel that constantly meeting people from all over the world really boosted my confidence and strengthened my conversation skills. When you travel alone, I would say that being nice, respectful, and open minded takes you along way and definitely helps when it comes to making friends along the road.
GSPN: What did you learn from seeing other cultures and living conditions in third world countries? Will you take what you learn and apply it to your life?
Del Carmen: Living in a third world country really humbled me. I would see kids on the street that had so much less than what I had in my backpack but looked so happy. I learned about Hinduism through the multiple temple excursions we'd go on. The most memorable temple to me was Bali's Pura Lempuyang which is also where Bali's Gate to Heaven is located. Now that I'm back from traveling I do feel that I've made adjustments to the way I'm living now. I don't really think about buying new shoes, clothes, or anything at all really. I've become content with what I have and have stopped worrying about things that are out of my control or things in the future. One lesson that I learned from one of the taxi drivers in Bali and a fellow traveler was to be more aware of the present. Rather than worrying about the end of my trip, I would be more focused on living in the moment and not thinking about what I'd be doing the next day or even the next hour. By doing that, my days felt more full and my trip felt a lot longer than what it was. Now that I'm back at school, I make a conscious effort to be more present in everything that I do especially in class. Now when I'm in class, I put my phone away and invest myself in that class period because it's a privilege to be receiving an education here. In short, I guess what I'm trying to get at is that I've become more grateful for a lot of the small things that we often take for granted.
GSPN: At the end of your trip, did you feel you accomplished your learning goal? Would you go on another journey again?
Del Carmen: I think I learned more that what I expected to when I got back from my trip. Traveling alone taught me many life lessons and successfully allowed me to collect myself so that I could go back to school ready to take on another school year. Yes! I would definitely go on another Journey. Vietnam, Thailand, and India are up next on my list!
GSPN: If someone was planning on going on a similar trip, what tips would you have for them?
Del Carmen: The first thing I'd tell them is to have 2 bank accounts and at least 2 debit cards. You should have your main account and then a back up account. In the case you lose your debit card or something happens to it, you can cancel it, and then transfer all of your money to the other card. This way, you can still have access to money if your card gets stolen or hacked. For those who are thinking on going on a backpacking trip, I'd advise them to not book all your places to stay ahead of time. For me, if I liked a certain city or hostel, I would extend my stay. If I didn't I would just move the next day to a different hostel. I would use the HostelWorld and Booking.com phone apps to help me find places to stay for the night. There are maps provided on the app showing you all of the places to stay in the area. It is so easy to find places to stay and also helps you save some money! I only packed 5 shirts, 2 board shorts, 1 casual pair of shorts, 5 boxers, 1 pair of pants, a button down shirt, sandals, and running shoes. Even at that, some days I feel like I overpacked! I could've gone with less shirts, shorts and maybe one less pair of boxers! I would do laundry quite often though. Detergent was relatively cheap and I would just wash and hang my clothes at my hostel. A lot of people worry that traveling is not safe or worry about traveling alone. Make smart choices, be aware of your belongings, do your research and for the most part, you'll have a good time! There are dangers all over the place and if you worry about all the things that could go wrong, you will never end up going anywhere. Other than that, I'd say to make sure you get your vaccines and travel insurance before your trip.
PHOTO GALLERY BROUGHT TO YOU BY:

Athletes Birthdays by W5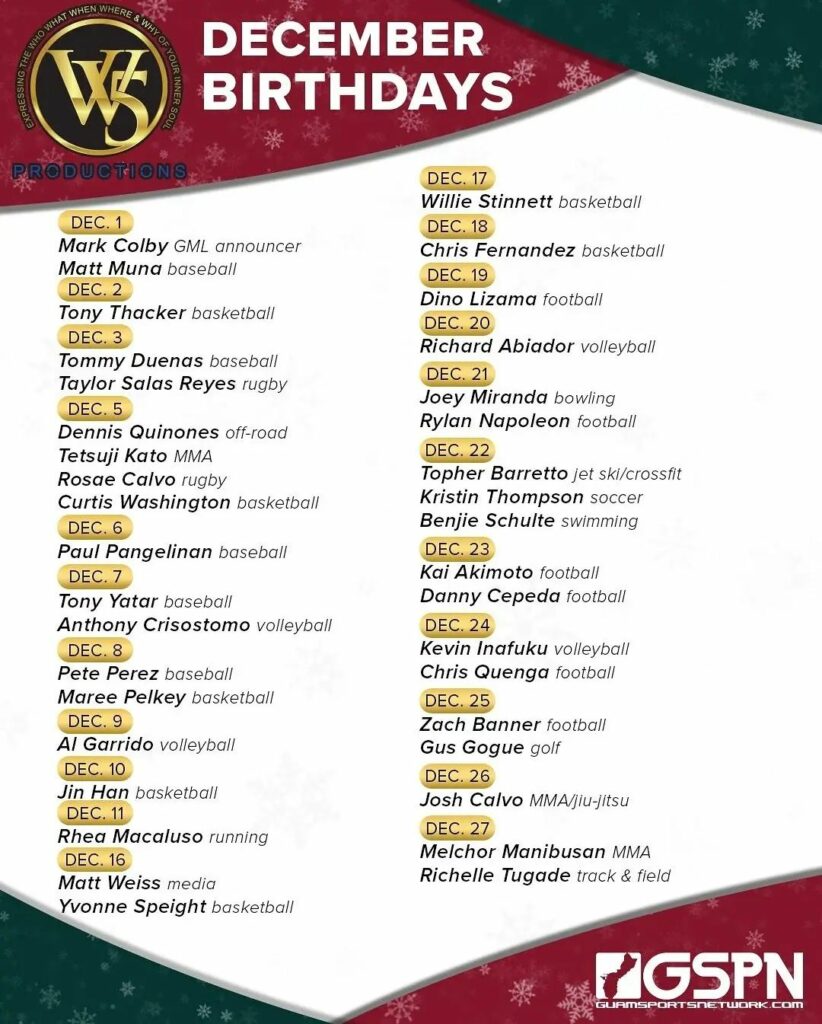 GPS Sports Calendar
SU

MO

TU

WE

TH

FR

SA
Events for December
5th
No Events
Events for December
6th
Events for December
7th
Events for December
8th
No Events
Events for December
9th
Events for December
10th
Events for December
11th
06:00 AM - 08:00 AM
Umatac
Events for December
12th
No Events
Events for December
13th
No Events
Events for December
14th
No Events
Events for December
15th
No Events
Events for December
16th
Events for December
17th
Events for December
18th
19

20

21

22

23

24

25
Events for December
19th
No Events
Events for December
20th
No Events
Events for December
21st
No Events
Events for December
22nd
No Events
Events for December
23rd
No Events
Events for December
24th
No Events
Events for December
25th
No Events
26

27

28

29

30

31

1
Events for December
26th
No Events
Events for December
27th
No Events
Events for December
28th
No Events
Events for December
29th
No Events
Events for December
30th
No Events
Events for December
31st
No Events
National Guard Athletes
Scott Eclavea
Scott Eclavea is a jiu-jitsu black belt and an accomplished MMA fighter. The Guard has given him an outlet in combatives to display his martial art skills, where he's become a head instructor for that program. Eclavea has served since coming out of high school and the Guard has only changed his life for the better.
COMING SOON …
LIVE FOOTBALL ON GSPN
Championship Game – FD vs Guam High @ 7 pm
GSPN Preseason Basketball Tournament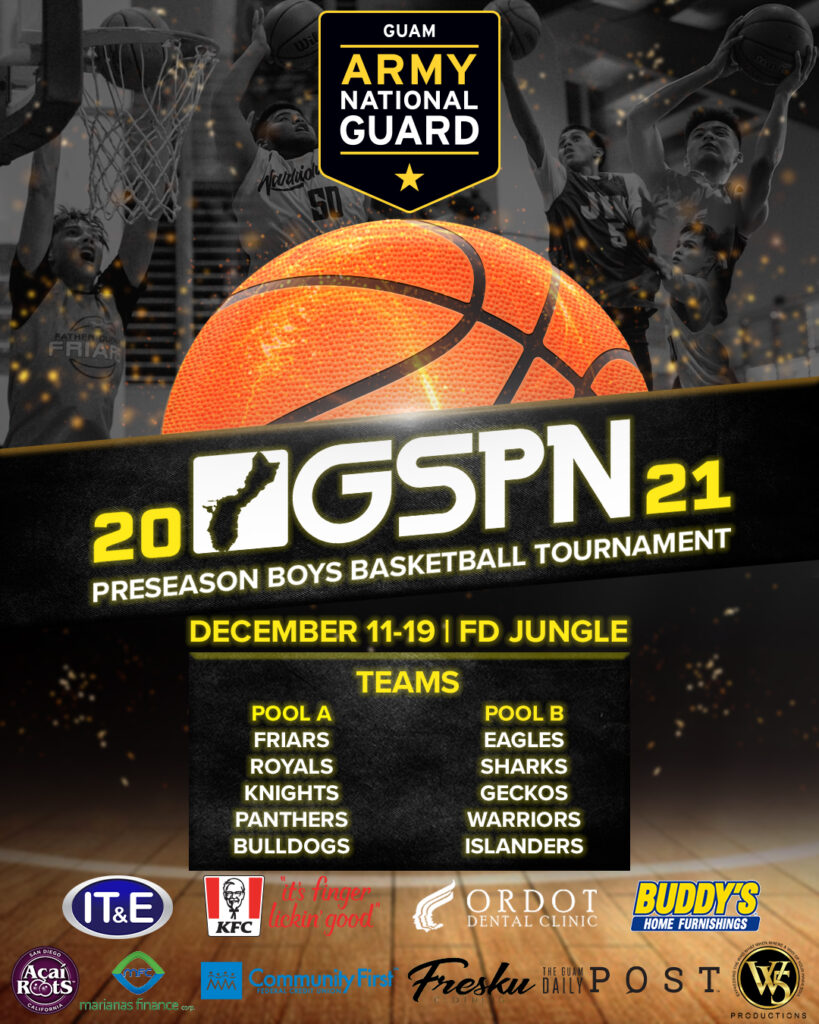 QUICK HITS
Robert Artero Maley recently captured the 182-lb. division of the Costa Mesa Classic, winning via pin in 4 out of 5 matches. Robert is a 4-year varsity wrestler at San Clemente HS (Tritons) and is currently ranked 15th in California's high school scene. He is the son of Jacque Artero Maley (AOLG 1991).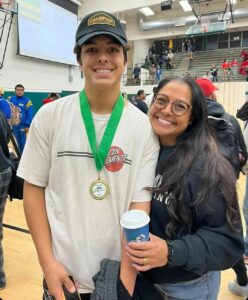 ——————————————–
Pat Taitano and Rich Abiador, teammates on the 1995 SPG volleyball team, have led their high school girls volleyball teams to the Washington State Championships in Yakima, Wa.
Taitano coaches Mt. Rainier High while Abiador leads North Creek High.
There for support is Dr. Mark Perez, a health professor at Central Washington University and a former UOG volleyball player.