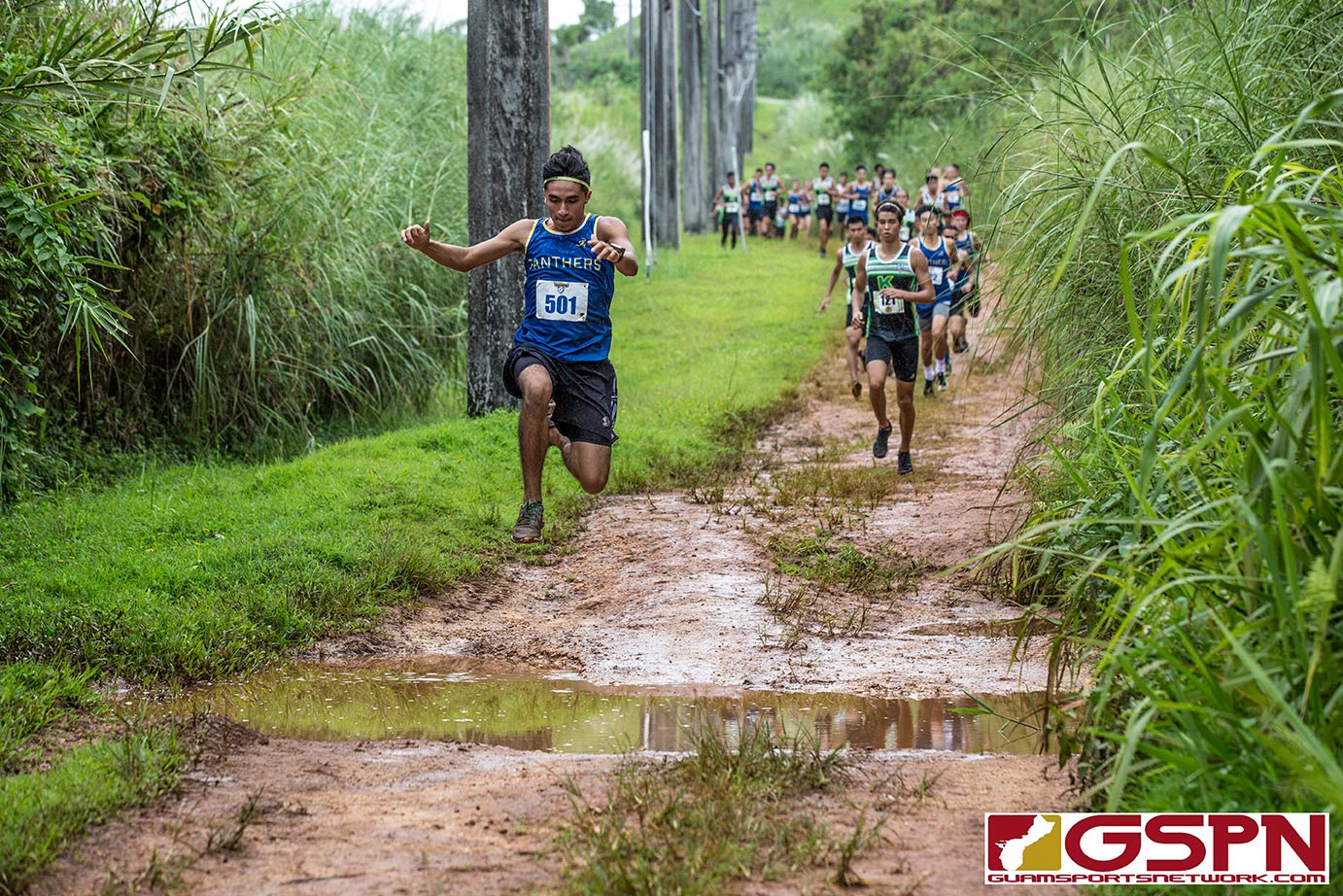 By Jay Leon Guerrero
When it's raining, there's only two words to describe the Guam High Panthers' home course: Hills and Mud. The Panthers hosted the Cross Country Power house JFK Islanders in a highly anticipated battle of undefeated teams at their home course in Nimitz Hills. The off-campus course was wet and muddy and full of hills, which could be challenging for runners unaccustomed to the conditions.
The Panthers used their knowledge of the course to their advantage and easily defeated the Islanders to sweep the boys and girls divisions. The Panther boys defeated the Islanders 21-36, the defending champion Panther girls won 15-48.
Isaac Ventura from Guam High continued his dominance, crossing the finish line at 18:08 to finish first overall. Not too far behind Ventura was teammate Akira Martines, who clocked in at 19:35 finishing well ahead of the JFK top runners to solidify their victory. Joseph Aguon was the first JFK runner to cross the finish line at 20:08. Coming in fourth was Nicholas Kefe from Guam High was fourth at 20:09, Takumi Ito from JFK rounded out the top five at 20:08.
Martines was key in the boys' victory, separating from the pack to give valuable points to the Panthers.
"The course was muddy in the beginning and then the hills deeper in the course were challenging as well," said Martines. "We've been running here so we are used to our home course but I think JFK did really well.
It was slippery on the course so it was hard for me to get my grip. The hills were also a challenge, the Guam High runners are used to these hills because they practice here so it's an advantage for them," said Aguon.
The defending champion Guam High Panther girls dominated on their home turf, finishing 1-2-3-4-5. Miss Earth Guam 2017 Emma Sheedy from Guam High traded in her tiara and evening gown for her headband and running shoes, crossing the finish line first overall for the females.
The beauty queen wasn't afraid of getting dirty, crossing the finish line with mud up to her knees. Janelle Angara (24:19), Sidney Cooper (24:25), Jade Castilio (24:41), and Sameha Wilbanks (25:42) all from Guam High finished in the top five.
"Coach (Joe Taitano) always tell us to expect the worst conditions out there so we are prepared for the puddles and the mud," said Sheedy.
Sheedy battled the wet course and finished with a time of 23:59. "We had the advantage today because we do so many hill workouts," said Sheedy.
Sheedy credits the muddy terrain and hills at their home course for their success. "We are used to the hills in practice so when we go to other flat courses we do well," said Sheedy.
PHOTO GALLERY BROUGHT TO YOU BY: