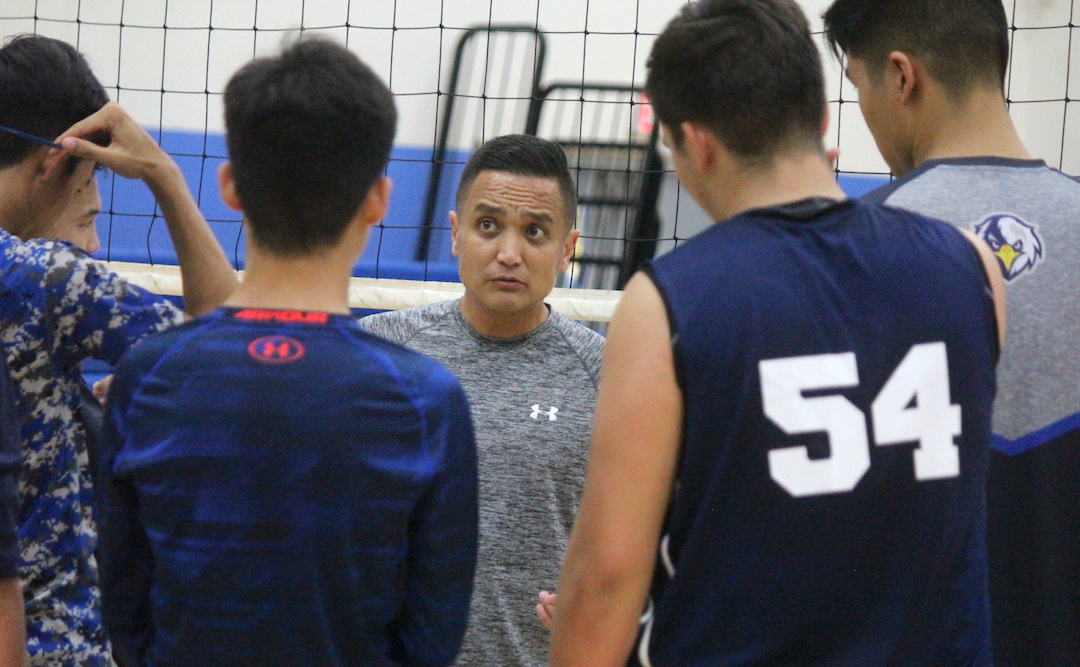 By Robert Balajadia
2017 will mark the end of an era for the Harvest Eagles as long-time volleyball coach Kevin James Inafuku will relieve his duties to pursue a long-time dream. Inafuku will spend time in Utah before ultimately going back to Hawaii, where he was born and raised, and where he wants to start a church and be involved in the community.
Inafuku started the volleyball program for Harvest in 2003 where he made a push for the school to start competing at the IIAAG level.
"We were getting crushed, lost every game and every set. It was the process of building a program, but our goal from the very beginning was to make sure our players loved the game. Through their love for it, they would want to get better in it and it would generate a philosophy of what it means to be a team," said Inafuku of starting the Eagles program 14 years ago.
Fast forward to 2011 where the Eagles brought in their first and only volleyball title led by MVP Myles Herron. Despite winning just one, their team has been in the upper echelon of boys volleyball power houses in the past decade since their humble beginnings.
The last ride
The Eagles were the only team to go unbeaten in the 2017 regular season, the first in school history, and they even captured the IIAAG league MVP award behind outside hitter Sean Evans. Sean is the second Evans to capture the award after older brother Marlon won the award as a setter in 2014, who join a list of Eagle MVP's in Herron and also Joshua Madrid, all under coach Inafuku.
Evans and teammate Kobe Sotelo have been playing volleyball for Harvest since middle school and Inafuku has been there every step of the way. The emotions of it being the last ride for each of the three has been tough, but each understand the Eagles are in a position to add another volleyball banner on their way out.
"It's a big factor, but there's a lot of other things we need to focus on," said Sotelo on the emotions of the final season. "We're trying to make all our hard work worth it. Personally, I've learned that it's not fun to lose and I'm getting sick of losing. As a team, we're gaining confidence and a lot of us here know what it's like to lose, so we're playing to win."
"It's going to be competitive in the playoffs, but we need to focus on ourselves. It's the most emotional season for all of us. Kobe and I have talked about winning it all since 6th grade," added Sean.
"It's been emotional, not just in volleyball, but just being on Guam and being a part of the Harvest staff. Knowing that volleyball is the one thing at the end of the ride, it's pretty hard to not think about. From a winless team at the start to an unbeaten team at the end is just amazing," added Inafuku.
More than a coach
Inafuku's coaching philosophy extends well beyond the service line as he often keeps an active involvement in his players personal lives.
"I'm involved with their families, academics as well as their other sports to build relationships and show I support them. That develops a level of trust so when I come down hard on them, they respond well to it," said Inafuku.
The Eagle title run begins Friday evening as they host the ND Royals in the quarterfinals. With three games between the Eagles and another historic ending to an already historic career of Inafuku, the last ride will be one to remember.
"I'm also really thankful for the volleyball community here on Guam. I've developed some lasting relationships with the community here and they have played a big part in helping me establish myself, as well as the family here at Harvest. I'm going to do my best not to cry at my last game, but we'll see," ended Inafuku.
Title or no title, get the handkerchiefs ready.

COMING SOON …
High School Football starts Sept. 29
Brawl 3: Oct 13
Guam's Strongest Man and Woman Competition October 29
QUICK HITS
The Figo Islanders 40s women's softball team took gold in the Senior Softball World Championship in Las Vegas. Figo came out of the loser's bracket and beat the Arizona Belles 17-3 in the AA division championship game Sunday afternoon.
Other Guam teams that played in the 40s tournament were: Team SOTTA (women's) and Bud Light Guam, Friars 671 and Sindalun Guahan (men's).
Sindalu finished a respectable 4th out of 24 AAA division teams.