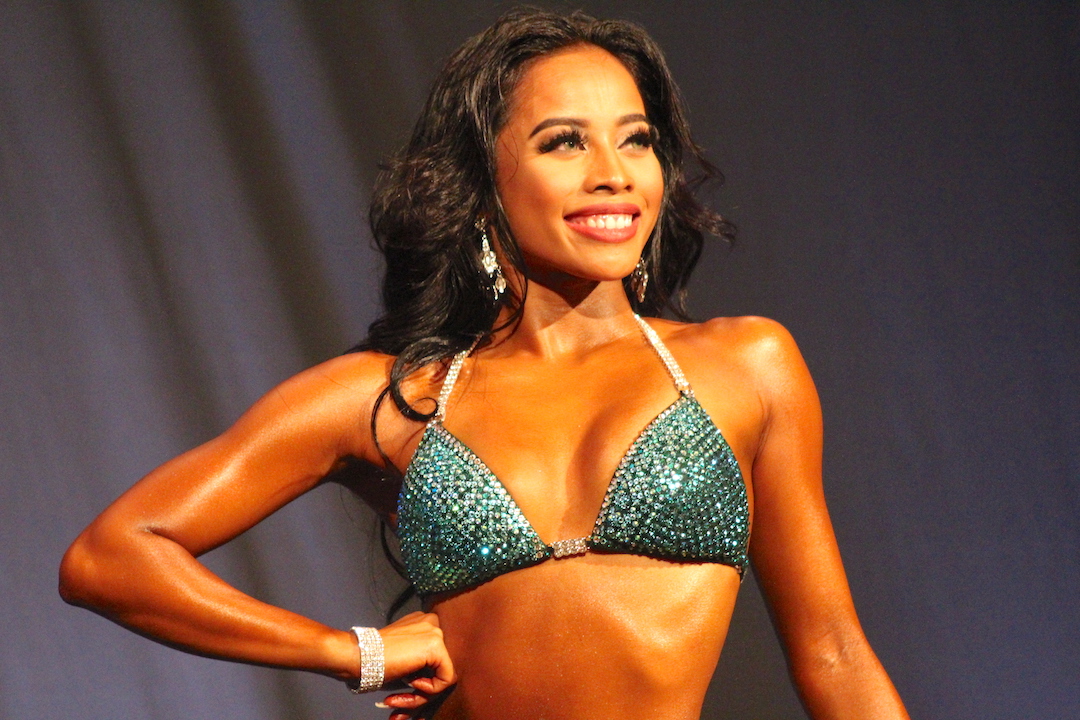 By Robert Balajadia
The annual 2017 Michelob Ultra Body Building & Fitness Championships drew in it's usual crowd Friday evening with over 60 competitors gracing the Sheraton Hotel stage.
Stealing the show was the entire women's Bikini Short Division which presented the judges with a lengthy decision process. With half the crowd chanting 'Tori' for Victoria Espaldon and the other half screaming 'Camy' for Camerin Mendiola, the crowd didn't quite down until the awards were announced.
Despite deciding to compete in the Bikini Division just four months out for the first time ever, Espaldon was crowned 1st place, stunning no one more than herself as she didn't think she'd even place.
"My parents told me to go in humble and that's what I did, just come out with an open mind. I wasn't expecting to place, let alone win, but when I heard my name called I was shocked and super happy," admitted Espaldon.
Espaldon gave a lot of credit to her trainer Desiree Eay, who had been casually planting the idea to Victoria to compete, and her parents who were instrumental in her diet. Eay saw a lot of potential from Espaldon during her Core 6 classes and was very confident in Victoria heading into Friday.
"When she told me that she wanted to do it in July I was all in with her. I've seen her work ethic and she gives more than 100% day in and day out with whatever she does. I knew that this would just be another competition that she'd five her 100% in. I was confident knowing that she, regardless of what happened, was going to go in and standout," said Eay.
Espaldon went on to win Overall Bikini as well. She admitted that winning this event already has her thinking about next year.
"My body will be so much more conditioned with a full year of training, but a girl likes to eat so I don't know if I can do the meal prep everyday," laughed Espaldon.
"I'm already thinking bigger picture, but we'll see where Tori is at and what she wants to do," added Eay.
Mendiola took 2nd place and Keisha Raras took 3rd in the evenings most anticipated division.
Cantara wins stacked middle physique 
From not placing as a first year competitor in 2016 to winning a stacked Men's Physique Middle Divison with 11 total competitors in 2017, Joshua Cantara was riding high.
"My goal was to beat my position I was in last year, but I had no idea I was going to win. This year, I think the biggest change was the mindset I had during training. It's crazy going from not placing to 1st place, I guess hard work speaks for itself.
Overall Winners
Men's Physique – Jun Deatly
Women's Bikini – Victoria Espaldon
Top Finishers
Men's Bodybuilding (Bantamweight) – Domontinez Watts
Men's Bodybuilding (Lightweight) – Kikuo Asano
Men's Bodybuilding (Welterweight) – Sean Aikman
Men's Bodybuilding (Middleweight) – Donivan Mendiola
Men's Bodybuilding (Heavyweight) – Gregory-Roque Aguon
Women's Physique – Miyuki Miyata
Women's Body Fitness aka Figure (Short) – Mikiko Ota
Women's Body Fitness aka Figure (Tall) – Tomoko Iwai
Men's Physique (Short) – Jun Deatly
Men's Physique (Middle) – Joshua Cantara
Men's Physique (Tall) – Troy Hall
Men's Fitness – Kojiro Shimizu
Women's Fitness – Mitsuyo Suzuki
Bikini (Short) – Victoria Espaldon
Bikini (Tall) – Keiko Kojima
…more photos and full results coming soon!
PHOTO GALLERY BROUGHT TO YOU BY:

COMING SOON …
High school girls volleyball playoffs
Brawl 3: Oct 13
Guam's Strongest Man and Woman Competition October 29
QUICK HITS
The Figo Islanders 40s women's softball team took gold in the Senior Softball World Championship in Las Vegas. Figo came out of the loser's bracket and beat the Arizona Belles 17-3 in the AA division championship game Sunday afternoon.
Other Guam teams that played in the 40s tournament were: Team SOTTA (women's) and Bud Light Guam, Friars 671 and Sindalun Guahan (men's).
Sindalu finished a respectable 4th out of 24 AAA division teams.