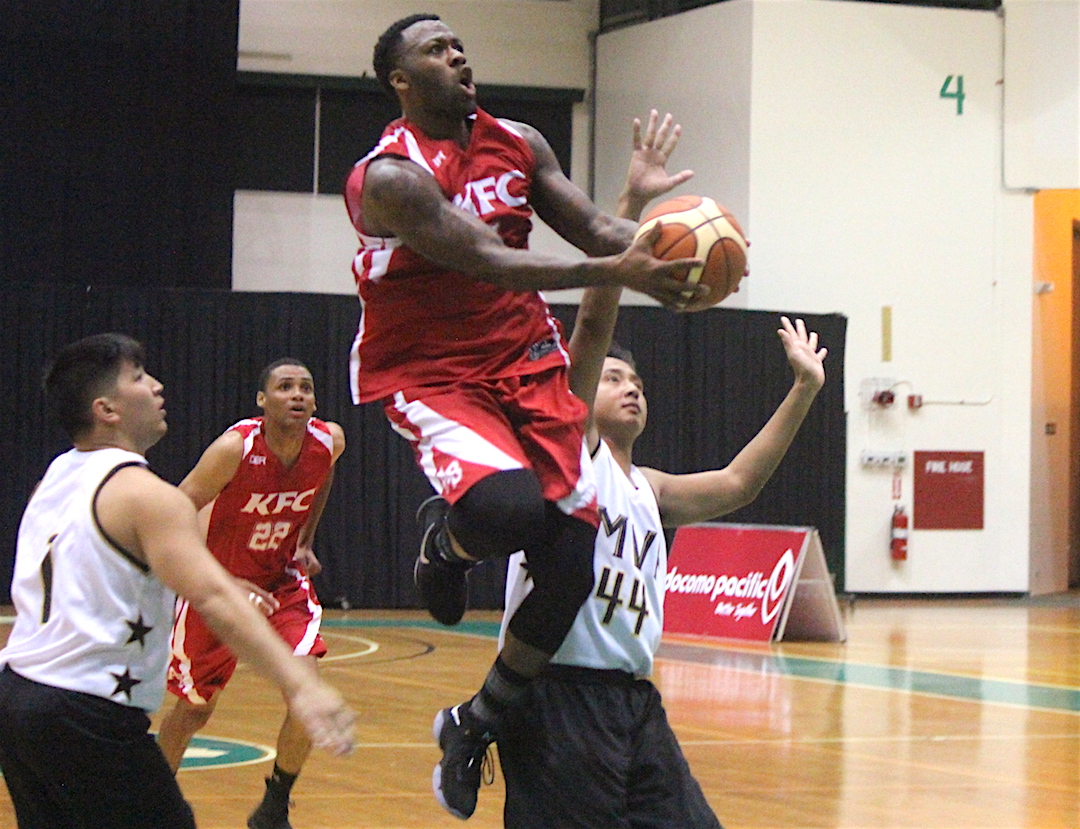 By Robert Balajadia
The KFC Bombers became the first team in GBA's Season 3 to defeat the MVP Stars in Game 1 of GBA Finals in a the best-of-three series at the UOG Calvo Field House Thursday evening. The Bombers used a strong 3rd quarter run to fuel their big 113-94 win over MVP.
Bombers guard Ledget Glover poured in a game-high 25 points while splashing home six three-pointers as the Bombers used a 14-4 run to steal back momentum after giving up their lead midway through the 3rd.
MVP's JP Cruz converted on a jumper to regain the lead 54-53 as part of a 11-3 run early in the third. KFC kept it close until a Glover three-pointer from the wing gave the Bombers the lead for good 67-66 midway through the quarter.
Up 75-68, the Bombers turned to Glover in the closing moments of the 3rd as he sank a baseline jumper over two defenders and a three-pointer with just seconds left in the 3rd period to give the Bombers their largest lead at that point 82-68.
"I love playing against these guys," said Glover with a smile. "We always go at each other and I always bring my 'A-game', and it's fun and competitive. Joe [Blas] cuts my hair and Daren and I kick it sometimes, but it's fun beating your friends."
MVP struggled to find their offense in the closing period, but defense was an even bigger issue as Bombers guard Tracy Moses and swingman Terrence Jackson breaking down their interior with easy buckets and second chance points.
Moses finished with 24 points and Jackson stuffed the stat sheet with 20 points,10 assists and 8 rebounds.
"We knew we could play this way this whole season. The struggle was just getting the team together since everyone on the team is in and out, myself included. I'm deployed here now instead of being stationed here. But we finally gelled together and closed the game out tonight," said Glover.
MVP's hot start to the game, jumping out to a quick 9-0 lead, was an after thought after the Bombers settled in and stole the opening period 28-23. The Bombers would keep their lead until the 3rd period, momentarily trading scores until Glover's closing 3rd quarter statement.
The win proved big given MVP had not lost a game all season, but the Bombers know the series is far from over as they gear up to face a hungry MVP squad who were without an integral part of their defense Christian Kokanda.
"We have to keep a level head. We can't play how we started this season, we have to close it like we've done in the playoffs. They are a great team, but they were without Christian today and I know that's a big part of their defense on the inside. We took advantage of that by grabbing offense rebounds, but hopefully he shows
Game 2 of the series will be on Sunday at the UOG Calvo Field House at 4 p.m.
PHOTO GALLERY BROUGHT TO YOU BY:

COMING SOON …
GUAM SPORTS ON HOLD DUE TO SUPER TYPHOON MAWAR
QUICK HITS
Bishop Obispos beat Mt. Carmel for the IIAAG Middle School Girls Basketball championship 37-25.
—————————————-
The Benavente Roadrunners crushed the Agueda Pirates 17-1 to win the 76 PONY Middle School Baseball League. Rodney San Nicolas was a beat, striking out 13 batters in a complete game while going 4-for-4 at the plate, including a homer and 4 RBI.