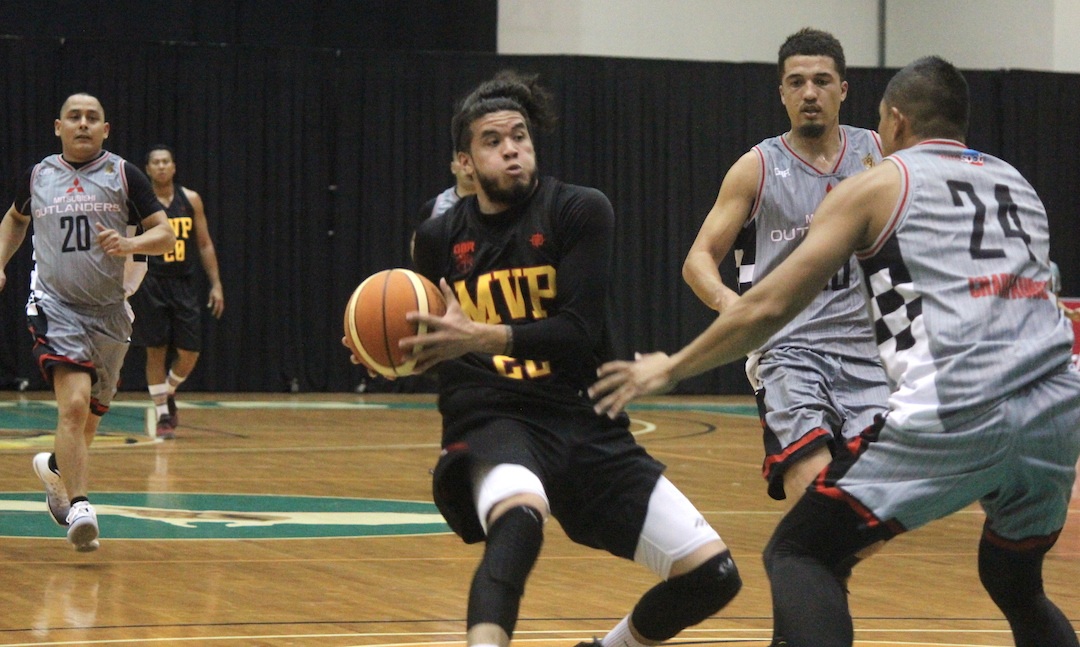 By Robert Balajadia
The GBA Finals will feature the MVP Stars vs. the KFC Bombers after both teams wrapped up their semifinals series Tuesday evening at the UOG Calvo Field House. The Stars swept the Mitsubishi Outlanders two games to none in a best of three series and the Bombers knocked off the defending champion Toothfairies in the late game.
MVP 104, Outlanders 86
The game plan for MVP was to put pressure on the Outlanders bigs by attack the basket. The whistle blew at a constant rate as MVP amassed 36 free throw attempts while hitting 23 from the stripe.
Red-hot shooting in the opening period helped build the MVP lead, ending the quarter MVP on a 14-2 run. The lead would stay at double-digits after a short run by the Outlanders minutes into the 2nd quarter as Blas poured in a game-high 38-point performance.
"Defensively, we didn't give up many easy points and we fought for every loose ball. Keeping them off the boards and not gambling on defense really helped us maintain that lead," said Blas.
Willie Stinnett led the Outlanders with 24 points and 12 assists while teammate Kyle Grimm scored 21. MVP's three-headed monster was complete with Darren Hechinova tallying 24 points while JP Cruz registered 21 points, including five three-pointers.
After coming out of the series on top, Hechinova had a lot of praise for his opponents given their physical brand of basketball.
"The [Outlanders] are the toughest and roughest team in the GBA. They'll sneak up on you if you sleep on them. They're a really tough team to go up against, much respect to them," said Hechinova.
Hechinova has been a big part of the MVP run for the past two seasons and he's proving much healthier than their last trip to the finals, which only bodes well for MVP as they face the streaky Bombers.
"I'm feeling great right now and I'm back healthy. We've got a lot of new additions and our chemistry is going strong right now," said Hechinova.
Bombers 87, Toothfairies 72
There will be a new champion in GBA season 3 as the KFC Bombers sent home the two-time defending champion Toothfairies behind a strong 25-point night from Ryheam Traham. Kirk Long led the Toothfairies with 28 points and 8 steals.
After securing a 19-14 lead in the opening period, the Toothfairies couldn't keep pace with the Bombers in the second half. KFC stormed out to a 28-point 3rd period to stretch their lead 65-47 before coasting to their big win.
Game 1 between MVP vs. KFC will commence Thursday evening.

2022 GSPN I MÅS METGOT COMPETITION
2022 GSPN I Mås Metgot Competition Recap
2022 GSPN I MÅS METGOT COMPETITION
2022 GSPN I Mås Metgot Competition Recap
2022 GSPN I MÅS METGOT COMPETITION
2022 GSPN I Mås Metgot Competition Recap
COMING SOON …
Sat: Origin Power Lifting Meet 
ISA Girls Volleyball/Boys Soccer Finals
QUICK HITS
Guam runners complete London Marathon. Former Guam top runners Charlie Epperson and Aysha Perez Epperson along with Cameron ONeal completed the 42nd London Marathon.
Charlie 2:47:56
Cameron 2:59:49
Aysha 3:51:04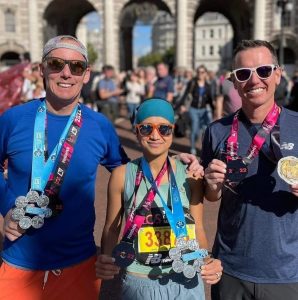 ———————————————–
Trevin Jones drops a unanimous decision 30-25, 30-27, 30-27 to Raoni Barcelos in UFC Fight Night 211 in Las Vegas.